'The Ranch' Reunites Your Fav '70s Show' Actors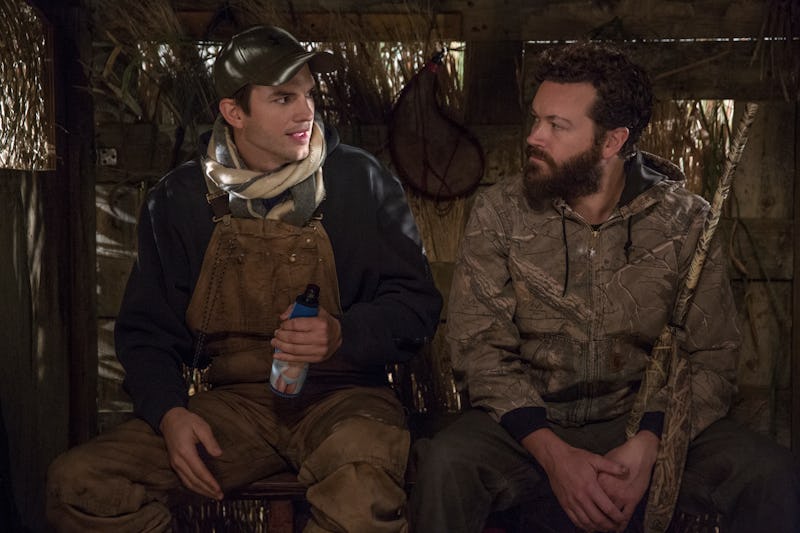 Netflix's new show output has really ramped up in 2016, as it feels like there are never more than a few weeks before Netflix launches a new series. Its latest series, The Ranch starring Ashton Kutcher and Danny Masterson premieres on April 1, and it doesn't seem to be an April Fool's joke. Instead, the series features the two returning to the multi-cam format that launched their careers on That '70s Show. The Ranch's premiere comes nearly 10 years after the end of the show that made them famous. But, will this be their only return to multi-cam hijinks, or can fans of the pair expect a Season 2 of The Ranch ? Update: Netflix has announced that Part 2 of Season 1 will premiere Oct. 7.
Earlier: Obviously, the program has yet to even launch so Season 2 talk may be a little premature. Although, it's worth noting that Netflix has never not renewed an original comedy show for at least two seasons. If that's the case, there will likely be another season in a year, the network's general timetable, putting a possible Season 2 airdate around April 2017.
Plus, many of Kutcher and Masterson's old cast members have found success in television with other programs. And, since two is always better than one, Kutcher and Masterson appearing on the same show could give it the magic spark to stick around for a long time. Here's how their co-stars' careers on TV have fared, and what it might mean for The Ranch.
Wilmer Valderamma
Wilmer Valderamma played the affable foreign exchange student Fez on That '70s Show, and he's spent the rest of his career playing roles that are the near opposite of the one that made him famous. He's made appearances in a variety of film and television roles, including a brief appearance on The Sopranos as himself, but his career has seen an especially strong resurgence in the past few years where Valderrama was on the main cast of two different shows. Valderamma played Carlos Madrigal on two seasons of the television adaptation of From Dusk Till Dawn and had a leading role on the only season of the television adaptation of Minority Report. Valderamma seems to be finding success as the "cool guy" in various science-fiction adaptations, even if his roles don't last long.
Mila Kunis
Mila Kunis' is the biggest success story from That '70s Show, regularly starring in major Hollywood films — but her most prolific role is just a voiceover. Mila Kunis has been the voice of Meg Griffin on Family Guy since 1999. The few years where Family Guy was off the air, Kunis was still busy with That '70s Show, so she has effectively had a steady television role since she started playing Jackie on '70s Show in 1998. If Kutcher and Masterson can get 18 years worth of television out of The Ranch, they're set for life.
Laura Prepon
While Kunis may have the most visible post-'70s Show career, Prepon has worked hard and ended up with a critically acclaimed role in a prestigious television show. Prepon had some false starts with television series like October Road and the multi-camera sitcom Are You There, Chelsea?, but now that she's playing the role of Alex Vause on Orange Is the New Black she hasn't just found a regular role, she's getting awards as well! The Ranch doesn't seem to have the same aspirations as OITNB, but Netflix has invigorated a '70s Show actors' career before, and it can likely do it again.
Topher Grace
Topher Grace is — uhh — he's doing stuff. He played himself in the pilot episode of The Muppets. He had a small role in Interstellar. He played the bad guy in 2015's American Ultra. Grace seems to be at a point in his career where the main appeal of having him involved in a project is the moment when an audience goes "Hey! Topher Grace is in this," which isn't a bad thing. Grace seems pretty well-adjusted and successful, so being like him is a very noble goal for The Ranch.
Josh Meyers
Remember Randy? The new kid that was brought onto the show in the last season once Eric left? No? You don't? Well the guy who played him, Josh Meyers, is doing pretty well. He has a role on the Amazon series Red Oaks and his brother is Seth Meyers of Late Night! Josh hasn't had a stellar career, but it's definitely not bad either.
Ashton Kutcher and Danny Masterson teaming up for a multi-cam sitcom isn't much of a surprise. While Kutcher has a pretty big career outside of That '70s Show in the early 2000s, Masterson hasn't done much else. While both of them are long removed from their days on one of the best sitcoms of the late 90s/early 2000s, it seems that The Ranch will be a return to form for the pair that could last a long time. If nothing else, it looks like the actors are going to be having a great deal of fun with each other, and in a multi-camera sitcom that's really the best thing an audience can hope for.
Image: Greg Gayne/Netflix