You Can Own A Piece Of 'Star Wars' History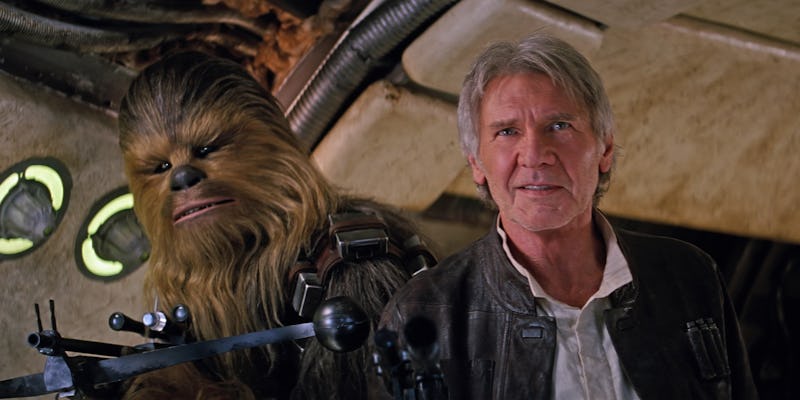 All these months later you're probably still (spoiler!) mourning the loss of Han Solo from the Star Wars franchise and plan to sob hard when Force Awakens comes out on Blu-Ray in April. Well, dry your tears, because you can now own a piece of the Correllian smuggler: Harrison Ford is auctioning his Han Solo jacket from Force Awakens for charity, and it would make the perfect centerpiece for your Han Solo memorial... you know, unless you already copped a frozen-in-carbonite replica all those years back.
To be clear, Ford is donating his jacket to benefit epilepsy research, education, and patient service, with the proceeds to go to NYU Langone Medical Center and Finding A Cure for Epilepsy and Seizures. The Star Wars alum's daughter has epilepsy, so it would seem that the actor has some personal ties to the benefit. "I've been very impressed with the work NYU and the FACES team have done in the field of epilepsy research, and I hope this jacket will provide some means to further that exploration," Ford said in a statement. "This is a cause that's near and dear to me, and unlike the cynical Han Solo, I've got a good feeling about this." Bless.
Certainly this is a once-in-a-lifetime opportunity, one that not only bolsters a good cause, but also eases your pain about losing Captain Solo. In some ways, yeah, the Force Awakens jacket isn't the most iconic piece of Han Solo apparel. I mean, I would sell my soul to grab one of his cater waiter vests, or kill a man to get into his red striped pants (in more ways than one, incidentally my childhood crush on Han extends long past death). Still, this is an interesting pick, because it's really the last thing Ford wore in his final appearance as the ultimate intergalactic rebel. In that sense, it's a part of Star Wars history.
I guess I'm also morbidly curious to see if that jacket suffered, you know, any sort of battle scars from Han's unfortunate father-son reunion; the pictures tell me, "nah, probably not." However it is autographed by Ford, which amps the cool factor up even more (and I didn't even think things could get more cool after "Han Solo jacket").
Realistically speaking, you probably don't have a cool several thousand dollars laying around, but if you do want to fight the good fight, bidding for the jacket is currently open on IfOnly.com, and it continues until April 11 at 6 PM EST.
Images: Disney; Giphy