Did We Meet Mary In The 'PLL' Halloween Ep?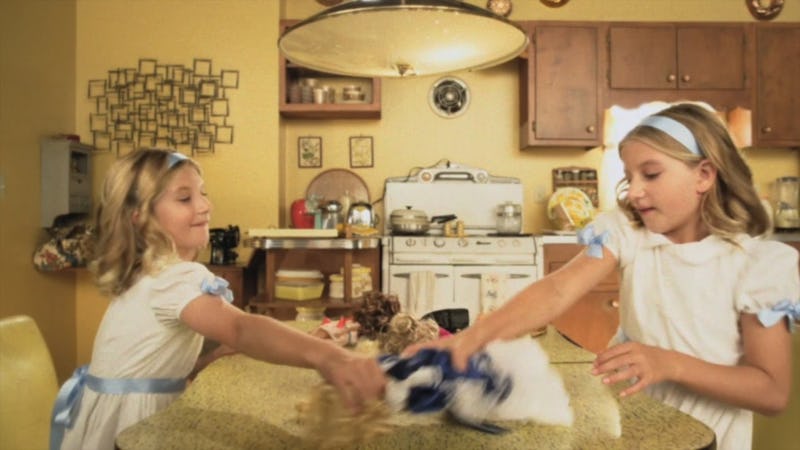 To say that the Pretty Little Liars Season 6 finale was pure and utter insanity would be an understatement. Most fans assumed that the series couldn't possibly top the Charlotte as Big A reveal — let alone with another secret DiLaurentis family member. Alas, Pretty Little Liars pulled out all of the stops for its Season 6 finale, and boy, was it a doozy. The finale revealed that not only does Jessica DiLaurentis have an identical twin named Mary Drake, but that Mary is actually the biological mother of Charlotte, whom Mary gave birth to during her own stint in Radley. The real kicker is that Mary is actually super evil, evidenced by the fact that she put Ali in a mental institution in order to take control of the Carissimi Group. Pretty Little Liars officially has an evil twin on the show, but there's a real chance we could have met this twin a long time ago. Could Mary be the twin from the PLL Halloween story?
First, let's recap this Halloween story. It was first introduced in the Season 2 episode "The First Secret," in which Ali tells Hanna's babysitting charge a gruesome story about two blonde twins whose fight over a doll ends in one murdering the other. The ghost girl from this Halloween story seemingly appears in Season 3's Halloween episode "This Is A Dark Ride," when she visits Ashley. This seemingly confirmed that Ali's story actually happened, and Pretty Little Liars showrunner I. Marlene King took to Twitter to confirm that the girl that Ashley saw really was dead:
Now that Mary has been introduced on the series, it's hard not to make comparisons between her and the twin we saw in the Halloween story — after all, both Mary and this ghost girl were sent to a home for the "criminally insane." So could the girl who stabbed her sister actually be Mary?! Though it would have been a very neat twist for Mary to have been sent away to Radley because she stabbed Jessica, the fact that we saw the ghost twin indicates that this evil twin really did murder her sister, as opposed to non-fatally harming her. However, that doesn't mean that the writers weren't giving the audience a major clue about Mary with this twin story. The Halloween story could have foreshadowed the reason why Mary was MIA for all these years.
Though the Halloween story might not be Mary and Jessica's story, it could mirror their tale. Maybe Mary harmed Jessica as a child, which led to Mary being sent away to Radley. It wouldn't be that different from how Charlotte was sent to Radley after Kenneth saw her trying to "drown" Ali in the bathtub: one sister was labeled the dangerous one, while the other was the victim.
So could we actually meet the real, living twin? There's a chance that we already have. We do know one blonde girl who was sent to Radley who has murderous tendencies, and that's Bethany Young. Could Bethany be yet another PLL twin? Anything is possible on this show, and we have until the end of Season 7 to find out.
Images: Screenshot/Freeform; PLLlovaa/YouTube