Jodie Sweetin Has 'Full House' Support On 'DWTS'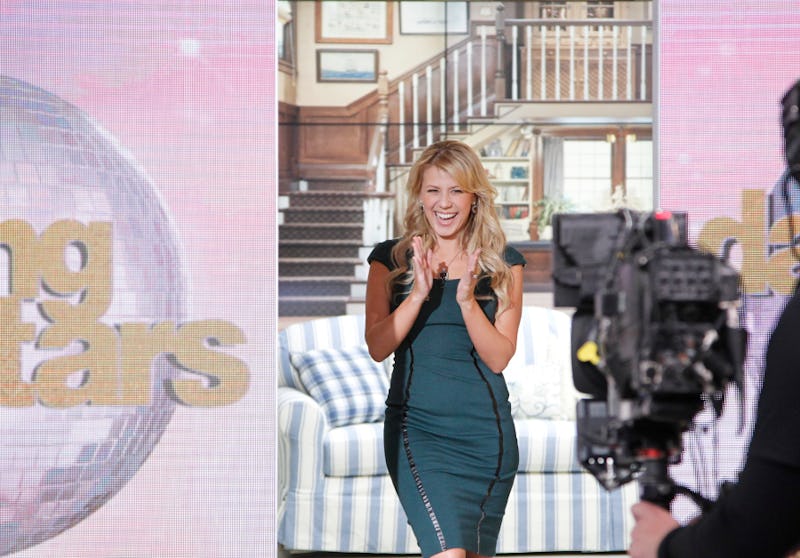 Jodie Sweetin is doing so well on Dancing With The Stars — she's definitely the anchor star of the season (and she was the first one announced), and even though it's only the second episode of Dancing With The Stars Season 22, I think she's going to be one of the ones to beat. Jodie and partner Keo Motsepe are very in sync with each other, and that's pretty impressive this early on. Jodie also has the support of her Fuller House family.
After Jodie and Keo's samba (which was hot, let me tell you), the cameras panned in the audience and showed off Andrea Barber, aka Kimmy Gibbler, Jodie's co-star on Full House and Fuller House. Andrea's presence on the Dancing With The Stars set shows just how close these two are — I mean, they grew up together, so it's no surprise that they're besties. It's really nice that Jodie has the support of not only her real-life nuclear family but also her television family. Jodie's pre-dance interview was about feeling the pressure of the show and how hard it is to learn dances like this in only four or five days (there were even some tears), and it's great that Jodie has people at home to back her up when she's feeling low on Dancing With The Stars.
That's part of the reason why I think Jodie could win this whole thing. Dancing With The Stars is a total lifestyle change for the stars that participate. Commonly, contestants have to fly back and forth across the country to even practice, so there has to be a pretty strong structure holding the everyday stuff together for practices and shows to fit into a star's life. Clearly, Jodie's Fuller House family supports her if pals like Andrea Barber are in the audience of Dancing With The Stars, and Jodie is free to keep her eyes on that big old Mirrorball trophy prize.
Images: Lou Rocco/ABC