13 Exciting Historical Fiction Books By Women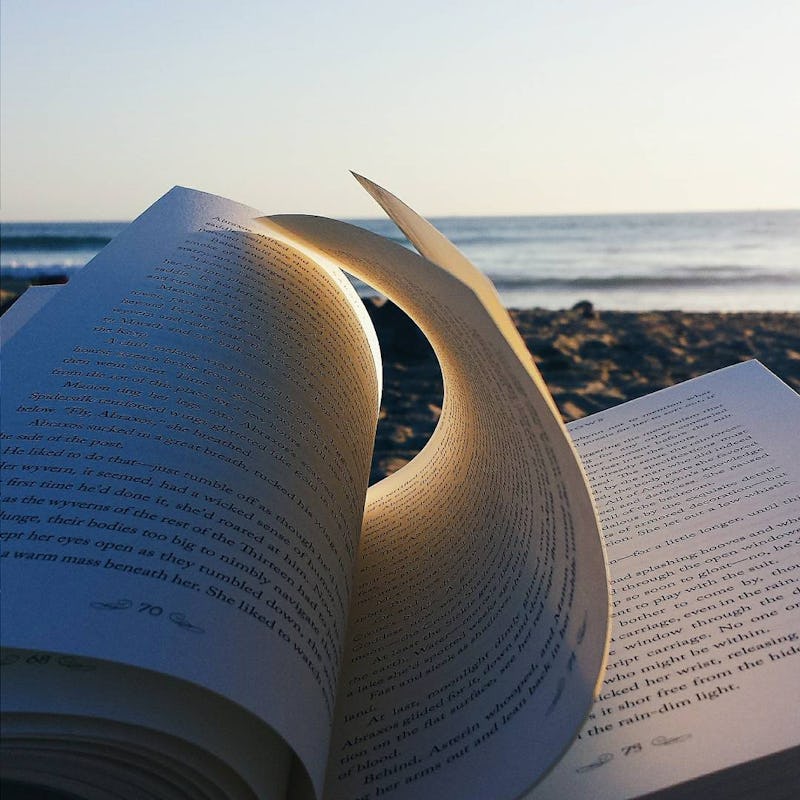 Historical fiction has gotten a bad rap for being dull, boring, and even predictable, but this book nerd is here to tell you that's a pretty unfair assessment. Forget the grumbling and groaning you used to do in your high school history class, because you won't have to endure that same mind-numbing boredom if you forget the lesson book and try exciting historical fiction books by women instead. With a dash of drama, a hint of make believe, and the touch of a woman's pen, a book based in history can become a thrilling adventure that takes readers to another time and place.
History text books are filled with names, dates, and important historical locations. Historical fiction has all that, but so much more, too. Historical fiction takes the facts — what life was like in Japanese internment camps, the real-life promiscuity of the 16th century English court, a true unsolved murder from over 100 years ago — and fills in the details around it, creating not just a timeline of events, but a fully fleshed out story bursting complete with love triangles, family drama, and real human emotions.
Still think you'll be bored? From mysterious disappearances in postwar Japan to wild adventures in colonial Kenya, here are 13 exciting historical fiction books written by women that transport you off the couch and into an entirely different world.
Travel back in time to San Francisco right before the outbreak of World War II, where three young Asian women who were once just struggling to fulfill their dreams to become stars are now fighting to protect their lives. Lisa See's China Dolls is an spellbinding story of friendship, betrayal, and identity that grabs you from the first chapter and holds on until the satisfying conclusion.
In Lynne Kutsukake's dazzling debut, The Translation of Love, readers follow the intertwining stories of several characters, each more unforgettable than the last, in post- World War II Japan, a country still buried in the wreckage of violence and war. At once an intriguing mystery about a missing girl, and a coming-of-age tale of another girl desperate to find her, The Translation of Love tells a commanding story about identity, redemption, and healing that's not to be missed.
3. Wolf Hall by Hilary Mantel
The subject of many historical fiction novels (including another one on this very list), Henry VIII is brought to life in a brand new and exciting way in Hilry Mantel's Wolf Hall. The first in the Thomas Cromwell Trilogy, Mantel's bestseller reimagines the most notorious monarch of England and his chief minister as they navigate royal scandals, back door politics, and new threats around every corner. Featuring famous historical figures like Anne Boleyn and Katherine of Aragon alongside fictional ones, Wolf Hall will change the way you think about boring old history.
Beautifully written and rich with detail, Kristin Hannah's The Nightingale was one of last year's most talked about books, and once you read it, you'll understand why. As intriguing as one of her thrillers, this epic historical fiction novel follows two sisters in Nazi-occupied France as they struggle with personal relationships, social and political turmoil, and basic survival. An exciting page-turner about the horrors of war and human's capacity for strength, The Nightingale will leave you breathless.
5. Away by Amy Bloom
After violence claimed the lives of her loved ones, Lillian Leyb, a young Russian Jewish girl, flees her country for a brighter future in America, but once she hears that her own daughter might still be alive. Lilian sets out to find her. So begins Amy Bloom's epic, Away, a captivating novel about love, hope, and survival that will fascinate, amaze, and move you from the first heartbreaking page to the last.
An emotional and intriguing novel about the shared tragedy of three sisters, Elizabeth Poliner's As Close to Us as Breathing is a brilliantly told family saga. A harrowing story full of heart and hope, this is the kind of historical novel that will give you all the details, and all the feels.
7. Ruby by Cynthia Bond
The rich prose and mesmerizing characters is just the beginning of what makes Cynthia Bond's novel so enchanting. Ruby is the unforgettable love story of Ephram Jennings and Ruby Bell, two people haunted by their past and terrified of their future. Moving and affecting, Ruby is a must-read historical fiction novel.
Best known for her bestseller turned Oscar-winning movie Room, author Emma Donoghue examines a real-life unsolved mystery in her historical thriller, Frog Music. Set in 19th century San Francisco, a city oppressed by an unbearable heat wave and a smallpox outbreak, Frog Music follows Blanche Beunon, the survivor of a saloon shooting determined to find out what happened to her slain friend. A remarkable and beautifully detailed novel, this is Emma Donoghue at her finest.
A stunning story about the fearless young girl destined to be a legend, Circling the Sun captures the transformation of Beryl Markham from a helpless child abandoned by her mother into remarkable young woman and an international aviation sensation. Featuring horse racing, love triangles, and high-flying adventures, this fictionalized biography is simply splendid.
10. Outlander by Diana Gabaldon
Even if you think you hate historical fiction, you'll find something to love in Diana Gabaldon's bestselling Outlander books. A genre-bending series that combines historical fiction, fantasy, romance, and mystery, Outlander follows the life and adventures of Claire Randall, a nurse from the 20th century who travels back in time to the 18th century Highlands. Exciting and sexy, these detail-rich novels (and the Starz series) are mesmerizing.
The community in East Sussex may be small, but there's plenty of big scandals and major drama to go around. In Helen Simonson's The Summer Before the War, the town comes to life, as do its quirky inhabitants as they fall in love with the wrong people, gossip at garden parties, and get too involved with each other's personal lives — before everything changes with the onset of World War I. A charming and romantic novel, The Summer Before Last is also a poignant story about war and it's effect on an entire community.
The best known novel of the Philippa Gregory Turdor Court series, The Other Boleyn Girl retells the story of Mary and Anne, two sisters competing for King Henry VIII's heart, neither one of them realizing what the true cost will be. Provocative and sexy, The Other Boleyn Girl is proof of how exciting — and daring — historical fiction can be.
Ann Weisberger's heart-wrenching historical novel was inspired by two things: an interview the author conducted for a magazine in Galveston, and a run down old house. While those two things may seem unrelated, they become the foundation that Weisgarber builds the moving story of scandalous love affairs, broken promises, and a real-life natural disaster. A breathtaking novel, The Promise is a thrilling and historically accurate page-turner sure to devastate you.
Images: readsleepfangirl/Instagram