This Is When MAC's 'Star Trek' Collab Launches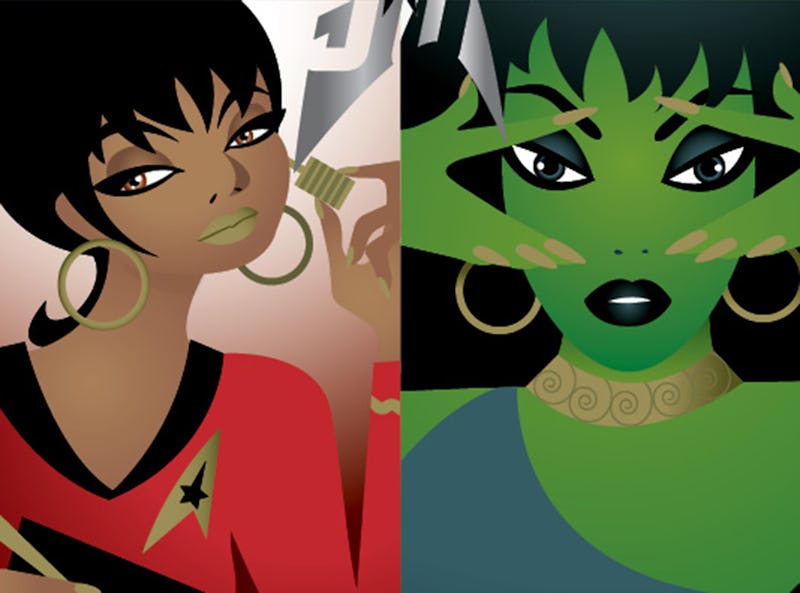 With the announcement of their latest makeup collaboration, MAC is boldly going where no man has gone before. For the film's 50th anniversary, MAC and Star Trek are releasing an exclusive collaboration with lip glasses, pigment eye shadows, and nail varnishes worthy of moon shuttles among the galaxies and cosmos above. But you may be asking: when will MAC's Star Trek collection be available? There are a few months before you can set these phasers to stun, but once you glance at the products, it's clear the wait will be worth it.
According to a press release that Bustle received on Tuesday, the collection is set to be available to shop in September of 2016. The Hollywood Reporter says the exact date is set for Sept.1, with items being available online to shop Aug. 25, and a pre-sale scheduled at the MAC Gaslamp location in Southern California on July 21 during the San Diego Comic Con. But unless you live in SoCal and can get your hand on the collection early, you'll be waiting a whole six months until you can call the Trekkie makeup products yours.
But just by glancing at the product photos, that 6 month wait will be a piece of cake. The collection will include 25 products, ranging from Lipstick, Lipglass, Pressed Pigment Eye Shadow, and Studio Nail Lacquer. Plus, all the products are adorned with the Star Trek emblem, which will only make you love them more.
Check out the gorgeous sparkling green shade for the nail lacquer on the bottom left, and the stunning gold lip glass on the right. Plus, did you notice how that pink and beige powder looks super similar to a cosmo or galaxy? Coincidence? I think not. Something tells me the other pieces in the collection will be just as gorgeous, and, of course, just as Star Trek-based as these. MAC's special collections rarely disappoint, and there's no doubt in my mind this one will be one to remember.
According to MAC Senior Vice President/Group Creative Director James Gager, Star Trek was an obvious choice for a makeup collaboration with the cult-favorite brand.
"Star Trek is an iconic pop culture phenomena whose storylines pushed gender and racial boundaries," he says in the aforementioned press release. "For its 50th anniversary, we celebrate each of Star Trek's powerful women in a transcending, transformational makeup collection."
MAC is promoting the collection with images of a few of the series' main female characters, like Seven Of Nine, Uhura, and Green Girl, pointing out that "Star Trek and its loyal fans cross generations, influencing ideas and aesthetics of gender, race and intergalactic potential." Even a non-Trekkie (such as yours truly) knows the series was, and still is, among one of the most progressive and diverse franchises out there. With MAC's collection for the series' 50 years, there's no doubt their message and celebration will hit home with Trekkies and makeup fans alike.
So while the wait might seem like a long time, September is only just around the corner. And once you do get your hands on the MAC Star Trek collaboration, you truly will be able to live long and prosper!
Images: Courtesy of MAC Cosmetics