Twitter Is Loving The MAC x Star Trek Line Already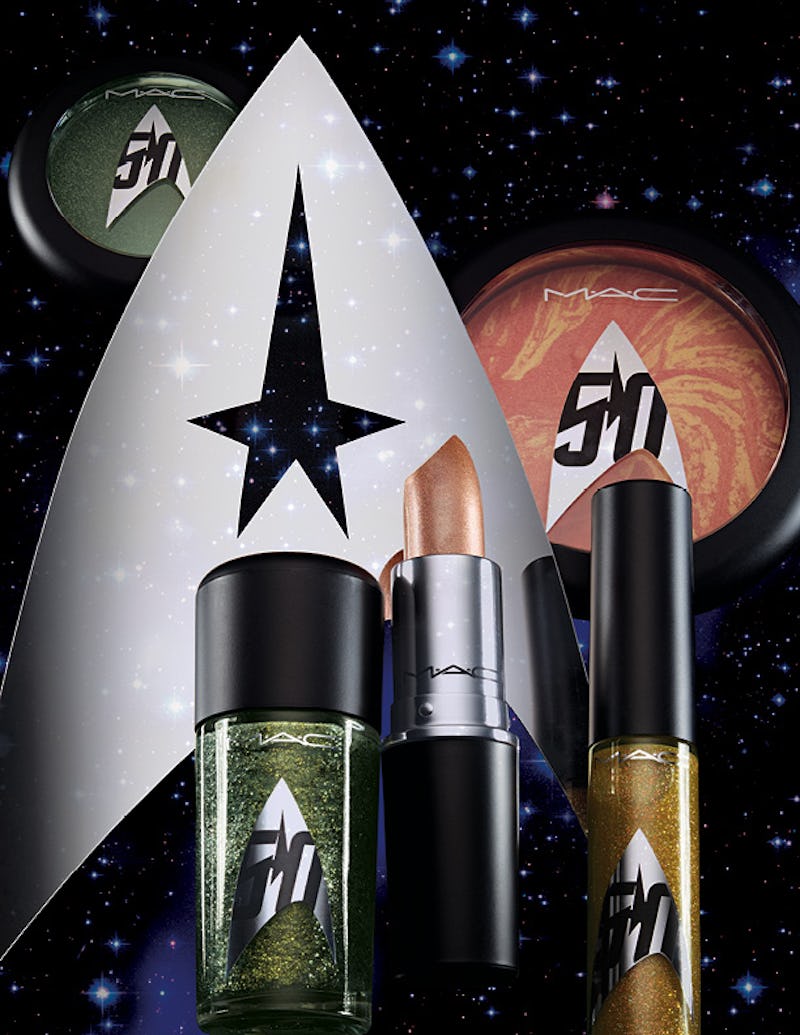 The news of the out-of-this-world launch might have just broken, but Twitter is loving the MAC x Star Trek collection already. Even though there's only a sneak peek of the multi-product line so far, Star Trek and MAC superfans alike are hoping to be beamed up to mid-summer pre-launch date. With any cult classic collab comes some excitement, but in just hours people have started to seriously obsess over this collection.
When MAC announced its 25-piece Star Trek collection, I had a hunch it would be a hit, but I didn't know it'd be an instant obsession. News of the not-yet-released collection is hitting the galaxy fast, and people's immediate reaction is pure joy. Although there's only one image including just five of the products, people are clearly loving what they're seeing so far. The collection doesn't even go on pre-sale until July 21, with a September release date, so who knows how crazy the obsession will be by then.
The collection will have everything from lipstick and gloss to eyeshadow and nail polish, so you can be completely decked out with intergalactic hues and shimmer. There's no word yet on what the price of the line will be, but people on Twitter are convinced that it'll cost them a pretty penny. It's safe to say that the world will be keeping their un-Spock-like ears ready for whenever more info comes.
If you thought the obsession over Too Faced's Sweet Peach Palette was real, then just wait until you see how people are reacting for this launch. It's not just Star Trek fans who are obsessed over the new line either. Whether you're a makeup lover of a sci-fi guru, there's something for everyone to love. Don't believe me? Just look at how Twitter is reacting.
Yes, caps lock is needed for this exciting news.
The moral vs. makeup struggle is real.
MAC: Making makeup dreams come true since 1984.
Maybe they announced so early to give everyone some extra time to save.
Someone send help.
The emojis say it all.
At least she realized early on.
Let's just say this line is guaranteed to bring out a little Trekkie in all of us.
Image: Courtesy of MAC