The New 'Ghostbusters' Are Cooler Than Ever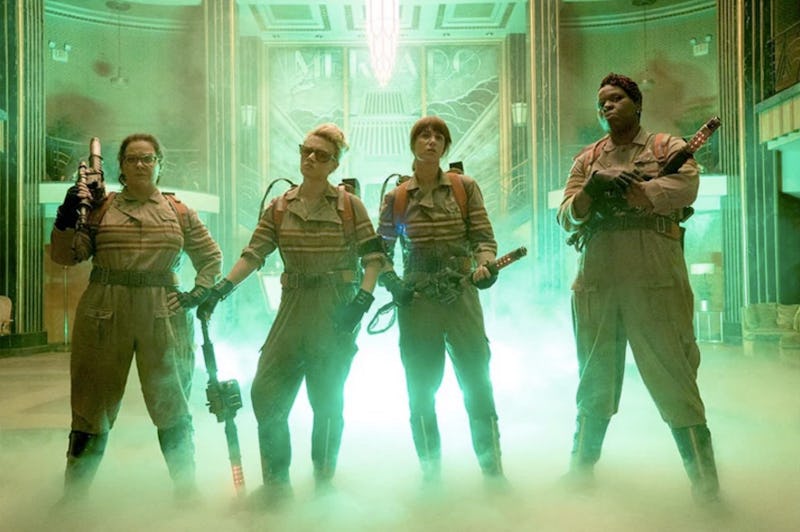 The all-new female-led adaptation of the 1984 film, Ghostbusters, is officially on it's way. Between the release of the film's trailer, and having the original movie's theme song constantly playing on repeat in my head, I, for one, already know exactly who I'm gonna call. But Empire magazine's exclusive new interview with the reboot's director, Paul Feig, makes it even harder to wait until the July 16 release of the film. These ladies aren't just going to be exactly as badass and inspiring as we hope them to be, but — based on the latest new Ghostbusters promo photo from the film — the movie is also going to have special effects that are way better than anything we saw in the original.
When I think about Ghostbusters, I can't help but think of the proton guns used by the original team whenever they were faced with their latest round of new ghosts. The blue and red lights shooting out meant that the ghostbusters meant business. Ghosts were no match for them. Now, the very same proton guns we experienced in 1984 are in the hands of Kristen Wiig, Melissa McCarthy, Kate McKinnon, and Leslie Jones, who make up the latest team in charge of fighting off the ghosts in our cities — one hilarious moment at a time. Basically, the nostalgia is strong with this latest still shot from the film.
Despite the new special effects in play, Feig remains true to the look and the capabilities of the proton guns from '80s. However, the ability to make the guns' actions appear more crisp and electrifying is definitely a plus. Things seem to be headed in the right direction. And, luckily for the Ghostbusters-loving females like myself, we can expect the power to not only be prevalent in the guns themselves, but very much so in the characters wielding them.
"I wanted my ladies to be badass. I wanted them to get in over their heads and fight ghosts. I like the idea of them having to enter a giant setting and take on ghosts." [...] "I like action movies. I got to play with that in Spy, and it felt very natural here. It makes it fun and very unexpected for people when they hear it's four lady Ghostbusters. It may be quite different than what they think."
Can Paul Feig just direct every action-comedy movie? I haven't seen the new Ghostbusters yet to really make an opinion on how it's all going to turn out, but, if there's one thing I know for sure, it's that we need more of this attitude when it comes to female-led action films. I can't wait to see how this movie will help make more action and comedy movies be the ones yielding the big guns... The first time around.
Ghostbusters will be hitting theaters on July 15, 2016.
Images: Columbia Pictures