We're Meeting Mack's Brother On 'S.H.I.E.L.D.'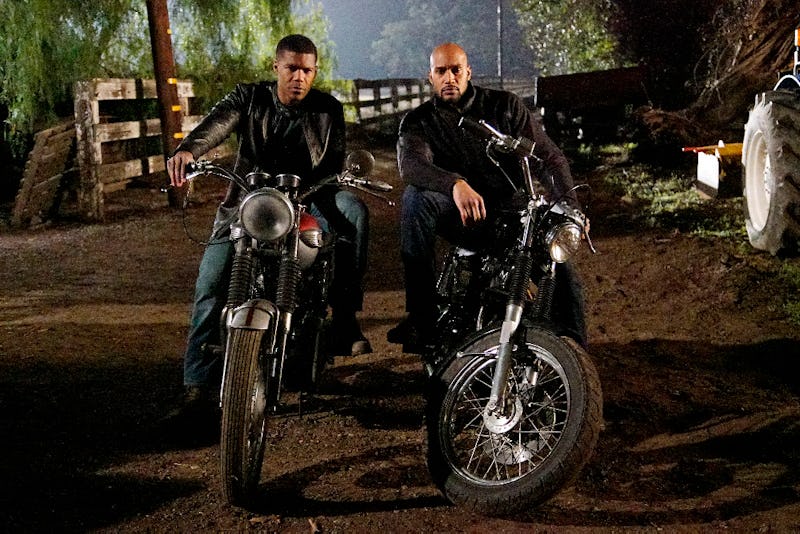 Coulson's team on Agents of S.H.I.E.L.D. has always been a formed, if sometimes dysfunctional family. Tuesday night, we're going to met some more blood relatives. Who is Mack's brother, Ruben Mackenzie, on Agents of S.H.I.E.L.D. ? I didn't even know Mack had a brother, and his introduction is going to cause a lot of conflict.
The character will be played by Gaius Charles, who you might recognize from Friday Night Lights or Grey's Anatomy. According to the official ABC press release, "when a radical group called The Watchdogs emerges with plans to eliminate the Inhumans, Agent Mack and his brother become caught in the crossfire." How does Mack's brother become involved? Maybe he's a new Inhuman, or some kind of spy on the inside. This organization has had undercover members in the comics. On the other hand, it's also possible that Ruben is one of the Watchdogs.
In the promo for the episode, he can be heard briefly asserting that "the government controls everything" — so I have a feeling that this is going to be Mackenzie versus Mackenzie, at least for a little while. That sounds like someone who has joined an extremist group at a relatively young age. Let's hope that Mack and Ruben's brotherly relationship is stronger than, say, the Ward family.
There's no Ruben Mackenzie in Marvel comics — the character that Mack is based on doesn't have any known relatives. This character could go in any direction. My theory, just based on what we've seen so far in promotional materials, is that he's a Watchdog that will ultimately turn against the group and join his brother, but not before giving Mack cause to doubt Daisy's methods and the mission.
Either way, I like that we're meeting Mack's family on Agents of S.H.I.E.L.D. finally. We've met both of May's parents now, and the aforementioned brothers Ward. We don't know much about Mack. We barely even see him in the field. So, even if there's conflict involved, I am grateful to get some insight into his life before S.H.I.E.L.D. via his kid brother Ruben.
Image: Kelsey McNeal/ABC