59 'Bachelorette' Spoilers From JoJo's Season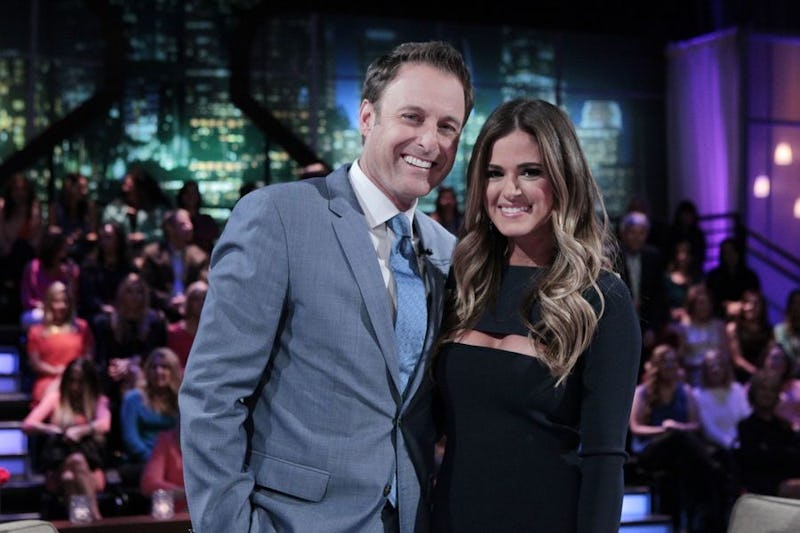 When Ben Higgins said goodbye to Joelle "JoJo" Fletcher on The Bachelor season 20 finale episode, fans basically didn't have any time to grieve JoJo's loss before it was announced that she would be the next Bachelorette. I guess it turns out that JoJo didn't need Ben, after all. Fans who were team JoJo all along are anxiously awaiting her Bachelorette debut, though tweets from Bachelor/ette creator Mike Fleiss are easing the pain of waiting for the anticipated upcoming season. He has been tweeting up a storm about JoJo's season with hints, photos, and spoilers. So, to ease the wait time until May 23, here is every Bachelorette spoiler about JoJo's season from Mike Fleiss to date. As of Tuesday, April 12, he's said 42 things about the upcoming season, which is both impressive and a little annoying for people who want to keep the mystery alive. (Speaking of which, this is your official spoiler warning.)
On March 16, filming The Bachelorette became fodder for Mike Fleiss's Twitter account. He's been dropping spoilers left and right about kisses, possible fights, and enviable travel destinations that leave a lot to the imagination. If you haven't been following @fleissmeister, here are all of the major spoilers you have missed from his Twitter account — and one is a real doozy.
1. Let The Updates Begin
It would be The Bachelorette without drama with the men!
2. Could There Be Another Unicorn?!
The second JoJo stepped out of the car with a Unicorn mask I knew I loved her... So, could there be another special, masked contestant?
3. Let The Kiss Ticker Begin!
Can't wait to find out who with!
4. There For The Right Reasons
She'll be a great Bachelorette.
5. A One-On-One Already?
Who is the lucky guy?
6. Apparently A Lot Of The Guys Have Something In Common ...
Beards.
7. & 8. Another One-On-One
She just had one yesterday? Jeez, they don't waste any time filming The Bachelorette. At least she seemed to like the guy.
9. Where In The World Is This Date Happening?
My guess is that it involved fireworks.
10. Kiss Counter Update
It's already at three, people!
11. Fleiss Is Also Telling Us Everytime JoJo Orders A Mixed Green Salad
Unless this really is code for something, it's not nearly as interesting as the kiss counter.
12. JoJo Is In Bed ...
Not like that! We see what you did there, Fleiss.
13. Kiss Counter Update
Wait ... what?
14. & 15. Dudes Are By The Pool... And There's A Picture!
Our first visual of the season.
16. & 17. The Guys Are Getting Psyched Up For The Rose Ceremony
JoJo was prepping too!
18. We Have A Rose Ceremony Picture Of JoJo!
This is not a drill, people.
19. Apparently Things Are Heating Up Over There
Don't believe you, I'm going to need photographic evidence ... please?
20. FIGHT. FIGHT. FIGHT.
Intrigue.
21. We Have Another JoJo Picture!
Keep them coming!
22. Kiss Counter Is Still Going Strong
Ok, what's the deal with this half number?
23. Group Date
Are we down to 12?
24. Doing Just Fine
I'm glad things seem to be going well for her!
25. Drama, Drama, Drama
YES.
26. Cool Car
I wonder where JoJo is going?
27. The Host With The Most
What does that mean? Rose ceremony? Date card? Harrison planning a date? (Fingers crossed it's the latter.)
28. Pool Party
It's not The Bachelorette without some shirtless shots!
29. JoJo Could Have Found The One
Marriage material... that's big.
30. & 31. Things May Be Getting Tense With The Guys
Also, where are they going?
32. Food Update
Love knowing what my girl is eating! And, Peeps are delicious.
33. Going To The Dogs?
I seriously hope this means we get to see puppies.
34. & 35. It Was Only A Matter Of Time Before This Was Tweeted
Hot tubs are a Bachelor staple, after all. As is Jimmy Kimmel
36. The Kiss Counter Strikes Again
Don't worry Chris Soules, JoJo isn't even close to your record.
37. Frontrunner
Wonder who that someone is...
38. A "Terrible Towel" Could Be A Huge Hint
A "Terrible Towel" is a symbol of the Pittsburgh Steelers. So, this means one of three things. A. They went to Pittsburgh as a date destination, which is a sort of random choice. (Hey, I should know, I lived in Pittsburgh). B. One of the guys is a Steelers football player. (It could happen, right?) C. HOMETOWN HINT! We know JoJo is a Texan, so could the guy whose hometown she goes to be a Pittsburgh native? This could be a big spoiler.
39. & 40. More Pittsburgh Confirmation...
JoJo even met some Steelers!
41. Some Real Feelings Come Out
Hopefully, nothing as heartbreaking as what went on behind the bathroom door on Ben's season.
42. We're Down To The Single Digits!
Only eight guys remaining ...
43. Apparently There Are Two Stand Out Contestants
A face-off like nothing before ...
44. "On The Road To Love"
JoJo looking flawless, even on the run!
45. Travel Time
Wonder where they'll be traveling this year?
46. With A Hot Date
Abroad with a hot guy? That's the dream.
47. Looks Like There May Be A Hiking Date
What hike would be complete without a statement necklace?
48. Celebrating With Some Skin
Fleiss celebrated 60,000 followers by showing some skin... Can't wait to learn more about this guy.
49. Another Hint About A Date
Could it be scuba diving? Snorkeling? Swimming?
50. A Behind The Scenes Look At The Crew
The crew has to eat too!
51. First Reported L Bomb!
That's huge!
52. JoJo In Another Gorgeous Gown
Can't wait to see if she gets a ring on her left hand, too.
53. Yet Another JoJo Pic
Apparently, it's a date night!
54. Another Location Hint
JoJo is at the beach.
55. Getting Steamy
Hence the kiss counter.
56. Baggage
Soo funny, Fleiss.
57. More JoJo
Her outfits have seriously been on point.
58. Some Guys Are Showing Their True Colors
Let's hope JoJo chooses wisely.
59. A Selfie?
JoJo shares a selfie in a red dress, but what's the occasion?
His clues have left fans like me with more questions — and made me more excited — than ever. Can't wait for May 23.
Image: Rick Rowell/ABC