Love at 'Downton Abbey' —Gettin Piggy With It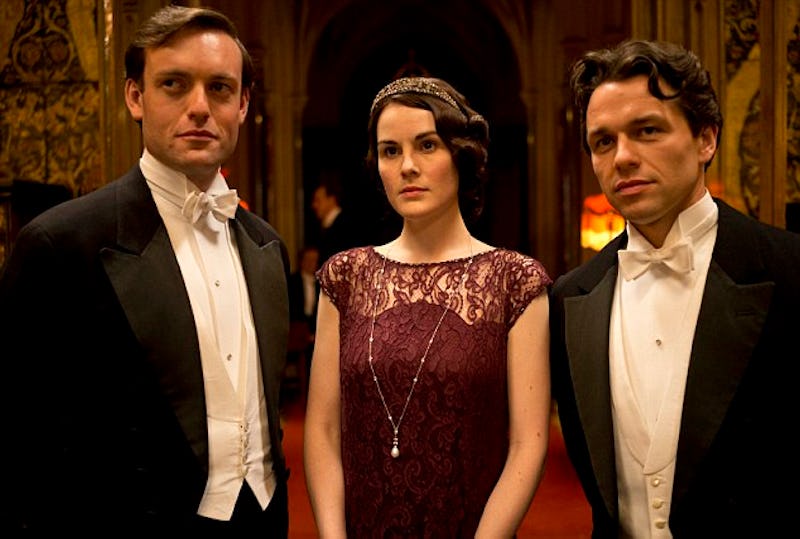 It looks like it won't be long before Lady Mary moves on from Lord Gillingham (and that whole dead husband thing). Last night's episode of Downton Abbey had romance in the very smelly air for Mary and Mr. Blake. While Lord Gillingham was off to America to bail out his brother-in-law Harold, Mary was left in charge to manage the affairs of the estate. It wasn't long before all of that one-on-one time with Blake turned bickering into genuine flirtation. And in the unlikeliest of Downton manners, the two started swooning for each other while surrounded by (literal) swine. Who knew dehydrated pigs and mud were so sexy?
Mucking about the mud and carrying heavy buckets of water perhaps wasn't the hardest thing Lady Mary had to deal with this week. Mrs. Hughes confessed Anna's rape to Mary in order to make sure Bates would not have to travel abroad with Lord Grantham. In a display of real solidarity, Mary assured Anna nothing was her fault and offered the help of police and doctors. Despite her urging, Anna continued to remain quiet on the attack.
Edith and Rose were also off to London this week (seriously, who was actually IN the abbey?) for their "errands." Rose was of course going to chase Jack all about the big city. In a scene of truly unsavory overacting in a row boat, Jack and Rose — I know. I know. — addressed how their love was impossible. KISS ME! I'M THE KING OF THIS POND! Or something along those lines.
Lady Edith's matters were far more difficult as she was in London in order to have an abortion. Her Aunt Rosalind was surprisingly supportive and non-judgemental about her decision. Edith's initial worries were more based on how she would be perceived by high society were she to keep the child of a married man who may or may not ever return, but her aunt was actually the one who seemed more concerned about Edith's emotional and physical well-being. However, when Edith stepped into the dark clinic and looked inside an examination room to see a woman in tears, she changed her mind and fled.
Back at Downton, Violet is bedridden with bronchitis. Mrs. Crawley sweeps in and promises to nurse her back to health, night and day, in order to stave off pneumonia. In a fit of high fever/honesty the Dowager Countess called her doting nurse a "drunken vicar." When Violet finally comes around she's shocked to hear what good care her number one frenemy gave. Watching Maggie Smith force a cheerful game of gin as a way of saying thank you is something I could watch all day.
Something else I could watch all day is Tom having a meet-cute at a Liberal MP lecture. Seriously, is he not the most eligible hipster bachelor the English upper crust has ever seen? Oh wait, there was that whole thing with him cheating... and... err... still!
There were even more hearts going pitter patter with the downstairs staff as Alfred returned for a quick visit. Dear Mrs. Hughes and Carson tried to keep him away in order to maintain peace between Daisy and Ivy. That, however, failed miserably and now tempers are hotter than ever in the kitchen.
Things continued to grow uneasy when Lord Gillingham returned to Downton for a short stay. He saw Mary and Blake's newfound relationship and was visibly taken aback by it. What's more, Gillingham's arrival also marks the return of the awful Mr. Green. When he's alone in the boot room, Mrs. Hughes lets him know that he is a known villain in the house and he'd better keep quiet and keep to the shadows if he wants to keep his life. By the way Bates reacted to his presence and how Anna immediately left the room upon seeing him, I doubt it will be long before Bates fires back.
Last night's episode felt a bit like the calm before the storm leading up to the season finale. Heck, things were so peppy for some folks at Downton even Lady Mary made a pun. After making some late night scrambled eggs for herself and Blake, while still covered in mud, she said "It's the least I can do. You saved our bacon. Literally." Damn girl. Ladies is pimps too.
Amidst all of the heavy drama Downton Abbey often delivers, it's nice from time to time to be swept up by the romance and wit of the series. That being said, we still have Edith's pregnancy, Thomas and Baxter's scheming, and Mr. Green to deal with. Onward, mates.
Image: Downton Abbey/PBS