See The First Outfit From 'Gilmore Girls' Revival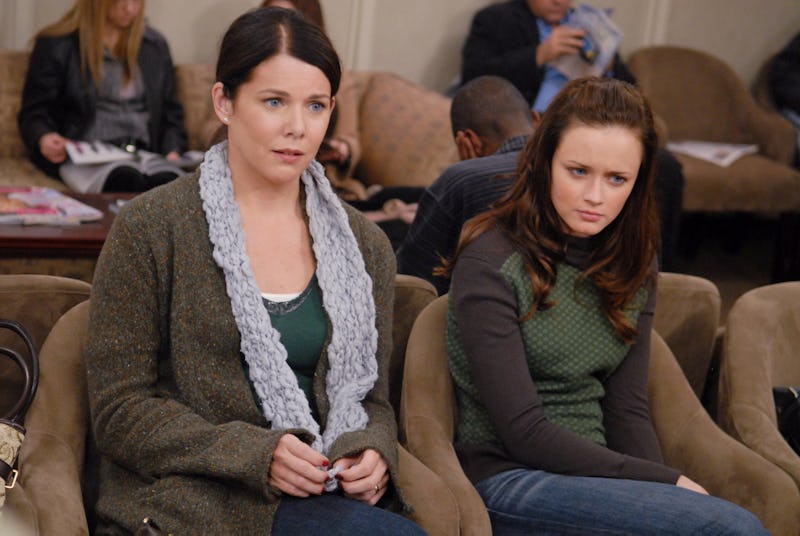 If you've been dying to see something other than candid Instagram posts from the set of the Gilmore Girls revival, then you are definitely in luck, because Lauren Graham recently retweeted a picture of a skirt on Twitter, and it finally gives us the first taste of the type of stuff Lorelai Gilmore will wear in the revival. Retweeting a denim pencil skirt that fashion designer Rachel Antonoff tweeted, Graham knowingly gave audiences everywhere the first exclusive look at what Lorelai Gilmore will be wearing in the revival. And can I just say: Her style has definitely come a long way.
Because who hasn't been dying to see just how Lorelai Gilmore's style has changed in 2016. Long gone are the crop tops and the jeans that hug every curve. Those early '00s outfits were sometimes painful, even when they were actually in style. Instead, if this skirt is any indication, Lorelai Gilmore has definitely taken a very progressive and adventurous step into the future as far as fashion is concerned.
I mean, just look at this skirt. Doesn't it just scream Lorelai Gilmore? With the quirky details, the tutti fruity pattern, and the professional silhouette, it combines everything that is wonderful about Lorelai. She is a woman with a ton of spunk, sure, but when it calls for it, she is an utter professional. And I'm happy to see that her new style will be a reflection of who she really is on the inside.
The skirt also suggests a bit of a revamp for Lorelai. If you ask me, the most stylish moments for her character came during the two seasons where she only wore wrap dresses. This irreverent skirt suggests that Lorelai is embracing her fashion choices a little more boldly in the revival, unafraid to shake up the sleepy Connecticut town in which she lives and live a little bit more loudly.
Because this skirt definitely is a bold one, but one that perfectly captures Lorelai's indomitable spirit. Check it out at Nordstrom, here, or buy at Garmentory for $194, here.
Image: Warner Bros. Pictures; Nordstrom