'RHOBH' Was Basically A Lisa Vanderpump Roast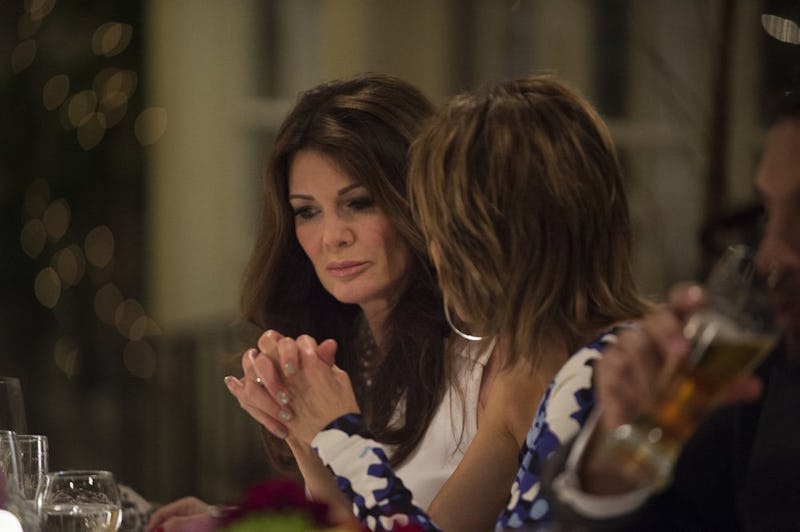 There seems to be a couple of running themes lately on The Real Housewives Of Beverly Hills. The ladies are either talking about Yolanda's illness or Lisa Vanderpump supposedly being a master of manipulation. This week we got a little bit of both, while a line of muzzled camels looked on. The ladies' uber luxurious vacation turned into drama very quickly. Viewers got a taste of "Dubai realness" in Erika's words, when Lisa Vanderpump got shanghaied by Eileen and Lisa Rinna at dinner.
Rinna needs a hobby. I am willing to find her one at this point. The girl is always trying to stir the pot and she has Eileen egging her on along the way. These two could have their own spinoff that focuses solely on them starting petty, repetitive fights with random people.
When Rinna had originally started talking about Yolanda's illness, Vanderpump asked her why she hadn't brought Kyle into it, then she told Kyle that she thought Rinna was going to bring her into it. Do you need a flow chart? I definitely do. The main takeaway here is that Rinna needs an adult coloring book or something.
The thing is, Kyle wasn't upset. Rinna and Eileen were stirring up a huge confrontation on Kyle's behalf when she wasn't even in need. That's how thirsty these two are for drama.
Once Rinna calmed down, she tagged Eileen into the ring, Eileen got riled up and started yelling at Vanderpump about what she'd said about Eileen and her husband. Vanderpump apologized, but then it turned into an issue with the supposed lack of sincerity in her apology. I half expected that it was eventually going to turn into them having a problem with her hair or something. They just wouldn't stop. It was bordering on bullying.
I'm Team Kyle and Vanderpump on this one. I think Rinna and Eileen have been slyly starting fires for a while now, and it's time they stopped their reign of drama.
Images: Nicole Weingart/Bravo