The Funniest Outfits From 'PLL' Flashbacks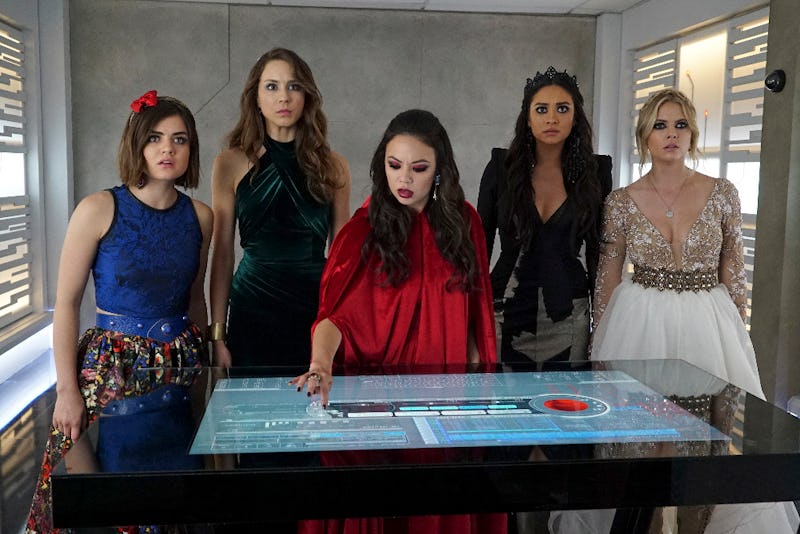 As an avid Pretty Little Liars fan and watcher from season one to now, I have seen outfits on the girls that have made me want to hit the Bloomingdales online shop, hard. However, the Pretty Little Liars flashback outfits are a different story. They are downright hilarious. They feature a lot of neon, frills, velour, and truly awful prints. Additionally, Aria's punk Avril Lavigne phase is quite a scary, yet relatable, transformation (I think it's the pink hair)!
Each character on the show is somewhat designed to fit a certain archetype like the Spice Girls or The Sisterhood of the Traveling Pants, so the wardrobes have always been based on different styles that fit these themes. What makes the outfits in the flashbacks super hilarious to behold is that they are so very different than anything the Liars would wear in the modern day scenes. I mean, Emily in a pastel polo shirt? Spencer rocking thick glasses and an even thicker headband? It's just too good.
Although, most of the outfits in flashbacks are not exactly the epitome of high style, it is important to remember that it was done on purpose. The clothes are made to reflect who each of the characters are at that point in time, under Ali's shadow. So, with all of this in mind and without further ado, here are some really hilarious outfits from PLL flashbacks.
1. Emily's Hilarious Polo
Look at this pre-pubescent lavender polo. Who didn't have a top like this in middle school?
2. Spencer's Nerd Look
Um, who are you and what have you done with Spencer?
3. Hanna's Two Shirt Look
We've officially reached peak layered t-shirts.
4. Aria's Pink Hair
I'm guessing that a week later she regretted dying those strands.
5. Aria's Graphic T-Shirt
Why does every shirt have to be belted? I don't understand.
6. Spencer's Argyle Sweater
This sweater is just a little too buttoned up for someone in high school, especially layered over that collared shirt.
7. Mona's Pre-Mona Phase
Granted, she is in a church, but yeesh. The high collar and glasses are a total departure from how fans know Mona now.
8. Emily's Cargo Skirt, Hanna's Shirt & Chinos, Aria's Outfit
This photo is the epitome of early '00s trends and awkward high school feels.
9. Aly's Dayglo Yellow Tank
This highlighter tank is definitely not Aly's color. I'm guessing someone else figured that out too considering what is about to happen.
10. Hanna's Grey Sweater
This is one of those weird open sweaters with no buttons, isn't it?
11. Emily's Sporty Party Look
This shirt and camo skirt combo isn't quite as fashionable as her older Emily's outfits.
12. Hanna's Orange Scoop-neck
Hanna's not winning any points for this bright orange tee.
13. Aria's Punk Tights
Sk8R gUrL aRiA is in some pretty crazy tights.
Want more fashion and beauty tips? Check out the video below and subscribe to Bustle on YouTube!
Images: Freeform (14)