The Most Lavish 'Real Housewives' Wedding Venues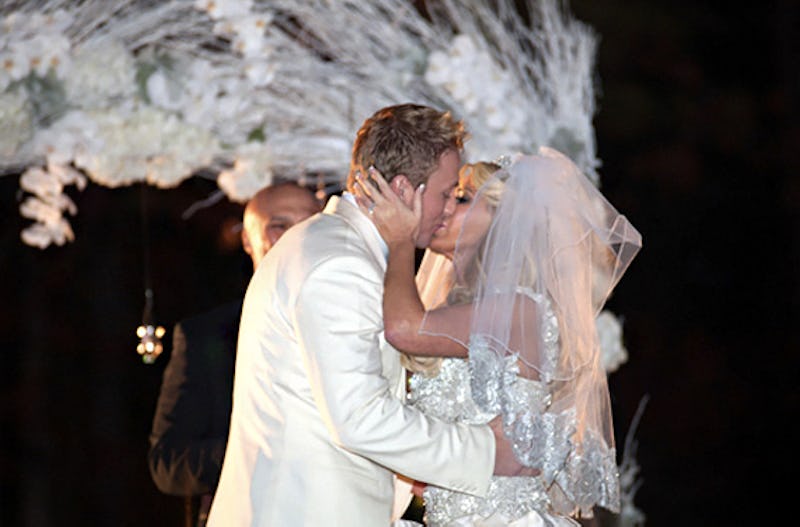 The biggest draw when it comes to watching Real Housewives has always been the opportunity to get an inside look at the lives of the wealthy and fabulous. If it wasn't for these shows, I would never have any clue what over-the-top promotional events, galas, and other big events were like. And there's no bigger event than a wedding, so you know that the Real Housewives really do it up when it comes to lavish nuptials.
These people are not getting married at some local recreation center. The Real Housewives get married at wedding venues that most of us regular humans could never afford. And this is especially true for the women who chose to get married in front of the Bravo cameras and probably feel extra pressure to show off in order to impress the loyal Real Housewives viewers — and the other women, of course.
Some of these wedding were so extravagant that a lot of the Real Housewives ladies had their own spinoff specials solely to show off their special events. And you thought you were cool because you hired a videographer to follow everyone around at your wedding. Fat chance.
The name of the franchise may be Real Housewives, but there is nothing at all realistic about these wedding venues.
Cynthia Bailey & Peter Thomas: The Fernbank Museum
Cynthia Bailey's wedding to Peter Thomas was not at all conventional. First off, the bride wore a metallic charcoal-colored dress instead of white. Second, the duo tied the knot at the Fernbank Museum in Atlanta, meaning Cynthia said "I do" in front of a giant dinosaur skeleton. According to Wedding Spot, while the rental fee for the Fernback Museam ranges between $2,000 and $5,500, the average cost for a wedding held the museum is between $6,949 and $14,331 for a ceremony and reception for 100 people. But, there is a maximum capacity of 300 guests, so a larger amount of RSVPs would definitely bring up the price tag.
Kim Zolciak & Kroy Biermann: The Biermann Home
I'm sure the Biermanns put a lot of money into their wedding, but at least they saved a little bit of cash by making their own home the venue. Plus, it's unique because I'm pretty sure that no one else will ever get married there unless they are close friends with the couple or a part of their family. That really makes the venue priceless in my eyes.
Kandi Burruss & Todd Tucker: Le Fais Do-Do
Real Housewives of Atlanta's Kandi Burruss and Todd Tucker tied the knot at Le Fais Do-Do in Atlanta. The venue is gorgeous and can hold a maximum of 800 guests. The total cost for a wedding at this venue is dependent on the size of the event, date, and other factors, but I'm sure it's pretty pricey.
Tamra & Eddie Judge: St. Regis Monarch Beach
Just like some of the other Real Housewives ladies, Tamra's beautiful wedding was filmed and aired on Bravo. It's a little bit unclear how much a wedding at the St. Regis Monarch Beach cost. According to Wedding Spot, the estimate is a pretty wide range of numbers: between $12,428 and $73,754 for a ceremony and reception for 100 guests. This is definitely not a place that all of us could easily afford to tie the knot.
NeNe & Gregg Leakes: Atlanta's InterContinental Hotel
It was pretty devastating to RHOA fans when NeNe and Gregg Leakes split up, so it's safe to say that the fandom was overjoyed when the two got back together and decided to remarry. Plus, we got a short-lived spinoff series about the wedding planning to watch on Bravo. NeNe and Gregg got married (again) at Atlanta's InterContinental Hotel. According to Wedding Spot, for 100 guests, a wedding at the InterContinental could cost between $24,855 and $36,104, which is definitely not cheap, but the venue was definitely a great fit for Atlanta's queen bee.
Bethenny Frankel & Jason Hoppy: Four Seasons Restaurant In New York City
I feel weird looking back on Bethenny Frankel's wedding with fondness considering that she is still going through a rocky divorce with Jason Hoppy, but they did televise it and have their own show devoted to the event. The former couple got married at the Four Seasons in New York City. Even though the marriage is over, the wedding was very legit. In fact, the venue is consistently listed as one of the most expensive wedding venues in New York. According to Ranked, it costs $275 plus tax per person and 22 percent service fee to have a wedding at the Four Seasons. Damn.
Ramona & Mario Singer's Vow Renewal Ceremony: The Pierre
Viewers did not get to see the actual wedding between Ramona and Mario Singer because their marriage predates Real Housewives, but the Real Housewives of New York City fans did get to see their vow renewal at The Pierre in New York City. I feel like all couples who have vow renewal ceremonies are cursed though, especially when it's on reality TV, because these two now broken up. But they did have a nice ceremony and venue. This is also a historically pricey wedding location. According to New York Magazine, it costs about $375 per person plus tax and gratuity at The Pierre.
Pandora Vanderpump & Jason Sabo: Lisa Vanderpump & Ken Todd's Home
With a mom like Lisa Vanderpump, there was no doubt that Pandora's wedding was going to be amazing. And since Lisa Vanderpump and Ken Todd have a palatial home in Beverly Hills, it made for a perfect wedding location for their daughter. I bet they would make a ton of money if they ever decided to open up their home as wedding venue for others. I'm sure there are a bunch of rich Real Housewives super fans who would love to get married there.
Kara Keough & Kyle Bosworth: Jeana Keough's Home
Real Housewives of Orange County alum Jeana Keough's daughter Kara had a beautiful wedding to her NFL player husband Kyle Bosworth. Between marrying a professional athlete and growing up wealthy in Orange County, I imagine that the sky was the limit when it came to choosing a wedding location, so it was a little bit surprising that they chose to get married at Jeana Keough's home. But given that Jeana works in real estate and is super successful, it does make sense that she would have a beautiful home that would be perfect for a big wedding.
These Real Housewives ceremonies and receptions were really out-of-this-world beautiful and very expensive. If we all can't enjoy these weddings on our own, at least we got to experience them via television and social media.
Images: Bravo (4)