You Can Now Get Condoms At The Push Of A Button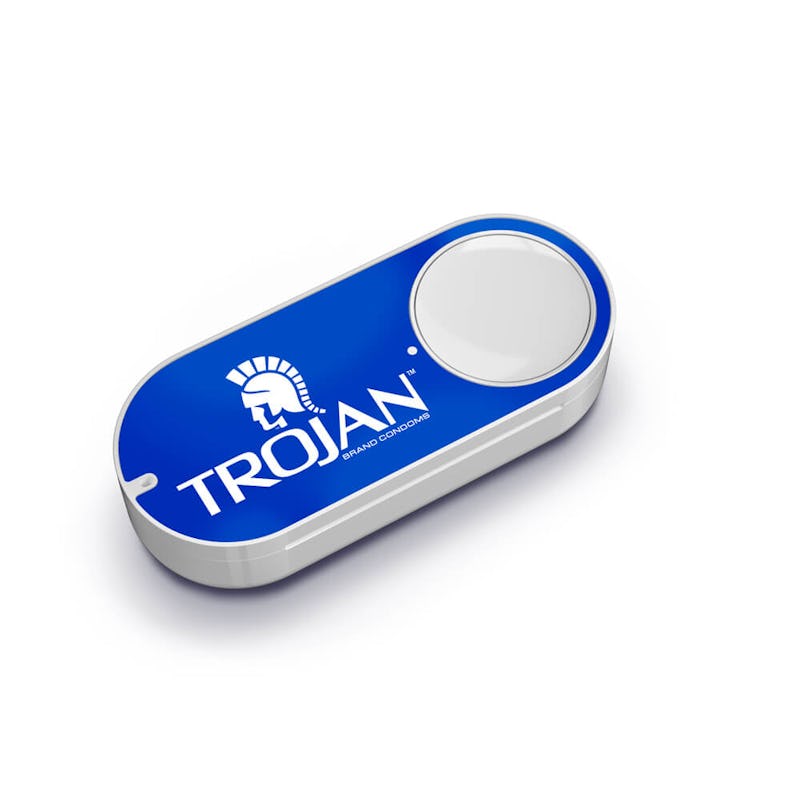 Ever wish you could press a button and have condoms magically appear at your doorstop? Then the brand new Trojan Dash Button is the invention of your dreams, my friend. Launching Thursday, March 31, just in time for National STI Awareness Month in April, this new button gives you no excuse to not be fully stocked at all times. Amazon Prime members who press this button (and I don't know why they wouldn't all the time, it's a cool button) will receive condoms at their door within two days.
You may think it's a long time if you're in the moment and neither one of you has a condom, which is the exact situation nearly one in five adults have been in the last time they had unprotected sex, but it sounds like this handy button is better suited for stocking up when your supply is running low. If you need one ASAP, you may have to actually get off your butt and go downstairs to a convenience store and get one (gasp) yourself. This button is just teaching us to be be smarter, safer adults — with fun little toy, of course. It's $4.99 and you can buy it on Amazon.
"Throughout the brand's 100 year history, Trojan has always been a leader and innovator in sexual health," Bruce Weiss, Vice President of Marketing for Trojan Brand Condoms said in a press release. "We're excited to work with Amazon to deliver Trojan condoms right to our consumer's door with the push of a button. The Amazon Dash Button for Trojan further ensures our consumers are always prepared."
But Trojan isn't the only company on the on-demand condom game. Here are some other options:
If you live in San Francisco, Manhattan, or Brooklyn, you can get a box of 12 eco-friendly, socially responsible, and high quality condoms delivered right to your door in under an hour — at any hour — via bike messenger for $15. After photojournalist Talia Frenkel was sent to Africa to document women dying of HIV/AIDS, she was inspired to start her company, which distributes a condom in a developing country for every condom purchased.
2. 7-Eleven Date Night Pack
Want a little ice cream with your protection? For $20, 7-Eleven, in a partnership with DoorDash, will rush deliver a Date-Night Pack to your door within the hour if you live in New York, Los Angeles, Chicago, Boston, or Washington D.C.. Here's what's in your special box: Ben & Jerry's Chocolate Chip Cookie Dough ice cream, a Hershey's chocolate bar, an 8.4-ounce Red Bull energy drink, an 18-piece pack of Trident gum, and a three-pack of Trojan Ultra Thin condoms.
Want more of Bustle's Sex and Relationships coverage? Check out our new podcast, I Want It That Way, which delves into the difficult and downright dirty parts of a relationship, and find more on our Soundcloud page.