How To Hide Pesky Allergy Symptoms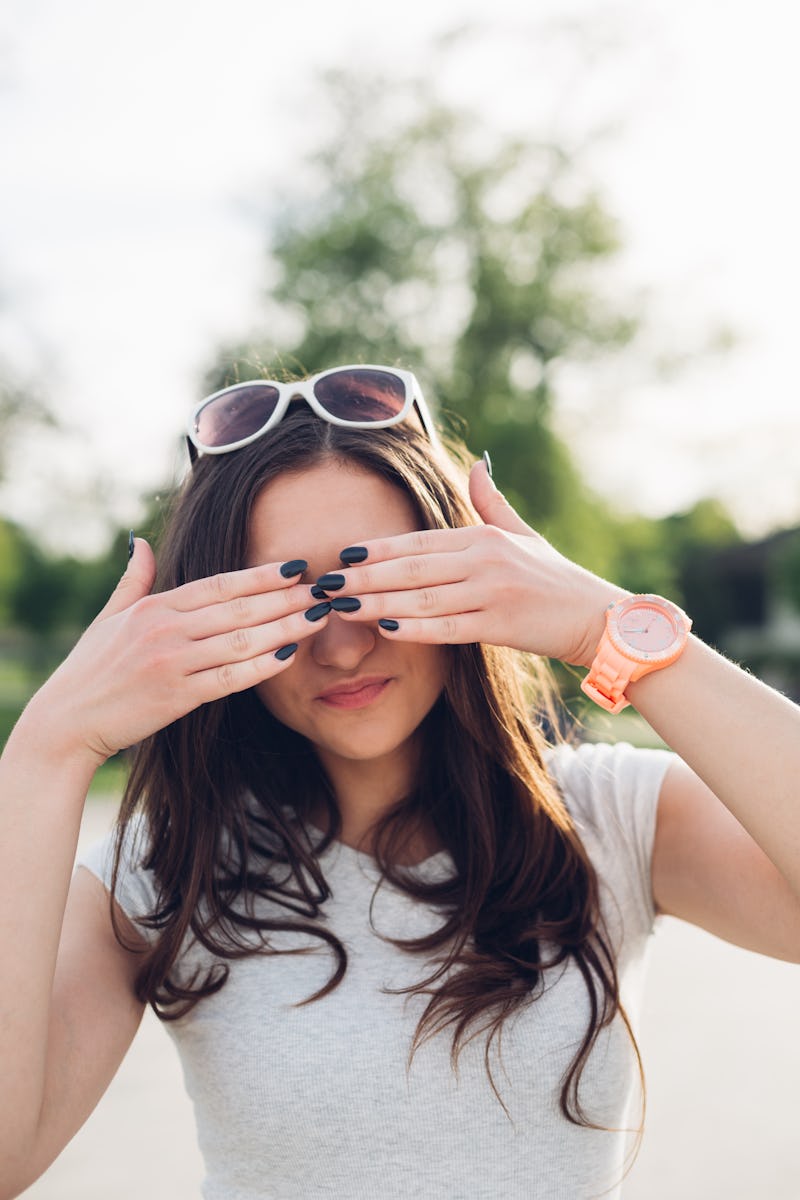 MANICO/E+/Getty Images
For a lot of people, spring is a happy season, full of blooming flowers and the end of sweater weather. For me, spring brings a hell-scape of seasonal allergies — a constant head cold, red and puffy eyes, and a nose rubbed raw from using too many tissues. Fortunately, there are lots of beauty products to hide allergy symptoms and even calm some of the worst ones.
Allergies come with their own complications, so finding skincare and beauty products that will do more good than harm can be tricky. My eyes, for example, get puffy and red, so I'm always looking for a way to calm down that skin. But it's a sensitive area, so I need something that's gentle. My whole face dries out, especially around my nose because I'm blowing it so much. Though all I want to do is rub off the dead skin, I can't use an exfoliator that's too harsh because it could cause even more damage.
Of course, talking to your doctor and figuring out how to actually deal with your seasonal allergies is a good thing to do. But even if you do that, feeling better will usually take some time. So while you're waiting for those antihistamines to kick in, here are 11 beauty essentials to help hide your hay fever so that you can at least look like you've got your life together — even while you're cursing pollen and dabbing at your nose every five minutes with a tissue.
Rohto Maximum Redness Relief, $8, Amazon
If your eyes feel like they're on fire and look bloodshot, use some eyedrops. I particularly like these because they utilize "FreshKick technology that works instantly to comfortably sooth your eyes for up to eight hours" while creating a cooling sensation when they hit your eyes.
Garnier Skin Renew Anti-Puff Eye Roller, $10, Amazon
Once your eyeballs are calmed down a bit, it's time to tackle the skin around your eyes. This cool metal-tipped rollerball with mint will provide instant relief while the caffeine helps perk up the skin.
Mizon Intensive Skin Barrier Eye Gel Mask, $6, Yes Style
After a long day of battling allergies, and probably rubbing at your eyes more than you'd like to admit, consider throwing on a sheet mask. This one contains hyaluronic acid, which is known for its ability to seal in much-needed hydration. If you pop it in the fridge about half an hour before using it, your eyes should feel extra cool.
Burt's Bees Intense Hydration Eye Cream, $10, Amazon
Applying an eye cream at the end of the day is a must when you're suffering from seasonal allergies, especially since that under-eye area can be super sensitive.
Smith's Rosebud Salve, $8, Amazon
I'm a big proponent of using Smith's Rosebud Salve for everything. If your lips are chapped, it's a lip balm. If the skin around your nose is peeling, it's a calming balm that'll quickly soothe even the driest skin and even create a bit of a protective barrier.
Tatcha Polished Classic Rice Enzyme Powder, $15, Sephora
Though it might be appealing to rub at your face with a washcloth to get rid of all the dead and peeling skin that can come with a raw nose, you probably don't want to cause more damage to your skin. This exfoliating powder from Tatcha is super gentle and will get the job done without accidentally hurting your already tender face.
Kiehl's Ultra Facial Deep Moisture Balm, $28, Nordstrom
Keeping moisturized is a must when you have itchy and dry skin. This balm from Kiehl's is super heavy duty, and since it's fragrance-free, it shouldn't exacerbate any allergy symptoms.
Sonia Kashuk Radiant Boost Restorative Facial Oil, $16, Target
If you're looking for even more hardcore moisturizing options, try a facial oil, like this one from Sonia Kashuk. You can always add a drop to your moisturizer of choice to beef up its hydrating powers.
Shara Shara Honey Bomb All In One Ampoule, $30, Amazon
There's something ironic about using a honey-based product to treat allergy symptoms, but this ampoule from Shara Shara can help moisturize and smooth angry skin. You can also use it overnight, as a sleeping pack, if you apply a thick layer of the product.
Essence Say No to Redness In Pastel Green #10, $9, Amazon
Once your skin is looking less ragged and more plump, you can start thinking about dealing with makeup. Using a green color correcting concealer will help hide any redness around your eyes or nose.
Benefit Boi-ing Full Coverage Concealer, $20, Sephora
The last thing you want is to accidentally rub off your concealer while you're scratching at your eyes, so make sure you use something heavy-duty like this full coverage concealer from Benefit.
Just because allergies are making you feel terrible doesn't mean anyone has to know, and with some combination of these products, you'll be ready to survive spring.
Want more fashion and beauty tips? Check out the playlist below, and be sure to subscribe to Bustle's YouTube page for more hacks and tricks!
Images: MANICO/E+/Getty Images; Courtesy Brands