13 Slippers You Might Actually Want To Wear Out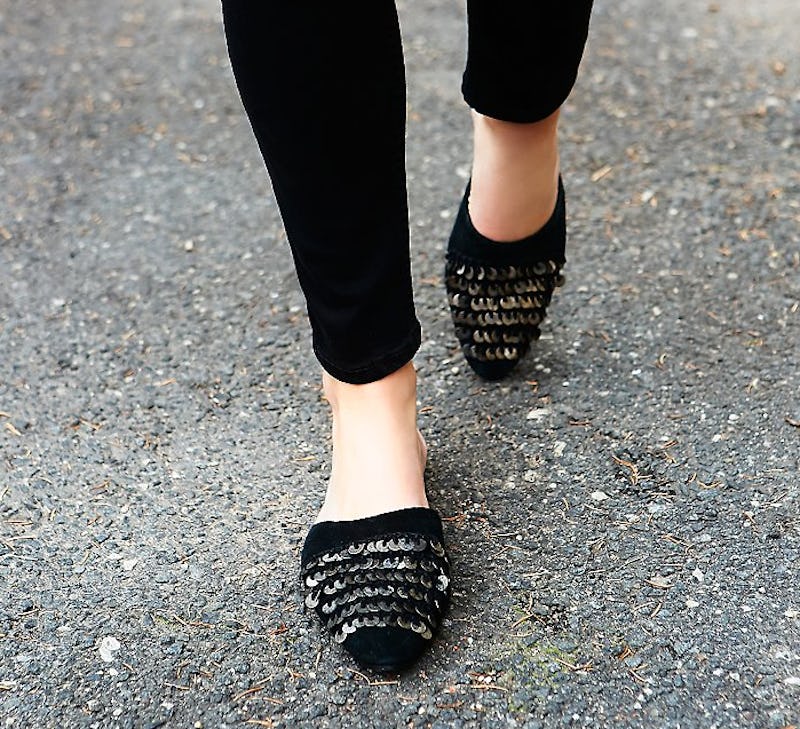 The it-shoe of the spring/summer season is an unexpected style. It's not sky-high stilettos. It's not chunky flat-forms. It's not even those trendy white sneakers. It's actually slippers. And these are slippers you can wear out. From stylish designs to intricate detailing, slippers have undergone an exceptionally stylish and cool re-vamp.
You're probably wondering if the "slippers" I'm referring to are the dingy pairs that fall apart after one wear, or the ones with pom-poms on them that you only ever rock around the house. But I'm actually referring to the über-stylish shoe designs that have come in slip-on form as of late. Proof of the slipper revolution was on the spring/summer 2016 Balenciaga runway, where models strutted in white, embellished lace slippers. Not to mention at Gucci, where loafer versions were adorned with buckles and printed silk. For the budget-friendly among us, there are just as stylish and cool pairs at non-designer prices as well. And they're so cute, you'll actually want to sport them outside the house.
From brightly-colored versions to metallics to embellished gems, be prepared to lust for slippers in your wardrobe like you never have before. Here are 13 slip-ons that are not only comfortable, but appropriate for just about any occasion.
1. Sleek Black
Rowan Slip-On Flat, $68, Nasty Gal
Exhibit A of the slipper update is these sleek, modern, black ones. Even in a simple design, there's no denying these babies could become a serious wardrobe staple in no time.
2. Tie Up
Klohe Ankle Tie Shoe, $100, Topshop
Ankle tie slippers? These gems are a simple design in a gorgeous magenta hue, topped off with ties to wrap around the ankles. If they look like your dream spring/summer shoe, I totally understand.
3. Mule Loafer
KOLA Mule Loafer, $100, Topshop
Silver loafer slippers? Yup: They're just as magical as you would expect them to be. This pair, with additional piping and detailing, has an upscale luxurious vibe.
4. Furry
FURRY Sherling Sliders, $100, Topshop
I admit that theses aren't the most wearable shoes of the bunch (purely because they'd easily get dirty), but there's no denying they're stylish and cool. The fur really takes these slipper to the next level, don't you think?
5. Basic
Factory Mule Slides, $48, J.Crew Factory
You can't go wrong with a basic slipper design and an extra pointy toe. This version also comes in black, so good luck choosing which one to get.
6. Leather
Dolce Vita Tia Mule, $130, Urban Outfitters
These mule slippers are beyond chic, what with their creamy leather texture and wide foot enclosure. If you love the idea of slippers, but need extra coverage, these are the style for you.
7. Square Heeled
Beaton, $130, Jeffrey Campbell Shoes
It's hard to escape ever-popular '90s trends at the moment, so these sheer black slippers had to be included here. They remind me of something my mom wore back in the day.
8. White
LAAURA, $90, Steve Madden
Talk about a stunning pair of shoes! These loafer slide-ons are absolutely gorgeous, with their pure white leather and gold detailing on the top and the base of the heel.
9. Knotted
Bellini Tabby Flat Sandal, $35, DSW
Yes, these pretty and knotted shoes are arguably more sandals than they are slippers. But at the end of the day, there's no denying they would be the perfect slip-on to complete a chic spring/summer ensemble.
10. Birkenstocks
Birkenstock Amsterdam Clog, $100, Urban Outfitters
You can't go wrong with a comfortable yet cool pair of Birkenstocks. Thankfully, the retailer makes slipper styles as well.
11. Embellished
Moroccan Sunset Slip On Flat, $48, Free People
Without the silver beading detailing on these slippers, they'd just be your basic black slip-on. With the beading, they're gorgeous and absolutely statement-making. Get ready to Instagram these babies with a cool "From Where I Stand" shot.
12. Woven
Latigo Mica Flats, $70, Anthropologie
These sandal-esque slippers feature intricate woven detailing that makes them effortlessly pretty. Not to mention perfect for a seasonal getaway. Imagine rocking these on the beach and tell me you don't like the thought of it.
13. Scalloped
Strummer Lovin' Flat, $50, Modcloth
The scalloped edges on these sweet black slippers are beyond adorable. Throwing on a pair of slippers like these would take any outfit to the next level.
Did you ever expect slippers to be so versatile, cool, and stylish? They really are the it-shoe of the season. So run, don't walk, to get your hands on a pair. You don't want this trend to ~slip~ by you.
Want more fashion and beauty? Check out the playlist below, and be sure to subscribe to Bustle's YouTube page for more hacks and tricks!
Images: Courtesy Brands