15 Things I'd Totally Keep Inside These Platforms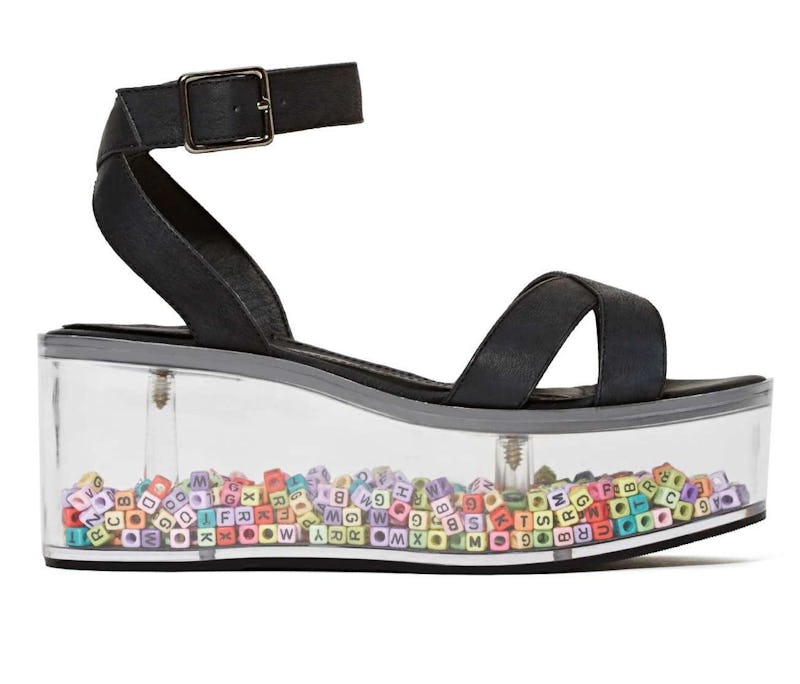 ALERT ALERT. Nasty Gal is selling the best shoes in existence. They are clear platform sandals that you can fill. With whatever you want. This is the best end-of-summer gift we could have asked for.
Is it practical to buy $150 sandals right before Labor Day? If you live in New York (or any other place with seasons), no! Not even a little bit! Unless you plan on wearing them with socks. But my heart still leapt for joy when I found them in the "What's New" section on the site, because if there's one thing I love, it's when fashion is outlandishly impractical.
Nasty Gal has its fair share of weird stuff for sale, and these lucite sandals are far from the most bizarre, especially with the innocuous letter beads the retailer suggests you put inside them. But that's the beauty of these part-DIY kicks: You can make them as weird as you want. Want shoes filled with troll doll heads? Open up the little velcro compartment on the sole and stuff those bad boys in there.
So, if you're in the mood to drop some cash on the coolest clear sandals on the market but are feeling a bit overwhelmed with all the options of things you could put inside, check out my list of 15 things I would store in the shoes. Spoiler alert: It's mostly food.
1. Nutella
An emergency supply of hazelnut spread? Yep.
2. A delicious sub
Lunchboxes are soooo 2013.
3. Goldfish
But not real ones! C'mon guys, I'm not as cruel as the person who made this backpack.
4. Barbie Shoes
So. Meta.
5. Gum Or Mints
You never know when you'll have a surprise hot date after work! Or have to go hang out with your cat! Whatever, fresh breath.
6. Miley Cyrus-Style Craft Supplies
If an impromptu denture-making party pops up, you want to be prepared.
7. Cat Nip
So all the cats come running to me when I walk down the streets. #ThisIsWhatDreamsAreMadeOf
8. Pictures Of Harry Styles
Wearing his pilgrim hat.
9. Temporary Tattoos
Instant way to make friends at parties! BTW, these are all from Tattly.
10. Rose Petals
Very chic and tasteful.
11. Mini calculator Keychain
I'm more than just a pretty face with awesome shoes! I like math too!
12. Ryan Gosling After He Was Hit With A Shrink Ray
:')
13. Hairties
You never have them when you need one!
14. Playing Cards
See above.
15. Pennies
No one uses them as money anymore so might as well turn the little copper babies into fashion.
Images: Nasty Gal/Kara McGrath