This Dog Lovers Vs. Dog Parents Comic Is On Point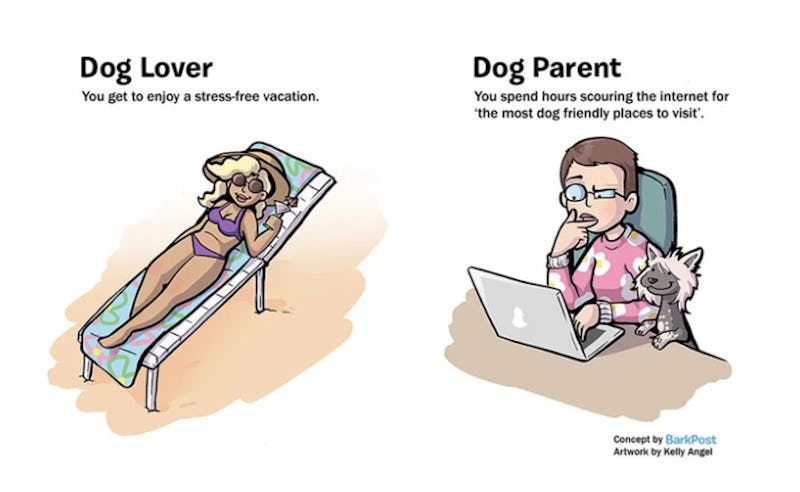 As both a dog enthusiast and dog mother, the comic about dog lovers versus dog parents by Kelly Angel seriously speaks to me, deeply. It's hard be a young dog mama — I've got my life to live, but I also have someone's life depending on me. This particular comic of Angel's is one in a series called "Anything About Nothing". While comics might not be her full-time job for now, Angel, an English illustrator, enjoys making comics in her spare time. Luckily for us, this one really resonated with a lot of dog owners and so it made its way to our desktops across the pond.
I think what's most relatable about these comics is that many dog owners think they're the only ones who neurotically obsess over their dogs — but to see that we all do the same things is a very lovely connective device. Dog owners sacrifice so much for their pets; their time, their money, their space, their patience. It's nice to know we don't endure it alone! And it's even nicer to know that while owning a dog might feel like a huge imposition at times, it's also an unparalleled joy that dog mamas know make it worth it. Check out some highlights from Angel's Dog Lovers Versus Dog Parents comic work here:
Sleeping Arrangements
I've had my dog for about eight years, which means I haven't had a good night sleep in eight years. Despite the fact that he's tiny, he manages to spread himself across my bed or lay on top of me until I overheat. It's not a cute cuddle, it's more of a separation anxiety issue with a lack of boundaries. I can't remember what it feels like to spread out in bed.
Movie Time
You think it's hard to watch a dog die in a movie when you love dogs? Try watching it with your dog. You'll be kissing him and stroking his hair and telling him over and over again that nothing bad will ever happen to him. You'll talk to him like he can hear you — "No one's ever gong to hurt you, I'll protect you, you're going to live forever" — and then you'll turn off the movie and have nightmares.
Wefie
Gone are the days of selfies. When you have a dog, you camera role is all pictures of your dog, or pictures of the two of you. You'll be pretty embarrassed when you open your phone in front of someone but it feels strangely sacrilege to delete them. Plus, every single thing you dog does is the cutest thing he's ever done before, so you can't not have the photographic proof.
Get Aways
Taking a vacation when you have a dog is a nightmare. Either you bring the dog and deal with the plane ordeal, or you leave it with someone and spend your entire time freaking out and worrying that no one can take care of your dog as well as you can. So instead, you prefer to do things that easily accommodate your dog. Life would be perfect if there was an island somewhere tropical where dogs were allowed to roam free and all the hotels and restaurants had dog biscuits and water bowls.
And check out the rest of her funnies on her webpage and on her Facebook page.
Images: Courtesy of Kelly Angel