These Feminist Shows Did Not Last Long Enough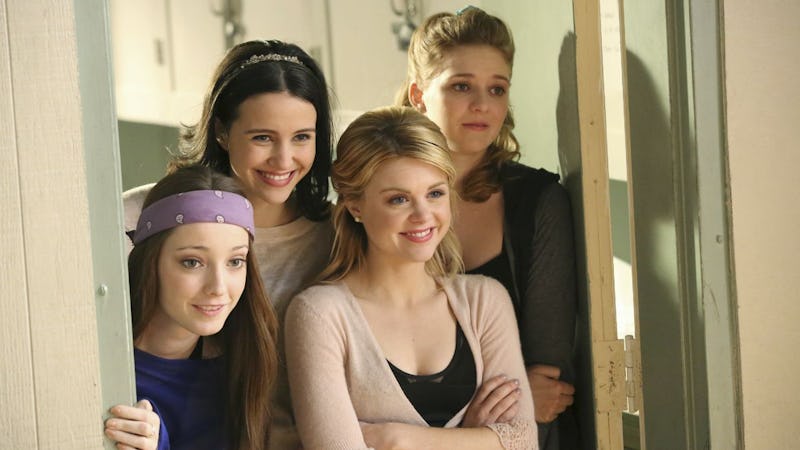 TV is making serious progress when it comes to creating and sticking with shows with complex female leads and that that tackle racial and sexual representation. Still, for every hit like Jane the Virgin and Transparent, there is a feminist show cancelled way too soon. Sometimes the people in charge ax shows with dynamic leads and strong messages before they have a chance to leave their mark on the television landscape, and as a feminist viewer, that bums me out.
Yes, ratings are important, and the television industry is a business, but falling for an amazing show that focuses on women of all walks of life or explores sexuality from an unexpected angle, only to have it yanked away, is rough. As a longtime TV lover, I've lost a lot of shows, but it is losing the ones I connect with that always hurts the most. From a short-lived Joss Whedon masterpiece to smart and vocal comedies that never caught on, an alarming number of quality feminist shows have gone off the air far too soon. TV can sometimes feel like the slayer of awesome female characters.
While many have fallen, the 13 shows on this list are the ones that still sting the most. These feminist shows still had so much more to say.
1. Bunheads (2012-2013)
Gilmore Girls creator Amy Sherman-Palladino created a multi-generational show about women at every stage of life. It dealt with the issues between teenage friends and between mothers and daughters, and it tackled subjects ranging from ageism to sexism to teen sexuality. It was witty and smart, and ended with a subversive dance number featuring teenage girls dancing to "Making Whoopie" — there will never be anything like it again.
2. Firefly (2002-2003)
A soldier, a mechanic, a companion, and a weapon — the women of the good ship Serenity all had titles, but there was nothing tidy about their personalities. River Song may have started out as the girl in the box, but she was on a quest to regain her personhood. Inara was a companion, but refused to allow anyone to disparage her work. Kaylee was sweet and gentle, but also unabashedly sexual, and Zoe was the biggest damn hero of them all. This show was too precious for this world.
3. Terminator: The Sarah Connor Chronicles (2008-2009)
The best continuation of the Terminator franchise may very well be the little seen television series that focused on Sarah, her son, and Cameron, a Terminator searching for her soul. The women were fierce fighters, but Sarah was also a mother, and Cameron was the most human non-human TV has ever seen.
4. Wonderfalls (2004)
Genius that he is, Bryan Fuller created this quirky masterpiece about an over-educated and under-employed woman who has a purpose in life thrust upon her. The show featured a loving lesbian relationship, strong female friendships, and Jaye, a woman it is almost impossible not to relate to.
5. Super Fun Night (2013-2014)
Super Fun Night made people uncomfortable. It presented a female lead who was plus size, and who had insecurities about her weight. Sometimes she was proud of her looks, and sometimes she was hard on herself. She was good at her job, she fell in love, and she was often unabashedly silly. The show was unafraid to get real about people's attitudes toward women of all sizes. It wasn't a fairy tale, and it was all the better for it.
6. Don't Trust The B In Apt. 23 (2012-2013)
Before Krysten Ritter was Jessica Jones, she was Chloe, a hard partying woman who did whatever she wanted no matter what anyone thought of her. She was spectacularly bad, but man, was she also funny.
7. Tell Me You Love Me (2007)
A meditative show that was about sex in all of its unglamorous glory seemed doomed to fail from the start. Viewers who watched the first and only season were treated to a realistic portrayal of sexual relationships between couples at every stage of life. The show's views on emotional connections, monogamy, and sexual intimacy made a powerful statement.
8. Birds Of Prey (2002-2003)
Set in Gotham after Batman has left his city protector gig behind, Birds of Prey followed three female superheroes' quest to keep the city safe. The fact that one of them was in a wheelchair was just a part of the series. This was a superhero show way ahead of its time, and one that is so overdue for a reboot.
9. Selfie (2014)
Much like its lead character, this comedy was judged way too soon. Yes, it was about a social media addict who reached out to an old school guy to help her connect with people, but the show's secret is that they were both insecure and in need of each other's help. Eliza was strong, funny, and brash — a woman who knew she had faults, but who was also secure in her inherent awesomeness.
10. Nikita (2010-2013)
Nikita straddled the line between hero and antihero. She was a killer on a mission of vengeance, but she also worked for the good guys (most of the time). Her character was layered in a way that never failed to impress. More importantly, she wasn't alone. The series' was full of female characters who were every bit as morally complex as Nikita was.
11. Garfunkel & Oats (2014)
I guess the world just wasn't ready for two women singing folk songs about sexism, sex, and how much being an adult sucks.
12. The Hour (2011-2012)
Being a professional woman or a housewife in the '50s was a thankless business, but women carried on and fought for their rights to be seen and heard. The newsroom drama The Hour was a meticulously crafted and often haunting show that should have lasted much longer than two seasons.
13. Looking (2014-2015)
Looking was a series about the lives of modern gay men in San Francisco. It tore down stereotypes, spoke honestly about relationships, and also made time to include the story of Doris, a woman who was just as unsure of what she wanted out of life as the men she surrounded herself with were.
TV would be so much better off if more of these awesomely feminist shows were still on it.
Images: ABC Family; HBO; Warner Bros. TV/YouTube; Giphy (11)