8 Best Liquid Lip Colors For Spring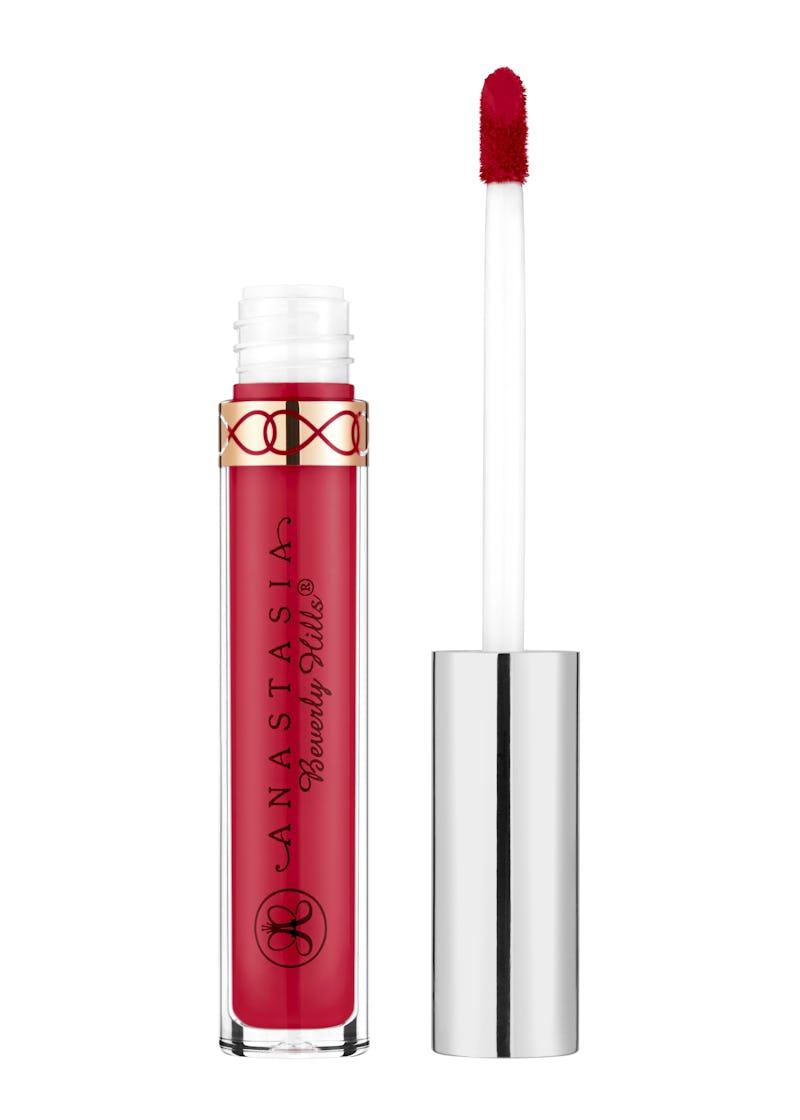 Spring has arrived, and with it comes gorgeous spring makeup. From beautiful peaches to stunning pinks, your options are limitless when it comes to color around this time of year. With liquid lipsticks having such a moment — thanks, Kylie Jenner — these seven liquid lip colors for spring are going to give you some of the best options for your spring makeup looks. Whether you're looking to keep things dark (because there are no rules for makeup), get a more neutral look, or go full force with color, there's a spring liquid lipstick out there that'll have you slaying the makeup game as thought you were Jaclyn Hill.
While Kylie Jenner isn't the only reason liquid lipsticks are having a moment — they've been around for a long while — she's at least partially responsible for their recent surge in popularity. With the Kylie Lip Kits featuring gorgeous matte liquid lips, it seems as though everyone is looking for a dupe for one of her eight liquid lips. While Jenner's Lip Kits may be a portion of liquid lipstick's popularity, YouTubers and makeup artists have been using the products for quite some time now of its gorgeous, long-lasting, and smooth appearance.
If you're looking for highly pigmented, long-lasting color for your spring look, these seven liquid lip colors for spring are sure to give you one hell of a gorgeous look.
Melon-Colored
Liquid Lipstick in Carina, $20, Anastasia Beverly Hills
This gorgeous color described as an "intense watermelon" will be better for outings during the spring both during the day and at night.
Vibrant Peach
Ultra Stain Lips in Botanical, $6, ColourPop
This "neon peach" is ideal for ladies looking for lips that pack a gorgeous punch.
Gorgeous Violet
Soft Matte Lip Cream in Seoul, $6, NYX Cosmetics
Don't be afraid of bold color this spring. A stunning violet is the perfect way to embrace vibrance and color.
Outrageous Orange
Kat Von D Everlasting Liquid Lipstick in A-Go-Go, $20, Sephora
Again, color is your friend. While pinks and reds abound during spring, oranges should definitely have their moments as well.
Neutral Nudes
Retro Matte Liquid Lipcolor in Back in Vogue, $20, MAC Cosmetics
Don't count neutrals and peachy nudes out! Some colors never go out of style, and a peachy nude pink for day time is perfect for the season.
Ruby Red
Tarteist Creamy Matte Lip Paint in Bae, $20, Tarte
Reds are definitely not out for spring. This gorgeous, vibrant red is perfect for your night out.
Sparkling Hues
Stila Stay All Day Liquid Lipstick in Dolce, $24, Sephora
While spring may be the time to embrace color, nudes aren't off limits by any means. This gorgeous hue? It totally includes sparkle.
Pretty Pastel
Too Faced Melted Liquified Long Wear Lipstick in Melted Violet, $21, Sephora
Pastels are perfect for spring, and this beautiful violet could be your ideal liquid lip shade for the season.