16 Ways 'Friday Night Lights' & 'Parenthood' Could Seamlessly Crossover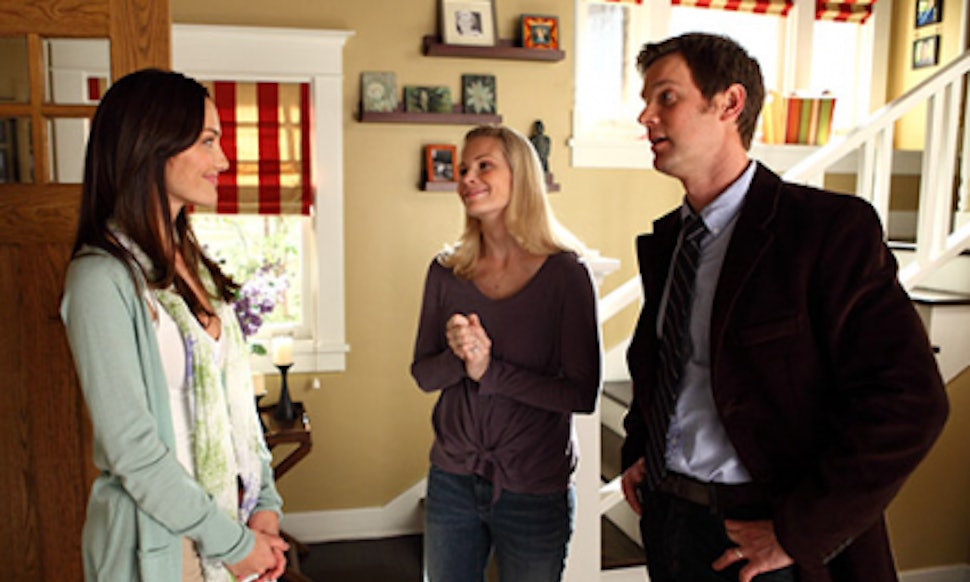 The most exciting news of the day is easily NBC's upcoming Friday Night Lights/Parenthood crossover, a webseries that will make our dreams come true in just four parts. Thanks to Jason Katims' being almost as big a fan of his own show as we are, FNL's Landry Clarke and Billy Riggins will meet Parenthood's Amber Holt when Crucifictorious records at The Luncheonette.
Now that we know it's possible, we won't be satisfied until the rest of Dillon takes a trip to Berkeley. And it doesn't even matter if an FNL actor has already appeared on Parenthood, since Derek Philips, aka Billy Riggins, appeared on Parenthood as Crosby's drunk best man in season three. Coincidentally, his name was Billy Gardner and we can only hope that he owned a business called Gardner's Gardens.
With Landry and Billy already slated for a crossover, here's how Katims can get the rest of the FNL family onto Parenthood the right way—as their original characters. Because clear eyes, full hearts, can't move on.
Images: NBC
Matt Saracen
After graduating from the Art Institute of Chicago, Matt Saracen (who has only gotten better looking) likely looked for a job as an art teacher to help support him and Julie. Guess where he found one? In Berekley, where Camille Braverman quickly became his star pupil. One night, she decided to invite Matt and his wife over for dinner…
Julie Taylor
Which is when Zeek gets the bright idea to introduce Julie to Amber, who could use some friends following her breakup with Ryan. The two girls are around the same age, though little does Zeek know that Julie tends to create problems more than solve them.
Tyra Collette
Tyra told Tim that she wanted to go into politics, but be like Mrs. T. What better way to do that than get involved with education reform? As Kristina Braverman strives to start her own school, Tyra could come be an advocate for her cause and help navigate all of the bureaucratic issues.
Tami Taylor
Of course Tyra would call Mrs. T herself to get help for Kristina's school. Someone with actual experience as a school administrator needs to help create a curriculum and go through all of the other logistics that only a former guidance counselor and principle could understand.
Eric Taylor
As great as it would be to revisit Coach in any way, we really need to see him in his element, as a coach. To get there, we'd need Sarah Braverman to become a well-known sports photographer thanks to her work with Surf Sport. Then, a magazine can hire her to photograph a certain Philadelphia high school football team, who rose from obscurity to national champions thanks to a coach who has been called a molder of men.
Maybe while she's on the East Coast she can swing by a small Connecticut town—no, sorry. One crossover at a time.
Tim Riggins
Tim would be the most difficult to believably crossover, since his whole life motto is "Texas forever." But, what if Billy convinces him that Berkeley is awesome and Tim really needs to visit? Then maybe he could do a The Holiday-style house-swap with Zeek and Camille, as they explore the U.S. during their third act. It would just be a matter of time until he hooks up with (at least) one of the Braverman women.
Lyla Garrity
When she hears what Riggins is up to, Lyla decides to visit her mom in California and give a sermon to some youth at a Berkeley church before working up the courage to see him. Come on, would she ever find someone better than Tim Riggins?
Vince Howard
Let's all forget about that time Michael B. Jordan played Haddie's way-too-interesting-for-her boyfriend Alex, and let him join Parenthood as the Lions' former star quarterback. Vince probably got tons of college offers and could have easily gone to a Northern California school. After graduating, he decided he wanted to help kids the way Coach Taylor helped him and become a football coach. Jabbar is definitely old enough to play on his pee wee team.
Jess Meriweather
Let's also forget about the time Jurnee Smollett-Bell played Kristina's campaign manager so that Jess can come back too. After years of moving thanks to the ever-growing Ray's Bar-B-Q franchise, Jess finally settled in Berkeley to join Vince as a football coach—and get back together.
Buddy Garrity
Buddy's ex-wife and two younger children moved to California after she was remarried. Maybe Buddy started spending some more time there once Buddy Jr. graduated high school and decided to open a new car dealership—right where Kristina wants to build her school. He's going to fight her for the land, but this time he doesn't have a team of boosters on his side.
Luke Cafferty
Nope, too weird. Sorry but Ryan was way too big of a character to let Matt Lauria come back as someone else, unless we suddenly learn that Ryan and Luke were long-lost twin brothers who found each other in the Army. Kristina may have run for mayor of Berkeley, but Parenthood isn't that far-fetched.
Jason Street
After Jason's sports agency transfers him to California to work with their West Coast athletes, his younger child (from when he told Coach that he convinced Erin to have "another one") is in the same school as Nora Braverman. The two become good friends, followed by their parents and Jason helps Adam meet all of his favorite athletes.
Brian 'Smash' Williams
Obviously Smash's NFL career is still going strong and he's playing for the San Francisco 49ers. He's been represented by his close friend Street ever since graduation and helped land him the West Coast promotion. Once the Streets and Bravermans become friends, Smash meets Crosby and the two immediately bond over being reformed playboys.
Becky Sproles
Once her boyfriend Luke left for the Army and Tim started spending his days building a ranch, Becky had plenty of time to study. She was able to get into UC-Berkeley, where she befriends Drew. If things don't work out with Ryan, she could even become the third girl to go after Drew.
Mindy Riggins
Mindy comes to visit Becky at college since they have maintained their close, pseudo-mother/daughter relationship, and awkwardly runs into Crosby visiting Drew. The two had a one night stand when they were both single and Crosby stopped in The Landing Strip after checking out a band near Dillon. Now they commiserate over life as formerly-cool people who now are forced to drive minivans.
J.D. McCoy
Just kidding, keep him far away from everyone that we love. Let him stay drinking milk with his crazy father, where he belongs.
Images: NBC