13 Shakespeare-Inspired YA Novels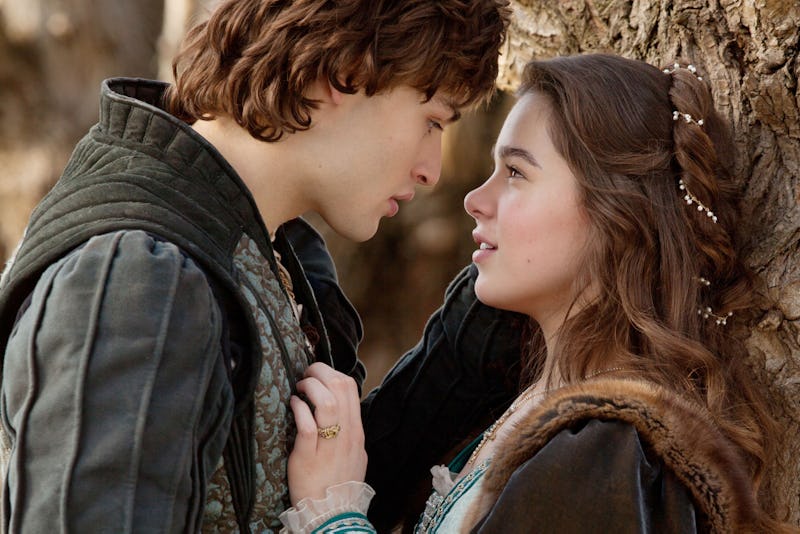 Ever since I was a kid, I've been obsessed with Shakespeare. Maybe it was the illustrated version of The Tempest that my mom bought me for my birthday. Maybe it was the many Shakespeare plays that my family attended. Or maybe it was the Riverside Shakespeare that I found on my mom's bookshelf, stole, and used to act out scenes dramatically while the rest of my family was asleep (Lady Macbeth's speeches are particularly entertaining for me, as I have been known to sleepwalk). Or MAYBE it is the prevailing mysteries surrounding Shakespeare. Whatever inspired a love of the Bard, I've held onto that love — and it has also manifested as a love for Shakespeare-inspired works. Especially in young adult novels (and, of course, Shakespearean movies).
Many of the characters in Shakespeare's works are teenagers, so it makes sense that YA authors have been inspired by his plays and have created novels of their own based around the stories. And you don't have to be a teenager yourself to appreciate their works. After all, Shakespeare's plays can be enjoyed by everyone, as their popularity even years later proves. From Romeo and Juliet to Hamlet to The Winter's Tale , from retellings to spinoffs to sequels, the following YA novels prove that Shakespeare's plays withstand the test of time.
After waking up from a skiing accident, Jaye begins seeing Shakespearean characters everywhere. At first, she's convinced they're hallucinations, but soon the ethereal world begins to blend with reality, and she's not sure what's real and what's not anymore. Fans of A Midsummer Night's Dream who want a YA Shakespeare-inspired novel with a darkly whimsical atmosphere will love this new read.
Hermione Winters is cheerleading captain in a town where cheerleading is everything. But when someone slips something into her drink at a party, Hermione faces a new set of obstacles. Emotional, vulnerable, and honest, this book is a raw and modern novel inspired by The Winter's Tale .
If you're looking for Shakespeare from a woman's perspective, this is the retelling for you: this version of Hamlet is told from Ophelia's perspective. Because it veers from the traditional story of Hamlet (while still staying within the bounds of Shakespeare's original tale), this period YA piece will keep you guessing until the last page.
Beatrice Shakespeare Smith lives in the Théâtre Illuminata, a theater full of familiar faces like Ariel, Mustardseed, Peaseblossom, Cobweb, and Moth. That's because the Théâtre Illuminata is no ordinary theater; the characters from all the plays are trapped unless someone can set them free. Enter Beatrice. I really enjoyed this quirky YA read inspired by several Shakespeare plays such as A Midsummer Night's Dream and The Tempest, and fans of Shakespeare's magical fairy-tale-inspired romantic comedies will be sure to enjoy.
I can't resist Much Ado About Nothing in pretty much any format — after all, Beatrice and Benedick's banter is perfection. This retelling takes the lines you know and love, and illustrates them in the style of Manga. It's perfect for fans of graphic novel retellings.
When talking about Shakespeare-inspired works, this play deserves a mention: if you missed reading this Hamlet retelling in high school, pick up a copy today. It's a quirky, comedic, satirical, thought-provoking look at Hamlet , from the perspective of two minor characters: Rosencrantz and Guildenstern. You can probably guess what happens in the end, but it's worth a read for the sake of the journey.
In this retelling of The Taming of the Shrew , it's the guy who gets "tamed." Protagonist Cass is just like Kate: she's stubborn and independent and has been called "witch" more than a few times, which is probably why she actually gets cast as Kate in a production of The Taming of the Shrew . But when her BFF falls for the annoying guy playing Petruchio, Cass decides to flip the "taming" on its head and give Petruchio a personality makeover.
Hanalee Denney's father dies under mysterious circumstances in this Hamlet retelling. Set in 1920s Oregon, this supernatural novel follows Hanalee, a biracial girl living in a small town influenced by the Ku Klux Klan. The chilling setting is reminiscent of the bard's original play, but Winters simultanously weaves a completely new story perfect for Shakespeare fans.
This retelling of Twelfth Night follows protagonist Violetta (Duke Orsin and Viola's daughter) as she embarks on a quest with hilarious Feste. Will Shakespeare makes an appearance, and the book references several other plays that Shakespeare fans will pick up. Twelfth Night afficianados with a penchant for adventure will enjoy this tale of Shakespeare, Violetta, pirates, social issues, and love.
This dark tale of forbidden love presents Romeo and Juliet with a twist: in this version, Juliet Capulet didn't kill herself. She was murdered by the man she thought she loved — Romeo. This dark romance will appeal to fans of the bard's most famous love story.
There's something exciting about Shakespeare retold from the perspective of unexpected characters, and this book fits the bill: Enter Three Witches is Macbeth , from the perspective of Lady Mary. She's the daughter of Lord Cawdor and Lady Macbeth's lady-in-waiting, and she struggles to survive after her father's betrayal strands her in a murderous court. Reread Macbeth... and then read this.
What happens after Romeo and Juliet? That's what Still Star-Crossed explores. It's the story of Rosaline, Romeo's first love, and Benvolio, the man she's been ordered to marry. It's still set in Verona, tension between the two families is still high, and there's just as much adventure as the play that inspired the book. PLUS, Shonda Rhimes is attached to the TV adaptation, so you should snap up the book now before watching it on ABC.
Mimi comes from a long line of Shakespearean actors, but all she wants to do is study medicine. Instead, she's currently playing Juliet in Romeo and Juliet — with a teen pop star named Troy as tbe oh-so-cocky Romeo. Things really get interesting when Mimi and Troy are accidentally transported into the world of Romeo and Juliet , and Verona meets Manhattan. This book is a fun read for Romeo and Juliet fans who are a sucker for falling-into-a-story plotlines (and I mean, who isn't??).
What do you get when you mix hardboiled detective fiction with Hamlet? You get this mystery. Horatio Wilkes is BFFs with Hamilton Prince, heir to the Elsinore Paper Plant fortune. Hamilton's father has recently died, his mother remarried his uncle Claude, and Hamilton is full of angst. The whole thing takes place in Denmark... Tennessee. Hamlet fans looking for a modern retelling will enjoy this noir YA remake.
Emma Allen is set to be the assistant stage manager in her school's production of Hamlet , and also hopes to catch the eye of her crush, Brandon — the play's director. The hitch in her plan happens when she falls through the stage trapdoor, and lands in the basement of the Globe Theater. In 1601 London. Because Emma has a pixie cut, everyone in 1601 thinks she's a boy, and things start to get complicated when she travels back and forth in time. Hamlet fans, get excited: this Shakespeare-inspired YA novel comes out this fall.
Image: Relativity Media (1)