Too Faced Mascara Can Make You A Mermaid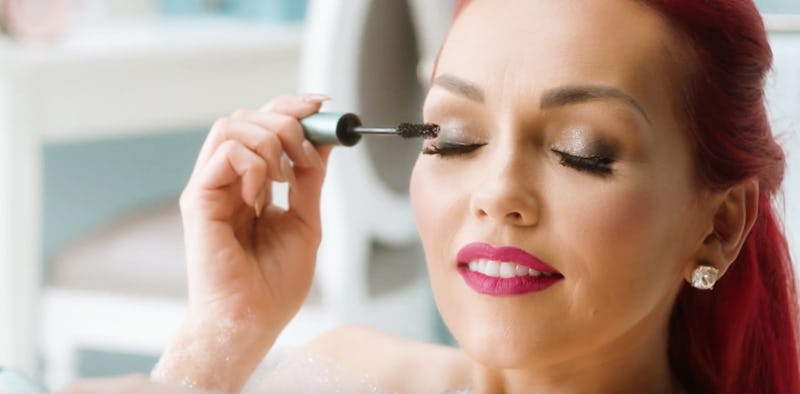 The Peanut Butter and Jelly and the Sweet Peach eye shadow palettes are getting all the attention. But you know what? All of the delish shades contained within those popular and often sold-out Too Faced palettes are enhanced when paired with the brand's new Waterproof Better Than Sex mascara. Jerrod Blandino and co. updated the beloved and best-selling Better Than Sex formula, which lengthens and thickens lashes, making it waterproof. With the hot, sweaty, and sticky summer months ahead of us, this formula is a mascara lover's dream. You don't have to worry about raccoon eyes when the temperatures rise!
However, the Waterproof Too Faced Better Than Sex mascara has not had the same, Peach-like mania surrounding it, which is likely due to the fact that it's been widely available from the get-go and isn't limited edition.
Despite having less fanfare, the mascara got its own mini movie (or "commercial") on the Too Faced YouTube channel, starring beauty vlogger Kandee Johnson. The film was inspired by the '80s rom com Splash, which starred Daryl Hannah as a mermaid out of water and Tom Hanks as her love interest.
The 90-second mini movie is like a well-done ad, with a fun and cute plot. It follows Kylie Jenner's "Glosses" video, but in a totally different way.
Here's what happens.
The flame-haired Johnson escapes to the powder room to touch up her makeup.
She ends up taking a bath... because she is a mermaid and requires hydration. Plus, she needs to demonstrate the staying power of Waterproof Better Than sex.
Look at that glow... all because she is about to apply a superior mascara!
Who wouldn't want to play in a tub of mascara and bubbles? The message is received. Waterproof Better Than Sex will make you feel like a sexy, beautiful sea nymph.
Redhead mermaids have more fun!
Go ahead and get wet.
That's the long and short of it. But you can still watch the fantastical, whimsical, makeup-ical movie below.
It really does further illuminate the point that Waterproof Better Than Sex is another innovation from Too Faced. Because duh!
Images: toofacedcosmetics/YouTube (7)