'Full Frontal' Is Nothing If Not Memorable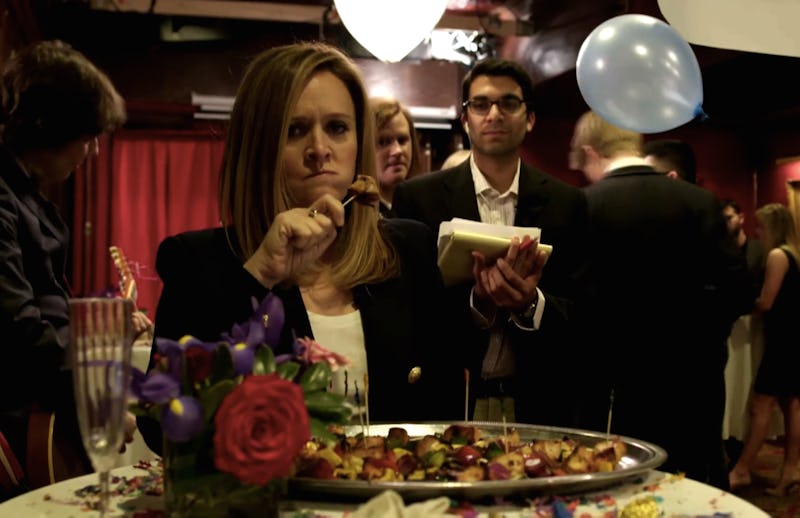 I think we can all agree that the best part of The Daily Show was and always will be Samantha Bee. Or, if we can't all agree on that, we can at least come together on the fact that Bee's news parody show Full Frontal with Samantha Bee on TBS is a hilarious take on today's top news stories. No one approaches politics, gender, and the ridiculousness that is today's media quite like Samantha Bee does. Which is why I was delighted to hear that Full Frontal With Samantha Bee is being picked up for another year by TBS. The network announced on Monday that they would be adding 26 more episodes to the show's 2016 lineup, meaning we'll get plenty of Samantha Bee through the end of 2016.
Praise everything that is fierce and funny, because I don't want to live in a world where there's no Jon Stewart and no Samantha Bee. In fact, I think this news is worth revisiting some the most memorable moments from Full Frontal with Samantha Bee in our down time today. So sit back, grab some snacks, and enjoy these memorable moments from the first 13 episodes of Full Frontal. They'll make you even happier that the show was picked up through the rest of this year. Especially since it's an election year.
1. That Time She Introduced The World To Ted Cruz's Biggest Fans
They certainly are a colorful bunch.
2. That Time She Pretended To Like Sports
She loves orange ball as next as the next person.
3. That Time She Tore Down Private Probation Companies
Her main skills include making really horrible things hysterical.
4. When She Spoke Directly To Trump Supporters
You gotta give a girl credit for trying.
5. That Time She Talked About Rape Kits
Or, rather, uncovered the serious backlog of rape kits across the country, and what a serious problem this is for victims.
6. When She Spoke With The Country's Most Avid Atheist
As an atheist, there seems like no one better to take on CPAC.
7. When She Took On Guns In School
Uncovering the ridiculousness of people's beliefs and actions is what Samantha Bee does best.
8. That Time She Almost Moved To Canada
I mean, with this election on the horizon, I can't say I exactly blame her.
9. When She Took On Dress Codes For Women
Because clearly men already know how to look professional.
10. When She Tipped Her Hat To Fox Moderators
Someone had to for moderating the madhouse that was the Republican Debate.
11. The Time She Refused To Talk About Only Donald Trump In Iowa
Thank you, Samantha, for actually paying attention to other candidates.
12. That Time She Came Up With A Really Clever New Form Of Birth Control
I think it's worth a try.
13. When She Celebrated Black History Month For As Long As The Rest Of The Country Does
In other words: Not long enough.
So let's all just take a minute to thank the big wigs at TBS for bringing back this very necessary, very funny political parody show. Because no one tackles today's tough topics quite like Samantha Bee does.
Images: Comedy Central