'Gilmore Girls' Revival Might Return To Chilton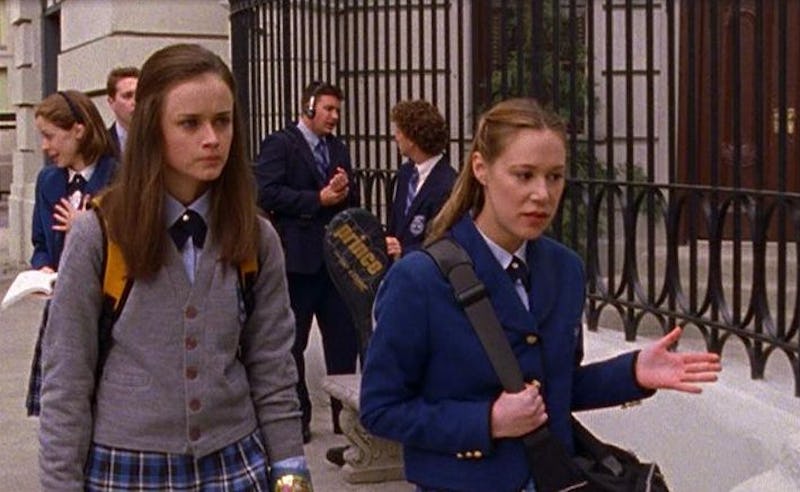 Who could forget Rory's fancy prep school days at Chilton? Long before she was a Yale grad, she was a Chilton student with dreams of going to Harvard. (Things sure took a turn there.) Now, Rory Gilmore is all grown-up and (hopefully) living the life of a journalist like she longed for for so many years. However, with the Netflix mini-series revival of the show Gilmore Girls on its way, more and more information about the futures of our favorite Stars Hollow citizens is being revealed, and new photos are being uploaded onto the Internet. Those photos include what appears to be Lauren Graham riding a bike on the Chilton grounds. But why is the Gilmore Girls revival returning to Chilton? Should we be, you know, done with that?
I know. Why would Lorelai be at Chilton? Why would the four episode seasonal continuation of the show even need to return to Chilton? Is the prospect of them filming at Chilton even real? One simple filming location being in use can actually determine a whole lot about what we can expect moving forward, so, get those uniforms pressed. This Gilmore Girls fan's pictures from the possible revival set are mind-boggling.
Assuming that Chilton is going to be featured in the next chapters of the Gilmores' lives, then there are only a few possibilities on the table.
1. Rory Works At Chilton
We all know that Rory's journey was going to take her far away from Stars Hollow. However, with her clearly being back in town and with her wide array of intellect behind her, is it possible that she could now be teaching at her original stomping grounds? I wouldn't be surprised if Rory at least just went back to visit and teach a quick seminar on Journalism.
2. Paris Works At Chilton
Paris had dreams way bigger than Chilton as well. But, with her love for academics always at the forefront, Chilton may as well be the place for Paris to settle down her career, start a family, and start raising the next generation of Noble Peace Prize winners.
3. Jess Works At Chilton
I know what you're thinking: Jess didn't even go to Chilton. However, what we do know is that Jess went on to have a successful career in a publishing company and as a writer. If he is now solely relying on his writing career, maybe he decided to teach an English class as well. After all, why else might he be in Stars Hollow?
4. Lorelai Is Seeing Max Medina Again
This is a huge idea, but, considering that it is Lorelai that we see hanging around campus, I couldn't ignore my small inkling that this could be a possiblity. While, yes, it would mean that Lorelai is in fact not with Luke, it would explain those photos. I mean, Max and Lorelai were engaged at one point after all.
5. Sookie's Kids Go To Chilton
Considering that Sookie and Jackson were there for Rory's Chilton graduation, this would actually be really cute. Melissa McCarthy is not returning for the revival, but actor Jackson Douglas is. And we all know that they would be good enough parents to raise kids smart enough to get into Chilton.
6. Emily Gilmore Is Heavily Involved With Chilton's Community
Due to the unfortunate passing of actor Edward Herrmann, Richard Gilmore, will not be returning for the revival. Which means one thing: Emily Gilmore needs to make a life for herself. With no more dinner parties to plan for, and her daughter and granddaughter well settled into their futures, it only makes sense that Emily would get even more involved in the upperclass society in any way that she can. What better way to do that then by volunteering at Chilton?
7. Tristan Is Back In The Picture
While Chad Michael Murray's character was hinted as being a possible love interest for Rory while she was at Chilton, he seemed to disappear as soon as we got our hopes up. Perhaps there's a chance the Cinderella Story actor wants in on the revival? While, yes, he can exist in places other than Chilton, it would make perfect sense to spot him where we remember him last. Maybe a Chilton reunion is set to occur.
Honestly, the possibilities could be endless. All I know is that I actually am happy to see those hallowed halls again. I just hope the uniforms improved over the past nine or so years.
Images: Warners Brothers Television; Giphy (7)