Doug Flutie Shared A Family Tragedy On 'DWTS'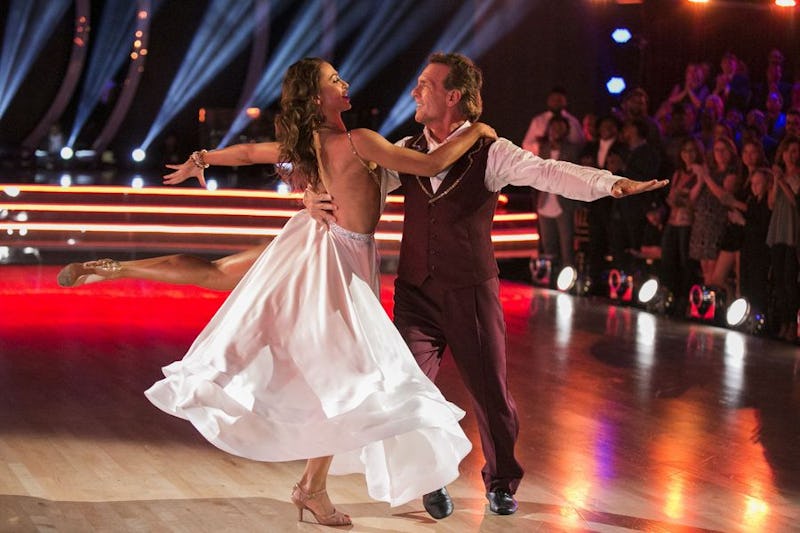 I didn't expect NFL legend Doug Flutie to go that far on Dancing With The Stars, but I have to admit, the man can move. He did exceptionally well on Latin Week, showing off the athleticism he has well into his 50s, and on "Most Memorable Year" week, Doug put forth his softer side. Waltzing with partner Karina Smirnoff, Doug Flutie paid tribute to his parents on Dancing With The Stars in a totally touching way.
Karina choreographed the dance for Doug's parents, who both died in 2015 — Doug's most memorable year. Doug's father fell ill, and he passed away after a brief stint in the hospital. As if that weren't hard enough for a family to deal with, Doug's mother kissed his father on his forehead, said goodbye, and died in that very spot — seriously. Doctors said the only explanation was that Doug's mother literally died of a broken heart. Doug lamented that he was able to say goodbye to his father but not his mother, and he always regretted it. He always wanted his parents to be proud of him, and this dance was a showing of that. Karina choreographed a really beautiful tribute, and there wasn't a dry eye in the house after the dance.
I usually don't bet on the older athletes on Dancing With The Stars, but I have certainly been wrong about Doug so far. He's shown not only athleticism but also grace in his movements, and he seems to be a dark horse favorite of the judges and the fans. I mean, this week just really got to me, with the emotions and the dance and the talk of parents and broken hearts. Here's to Doug Flutie, you guys — a sensitive gentleman among mere mortals.
Images: Adam Taylor/ABC