You Need To Hear Bautista's Version Of 'Sorry'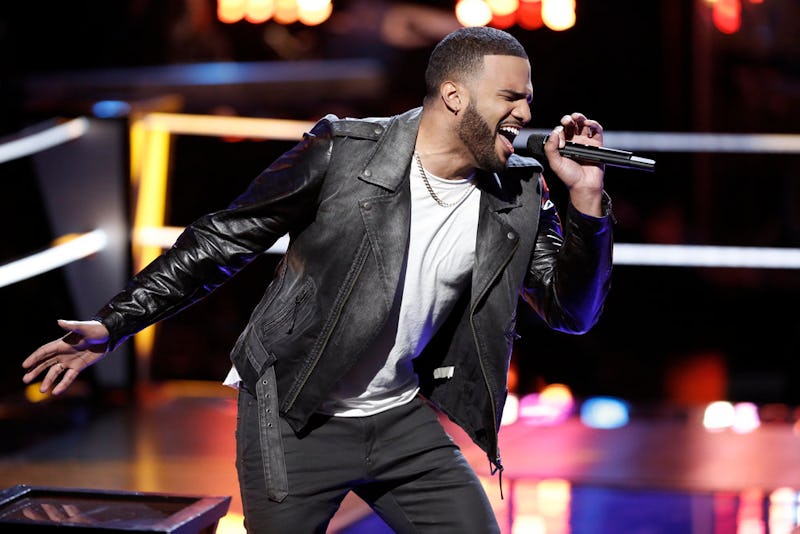 Now THAT'S how you win a Battle Round. Team Christina's Bryan Bautista took The Voice stage by storm with Justin Bieber's "Sorry" and completely blew the coaches away. Seriously, it had to be the sexiest, most entertaining performance of the season. Not only did Bautista win over the coaches and audience with his crazy vocals, he won them over with his amazing stage presence and performance skills. It was unfair to put anyone up against that masterpiece, but Trey O'Dell was the unlucky victim. He held his own, but unfortunately couldn't compete with Bautista's mic-drop-worthy performance. O'Dell was eliminated and Bautista is continuing on to represent Team Christina in the Live Shows — and her team is better for it.
Bautista has been a favorite since the beginning, but tonight sealed the deal. "Sorry" is a tough song to sing, especially since it's still on the charts. But Bautista was able to infuse a sexy reggae style to the song that made it completely his own. He tweaked the sound just enough to avoid having to be compared to Bieber. It made it possible to listen to him and not listen to him trying to be Bieber — which made it so much better. Bautista gained a lot of fans with his performance tonight and that will help him going into the Live Shows.
There's no doubt that Bautista was the right choice for Team Christina going in to the Lives. Not only does he have the voice, he has the style and personality to match. He'll win over hundreds of thousands of fans in no time and, if he keeps up the way he's going, he'll keep those fans week after. Christina Aguilera is in it to win it this year and Bautista could just be the one to win The Voice for her.
Image: Tyler Golden/NBC