Jodie Sweetin Shared Her Struggles On 'DWTS'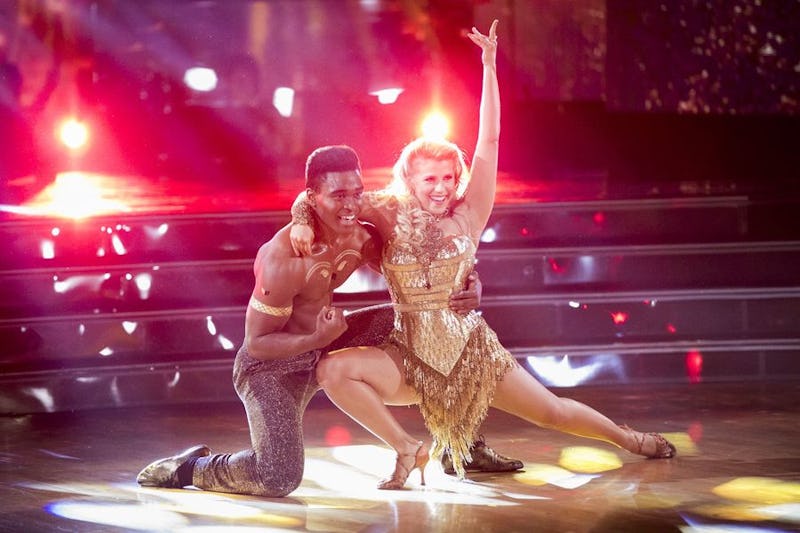 It seems to me like I've grown up with Jodie Sweetin, star of Full House and Fuller House, but there was a time when she wasn't in the public eye. According to tonight's episode of Dancing With The Stars, chronicling the contestants' "Most Memorable Year", Sweetin told the audience just how dark those years were. She was addicted to drugs and alcohol, and generally, in an awful place. Jodie Sweetin's journey to sobriety is totally inspiring, and she channeled those feelings into a wonderful piece on Dancing With The Stars.
In the pre-dance interview, Jodie talked about how she had grown up on Full House , and when it all ended, she kind of didn't know where to go. She was only 13 years old, and she used drugs and alcohol to numb the pain of saying goodbye to her television family. Realizing how bad it was, she finally got sober (Jodie said she's been sober for five years, which is an awesome accomplishment) and nabbed her role as Stephanie Tanner on Fuller House. Partner Keo Motsepe took all of those feelings of Jodie and choreographed them into an emotional number. Everyone loved it (even the judges), and Jodie cried tears of joy at its completion.
Jodie Sweetin is such an inspiration — former co-stars Bob Saget and Lori Loughlin talked about how her sobriety is amazing, and how she's so much happy as a person and as a mother now that she feels free of her demons. I, for one, can't wait to watch the rest of Jodie's evolution on Dancing With The Stars. As she said in her interviews, Jodie's light is shining again, and it's wonderful to see it. I think she'll go far.
Images: Adam Taylor/ABC