Does Too Faced's Peach Palette Smell Like Peaches?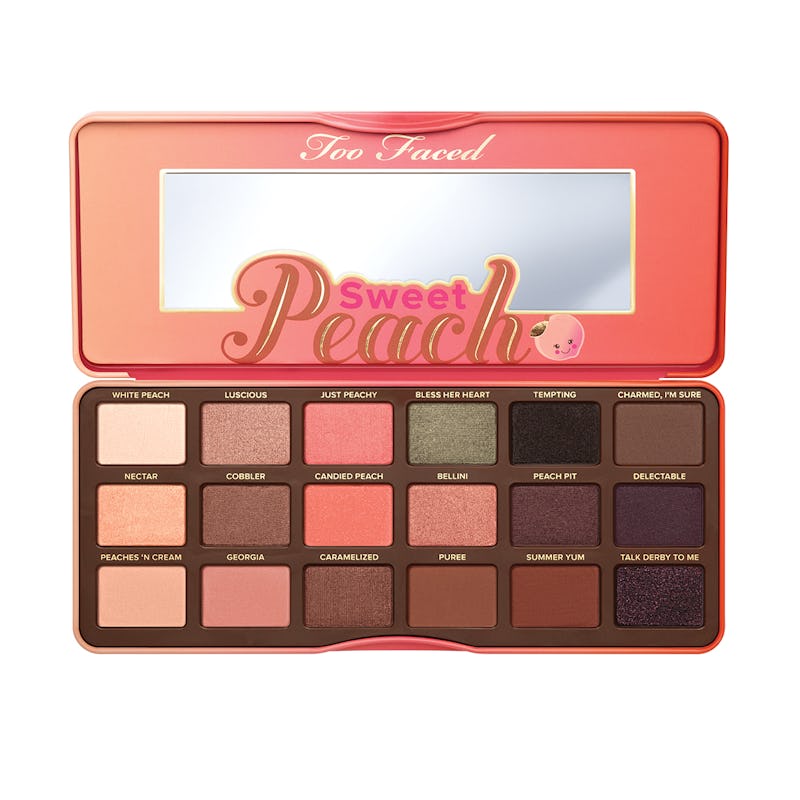 The best thing about Too Faced's sweet treat-inspired palettes —you know, the usually sold out PB&J palette and the decadent Chocolate Bar— is that they stimulate a whole bunch of senses at once. They let you indulge your creative side when it comes to eye makeup looks. The colors are aesthetically stunning. The texture and the formula are silky smooth and feel breathable on skin. And they smell absolutely fantastic. What about the Too Faced Sweet Peach palette, which can be used in all sorts of ways to create beautiful looks? Does Too Faced Sweet Peach really smell like the sweet and juicy fruit that inspired its pretty shades?
Of course it does! Duh. Too Faced is pretty much known for palettes that smell as good as they look. You can take a whiff and enjoy a deep inhale while you are sweeping your buffer or crease brush over the pan and dusting the product on your eyelids. It will wake you up in the morning and elevate your mood for the day. Don't you love when makeup has that kind of effect?
It even says so right there in the product description, which points out all of the essential awesomeness contained within the Sweet Peach palette.
Observe Too Faced's official "word" re: the Sweet Peach palette. It's certainly yummy in more ways than one.
But you don't need to solely take Too Faced's word for it. Too Facers have espoused their love for and proof of the scent on Twitter.
It calls for a peach emoji.
Good enough to eat? OK, maybe not. But by all means, sniff to your heart's content.
This tweet encapsulates why the Sweet Peach palette is so damn perfect. It serves two purposes and tickles two senses.
I mean, this tweet says it all! Even this beauty's BF can't resist the smell of Too Faced Sweet Peach.
The eye shadows are lovely. The palette smells super duper sweet. The ombre case looks beautiful on your vanity. I mean, what more could you want from a palette?
Images: Courtesy of Too Faced (3)