Paris Jackson's New Tattoo Is So Meaningful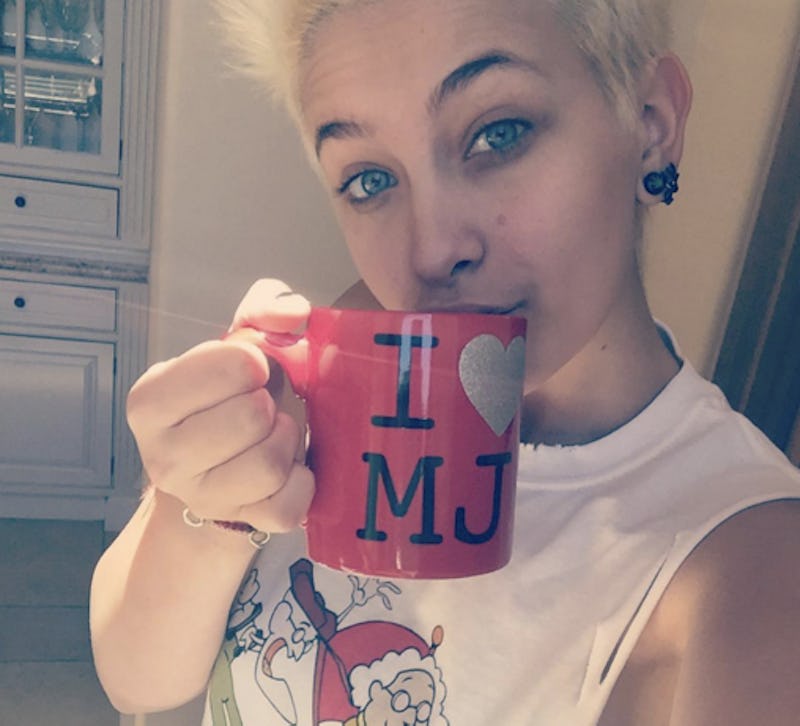 Following her 18th birthday on April 3, Paris Jackson has seemingly been enjoying all of the benefits of adulthood. As Refinery29 reported, only days after the landmark birthday, Paris Jackson got a new tattoo: a momentous right of passage for young celebrities these days. Kylie Jenner got inked almost immediately after her 18th as well.
However, Jackson's new tattoo isn't following any tattoo trends. Instead, it's a super sweet memoriam for her late father, Michael Jackson. Paris Jackson uploaded a photo of the tattoo on April 5. She opted for a black and white image of herself looking at the fresh ink in the tattoo artist's studio, rather than a close-up image of the piece itself.
Hopefully Jackson will treat us with an up close and personal image of her first ink soon, but until then, the information in her Instagram post's caption is more than enough to make many hearts melt. Written in Michael Jackson's handwriting, the tat is placed along the outside of her left wrist and reads, "Queen Of My Heart." It's a super sweet pet name that I can only assume was given to Paris by the King Of Pop. Excuse me while I brush away these tears.
As much as I can try to explain the meaning of Paris' tattoo, nobody can do it better than her. Her caption reads: "'Queen Of My Heart' in his handwriting. To everyone else he was the King Of Pop. To me, well, he was the king of my heart."
It's a heartwarming tribute — not only to her own experiences and the love that she feels for her father, but a recognition of the world's adoration of the King Of Pop as well. His loss was not only felt by his daughter, but by legions of fans around the world.
In her latest Instagram post, we can spot the fresh tattoo again. (Well, if you squint anyway.) Perhaps Jackson is waiting until the ink is healed before posting a clearer picture, or maybe she wants to keep her personal tattoo to herself for the time being. Either reason would be legitimate.
With such a meaningful piece as her first tattoo, I won't be surprised if any further ink that Jackson decides to get is equally breathtaking.
Images: parisjackson/Instagram