Ken Kratz & Judge Jeanine Will Team Up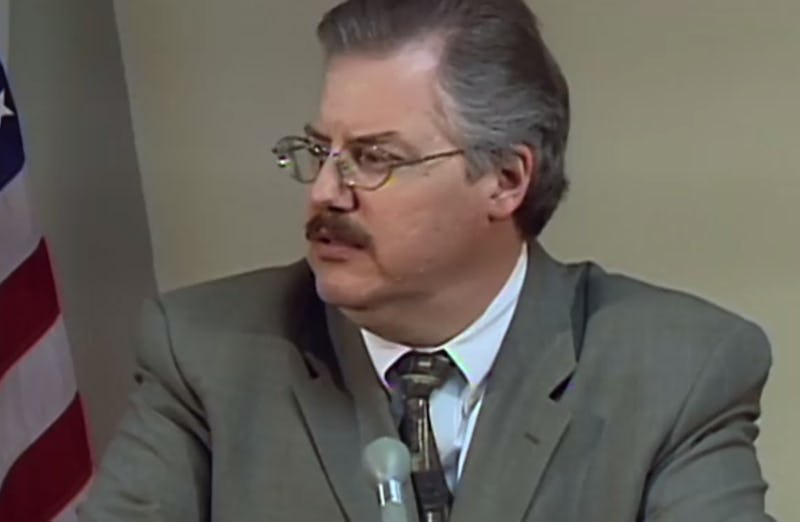 Every Netflix subscriber's least-favorite district attorney will be taking the stage in Rockford, Illinois to discuss the trial that had millions of Americans hooked. Former Calumet County District Attorney Ken Kratz of Making a Murderer fame will speak about Steven Avery's case at a performing arts center in the small city, which is about a half an hour's drive from the Wisconsin border. Joined by Fox News' Judge Jeanine Pirro, the talk will focus on why Kratz thinks Avery is guilty. Event organizers even claim he will present "never before seen evidence omitted from the documentary."
Kratz has been vocal since the Netflix series first aired, arguing that Avery is guilty beyond a reasonable doubt. He has even gone as far as to get a book deal about the case. The event's title (AVERY: Guilty as Charged) also leaves little doubt as to Kratz's 411. He has found a fellow guilty vote in Pirro. She has also spoken publicly about how she thinks that Avery did it, and has hosted specials on Fox News asserting as much. She said that, "[The] evidence is as solid as any murder case I've tried" on Fox News in January.
In other words, the event is clearly a rebuttal to Making a Murder, geared toward the "he's guilty" crowd. The event description makes that even clearer:
The documentary reached a high level of international interest and provided only a defense-slanted side of the story calling for Avery's exoneration and freedom. AVERY: Guilty As Charged offers the public the opportunity to hear the other side of the case.
The anti-Avery event doesn't sit well with some. Supporters of Avery and Brendan Dassey (Avery's cousin, who was also convicted in connection with Theresa Halbach's murder) have planned protests outside the venue. "Once again we have another member of the corrupt Manitowoc County frame job of Steven Avery and Brendan Dassey attempting to profit from there [sic] corrupt actions," one event organizer wrote on Facebook. The Steven Avery Project and Free Brendan Dassey Facebook groups both have members RSVP'd as going.
As for the new evidence, it could be anything from the case that wasn't included in the documentary. In the past, Kratz has spoken of the open blood vial, saying that the nurse who filled it was responsible for what some have claimed was tampering. He also has talked about Avery calling Halbach with his number blocked, and how Dassey's confession can explain why some of the blood was in Halbach's trunk.
The event will be held May 19 at 8 p.m. in the Coronado Performing Arts Center. If you're hoping to attend in the audience — and not as a protester — pre-sale starts Friday, and opens up to the general public on Saturday.