10 Beverly Cleary Books We Want Our Kids To Read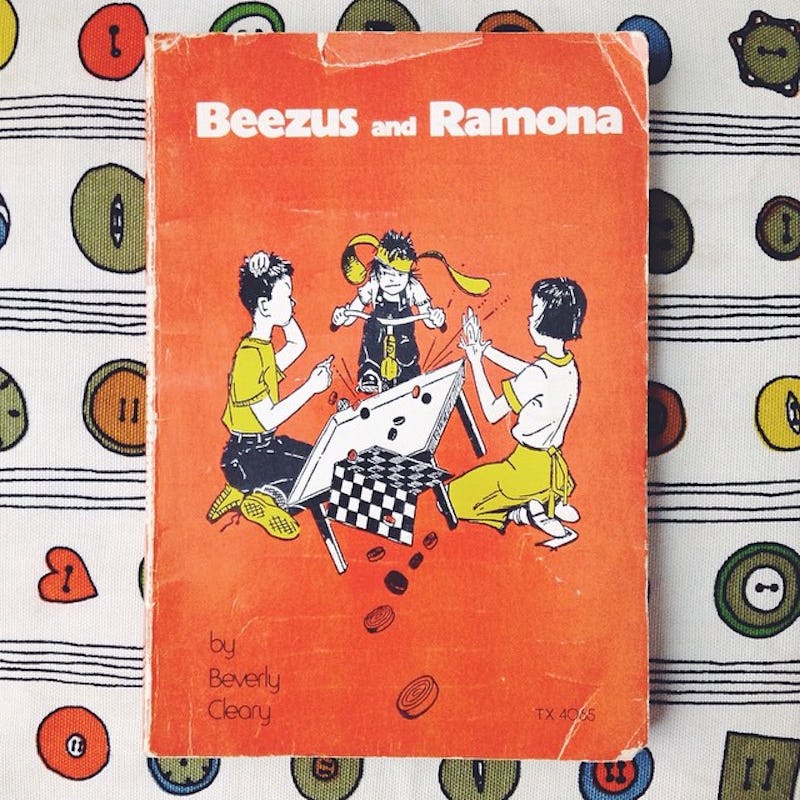 I still remember the first time I opened my library's copy of Beverly Cleary's The Mouse and the Motorcycle to find my first page-turning adventure, and I will never forget how the protagonist in her Dear Mr. Henshaw novel totally understood how I felt about my parents' split. With the arrival of Beverly Cleary's 100th birthday on April 12, I can't help but think about the impact her writing has had on my generation and all of the essential Beverly Cleary books that we want our children to read. A childhood without Beezus and Ramona doesn't sound like a childhood to me.
Beloved children's author Beverly Cleary, who started out as a children's librarian frustrated with the lack of quality literature for kids, has dedicated her career to creating characters kids can identify with and, more importantly, care about. Her stories are full of excitement, imagination, and inspiration — in other words, the key elements that make kids love reading. Although some of her books are over 60 years old, the tales they tell ring true for modern readers, and the characters that they're about remain timeless. Whether you grew up as she was writing them or you found them decades later, you know how special Beverly Cleary's writing to young readers.
Although I hope my own kids get to enjoy the marvel and wonder of Beverly Cleary's entire library, here are 10 books I really want them to read. And who knows, maybe by the time they're born, a brand new book will be added to the list. (Hey, a girl can dream.)
1. Beezus and Ramona
Any child who has a sister will appreciate Beezus and Ramona, Cleary's first book in the Ramona Quimby series. The fun and sweet story explores the ups and downs of sisterhood, from the fun times to the not-so-fun times and all the chaos in between. A great book that older and younger siblings will both relate to, I hope all my daughters get a chance to read this delightful family book.
2. Ramona Quimby, Age 8
Growing up is hard, an no one gets that better than Beverly Cleary and her characters. In Ramona Quimby, Age 8, Ramona's life is going through more changes than she can count, but all she wants to do is prove she's big enough to handle it. An inspiring story about growing up and being a responsible family member, this is one of the best Ramona Quimby novels in the series.
3. The Mouse and the Motorcycle
If you're lucky enough, when you're young, you'll stumble upon one book that will ignite your passion for reading. For my seven-year-old self, one of those books was The Mouse and the Motorcycle, an exciting story about a rebellious mouse and his unlikely friendship with a young boy. A fun book about kindness, courage, and bravery, every little kid should get to ride alongside Ralph S. Mouse while he races towards adventure.
4. Henry and Beezus
There are no better friends than Henry Huggins and Beezus Quimby, and in this book that focuses on their relationship, the two pals prove there's nothing friends won't do for one another. Henry and Beezus is a funny, charming tale about the bonds between girls and boys, hard work, and knowing when to accept help — in other words, the exact kind of story I want my kids reading.
5. Henry Huggins
The very first book that Beverly Cleary wrote, Henry Huggins is a a must-read for my future kids. Henry's whole world changes when he meets a mischievous puppy in this classic story about love and loss in the eyes of a child. The book that introduced us to the residents of Klickitat Street, Henry Huggins will be required reading for my little ones.
6. Dear Mr. Henshaw
In her Newbery Medal-winning book, Beverly Cleary expertly captures the thoughts and emotions of a young boy going through a tough time. Dear Mr. Henshaw, one of two Leigh Botts stories, is a moving book about sadness, heartbreak, fear, and a child's ability to overcome it all — with the help of a friend, of course.
7. Fifteen
Though her First Love series feels a little more dated than her other children's books, I'm saving my copy of Fifteen for my future daughter. This dreamy 1950s novel deals with an that's always relevant: navigating first love.
8. Otis Spofford
Children and mischief go hand-and-hand, especially when that child is Otis Spofford. The trouble-making protagonist of the Ellen and Otis series finds that there's such a thing as going too far in this story of friendship, bullies, and learning to stand up for yourself. Featuring some of her most loveable characters, Otis Spofford is a book kids will cherish for years to come.
9. Ramona the Brave
Sometimes, growing up means being brave, just ask Ramona Quimby. In this installment, our favorite little heroine, now 6-years-old, has to navigate a new class, deal with her mom's new job, and on top of it all, she has to try and sleep in the dark all by herself. An imaginative and inspiring novel about growing up, this is the perfect book to teach kids that it's okay to be scared, but chances are, you're braver than you think.
10. A Girl from Yamhill
The first of two memoirs from this legendary author, A Girl from Yamhill might not be one of Beverly Cleary's classic children's books, but it's still essential reading. A beautiful novel as vibrant as any of her other books, A Girl from Yamhill tells the story of Cleary's own childhood in fascinating detail. An inspiring true tale of how one young girl grows up to be one of the most beloved authors of all time, any kid would be inspired by this book, which is exactly why I hope my future children get to read it.
Images: amyegrass/Instagram