One Big Way 'Friends' Could Have Been Different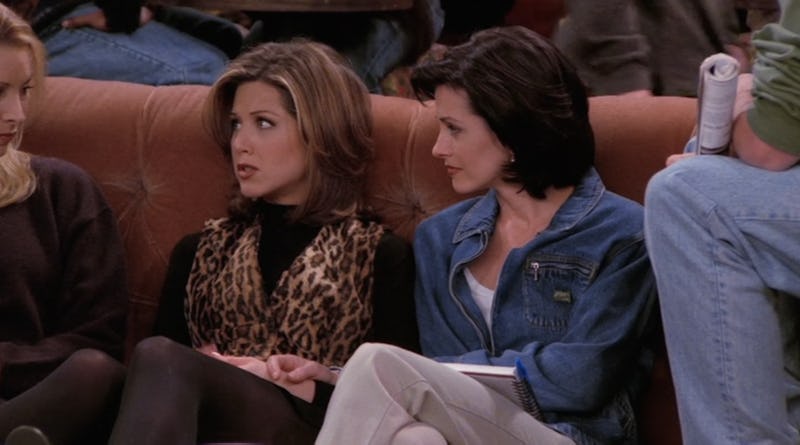 It's hard to imagine anyone but Jennifer Aniston as Rachel Green. I mean, no matter how many other women rocked that same iconic-but-unfortunate cut, she's the most identifiable face of the series. Yet ,every once in a while, we get a glimpse of what could have been. So here's another alternate universe to ponder: it was revealed that The Facts of Life actress Lisa Whelchel could have been re-casted as Rachel in an interview with Access Hollywood on Thursday. Say what?
Apparently, Whelchel had gotten the script after NBC had shot the pilot and wanted to pick a different actress to play Central Perk's most lovable (but definitely least attentive) waitress. She had just finished her run as Blair Warner on Facts of Life, and, although she thought the script was really funny, she passed because of, well, let's just say it was probably because of the more adult content. "I could also tell the direction it would go... it's not one that I would want my children to watch," Whelchel told Billy Bush and Kit Hoover. Incidentally, Whelchel and her daughter Clancy Cauble did eventually marathon the series when Cauble got her wisdom teeth out. You know, as one does.
Of course, as we said earlier, Whelchel is just the latest on a list of could-be Rachels. Last year at the 2015 Emmys Jane Krakowski admitted she auditioned for the role of Rachel, and, though she regretted not getting it, she's done pretty well between Ally McBeal, 30 Rock and Unbreakable Kimmy Schmidt. Likewise, Saved By The Bell's Elizabeth Berkley auditioned for Friends and she... well, she was looking good in that Jimmy Fallon reunion.
And let's not forget that originally Tea Leoni was the first choice to play Rachel. At the time, Leoni was already a television veteran, but this would've definitely put a wrench in her successful film career. And, considering Friends would've been an entirely different show, who knows if Friends would've lasted as long?
At the end of the day, we all know what happened. Aniston was ultimately recast as Rachel and due to her chemistry with David Schwimmer, her whiney-but-adorable charm, and yes, that haircut, she was the perfect match. I'm sure Whelchel sleeps soundly knowing she can still be forever known as Blair, the veritable babe of Facts of Life. Everything worked out in the end, just like sitcoms should.
Images: Warner Bros. Television