9 Hacks For Taking Long Drives Alone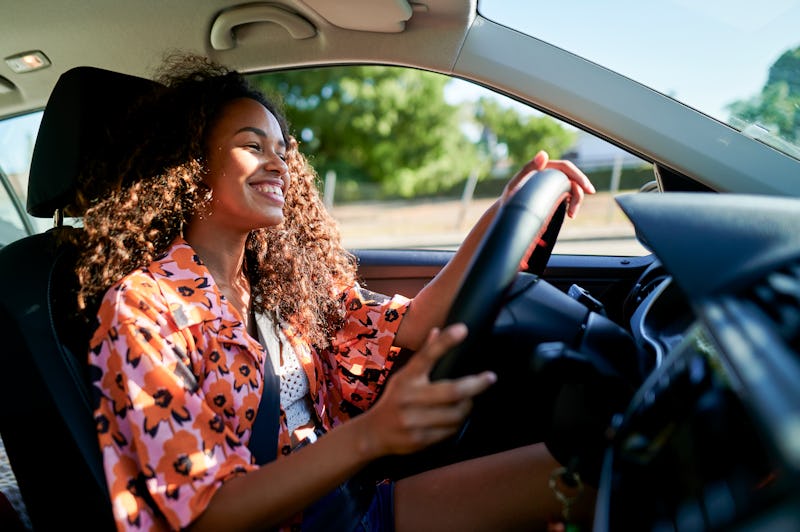 Westend61/Westend61/Getty Images
For some reason, my friends do not understand why I like taking long drives alone. I can see how from an outsider's perspective it might seem like a lonely endeavor, but I can assure you that with the proper planing it can actually be really fun! Being alone for a long period of time forces you to focus all of your energy onto yourself, making it really hard not to do a little soul searching. Since we are all so interconnected online these days, I find that a car ride is the perfect place to disconnect from all of those influences and just chiiiiiiiiiill.
I've driven to a lot of places by myself. From San Francisco to L.A. and back, twice. Which totals around 13 hours roundtrip. I've driven to San Diego from Los Angeles by myself as well. That was around eight hours roundtrip. It feels like such an accomplishment once you get to your destination, and I wouldn't trade that feeling for the world.
I think that the only reason why people don't like traveling alone is being afraid of boredom. To me, having nothing to do is relaxing, but only because I am always doing something otherwise. I'm constantly searching for a couple of hours to just be alone. I'm not anti-social, I'm just exhausted. Which is why the sound of a six hour long trip doesn't scare me. I'm here to help others face their fears and let them finally drive alone to a place they need to go. Who says you need someone to go on a camping trip or a hike in a different state? I say, get in your car and go. With the following hacks, you'll be ready to take the longest drive of your life!
1. Preplanning Is Key
Before you even step inside of your car make sure you know the pressure in your tires, if you have enough coolant, where your spare tire is and how to change a flat. Knowing these things will be a reason to no longer be afraid of traveling alone. Even is something goes wrong, you'll be able to handle it.
2. Wear Very Comfy Pants
Yoga pants, sweatpants, or anything stretchy is what you need to drive for long periods of time. I once drove to San Diego wearing a belt and regretted it the moment I hit the one hour mark. Seriously, wear something comfortable — and don't forget to stretch before hand, and during any stops you make.
3. Drink A Cup Of Coffee Before Leaving
Of course you're going to run the risk of filling your bladder, but you'll be sharper and stay awake. Driving past nothing but flat earth will get a bit monotonous, so make sure you have that caffeine stimulant to keep you going.
4. Snacks And More Snacks
Buy some snacks for cheap at the supermarket. Munching on something can make the whole experience feel like a treat! (Here's a list of some handy foods that will help keep you alert and awake.)
5. Podcasts
I love listening to podcasts on my way to places. I usually go for funny and earnest — my wheelhouse. I recommend "WTF with Mark Maron" or "Beautiful/Anonymous" with Chris Gethard. These hour or more episodes will help pass the time while keeping you entertained.
6. Sing Your Heart Out
One of the beauties of being alone is that you can finally sing as loud as you want and no one can judge you. That means belting out that amazing '80s hit, or the new Selena Gomez song.
7. Do Some Light "Reading"
Audiobooks are just as good as podcasts. Even better — you can tell all of your friends that you "read" a book. No one needs to know you listened to it!
8. Wear Really Cool Sunglasses
I find that wearing sunglasses not only makes the drive easier but makes you look like a badass. I happen to think that pretending to be a spy on a mission is pretty fun — even in your mid-20s.
Images: Westend61/Westend61/Getty Images; Giphy