16 Whole30 Recipes That Are Seriously Good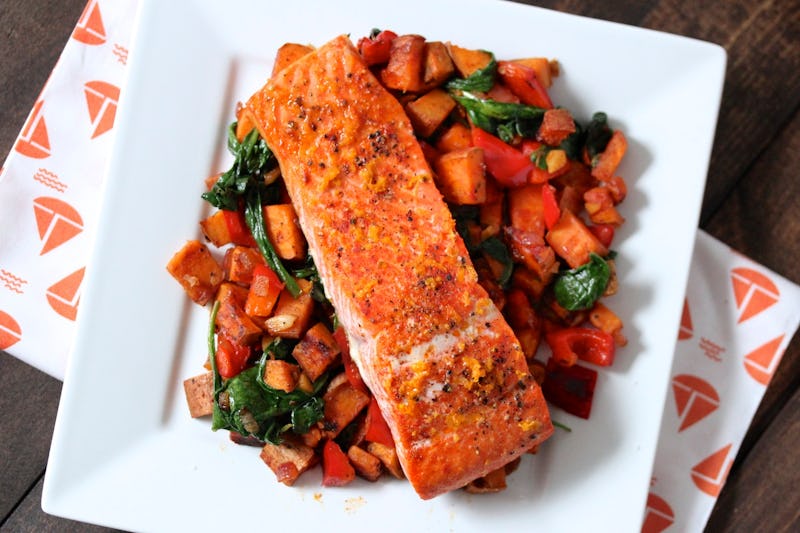 In this day and age of hashtagging, it seems like there is never not a new food trend going on — but sometimes, there comes along one that actually catches our attention. And with the help of plenty delicious and easy Whole30 recipes, the latest trend in healthy eating proves to be something that could stick around. Sure, cutting out gluten, dairy, and sugar for a month may seem like a formidable challenge, but the way you'll feel at the end of the month makes the challenge worth it.
So, what is Whole30? The diet requires you to cut out grains, legumes, dairy (except for clarified butter), soy, and processed foods for 30 days. The point is to help you focus on your overall health and energy levels. It seems quite restrictive, but a handy shopping list will let you know which foods are alright. While, like every diet, Whole30 may not be for everyone, it can be a viable option if you feel sluggish, if you're constantly craving sugar, or if you want to focus on eating more whole foods. Listen to your body, and always make sure you are eating enough.
That being said, these 16 recipes adhere to the Whole30 restrictions, so you are guaranteed to at least have some healthy dinner recipes to choose from.
1. Sausage, Potato, And Mushroom Skillet
Doing Whole30 doesn't mean you have to give up comfort food. This skillet by A Beautiful Mess is sure to satisfy your carb cravings.
2. Slow-Cooker Chicken Tikka Masala
Chicken tikka masala makes a tasty option for a warm, soothing weeknight meal. The Kitchn shows how to make it in your slow cooker — just be sure to use coconut milk instead of heavy cream.
3. Pizza Frittata
Your usual pizza delivery order (most likely) isn't Whole30-friendly, but that doesn't mean you can't satisfy those cravings in some way. Against All Grain's frittata recipe contains nutritional yeast for a cheesy touch.
4. Chipotle Chicken Stuffed Sweet Potatoes
Sweet potatoes are always a satisfying option when you're craving something a little starchy on Whole30. Bare Root pairs them with spicy chicken for a solid meal.
5. Eggplant Curry
When in need of a quick and easy Whole30 meal, don't forget about curry! My Darling Lemon Thyme simmers this dish to perfection.
6. Cucumber Apple Green Gazpacho
When you're in need of something quick and refreshing, gazpacho hits the spot. Love and Lemons mixes things up with a recipe that uses organic green juice as a shortcut.
7. Enchilada Stuffed Peppers With Chile Verde Sauce
Against All Grain makes Whole30 look easy with this crave-worthy recipe. Top off a ground beef-stuffed pepper with guacamole for just a touch of creaminess.
8. Avocado Egg Boats
The secret to the perfect avocado egg boat? The Health Foodie shows that putting in the egg white and yolk separately results in something wonderful.
9. Detoxifying Kale Soup
Forget the green juice — detox with soup! Making Thyme For Health blends together kale, cauliflower, a potato, and more for a creamy vegan soup that's filled with nutrients.
10. Sweet Potato Bacon Hash
Steak seasoning gives this comforting brunch (or lunch or dinner) dish a smokey taste. A Beautiful Mess puts an egg on top for added protein and flavor.
11. Three-Ingredient Energy Bars
While nuts and dried fruit should be relatively limited on Whole30, sometimes you just need a snack to keep you going. The Kitchn's energy bars are too easy not to make.
12. Zucchini Pesto Pasta
If you want to cut down on carbs but love pasta too much to give it up completely, invest in a spiralizer. Against All Grain shows that zucchini noodles (or "zoodles") are totally satisfying when paired with pesto, peas, and pancetta.
13. Ginger Orange Salmon
While sugar isn't allowed on Whole30, fruit juice is permitted — so Bare Root uses orange juice to give this salmon a subtly sweet flavor.
14. Potato Curry
My Darling Lemon Thyme shows that potatoes are good for a lot more than just mashing with this Indian-inspired dish. Just leave out the pinch of raw sugar to keep it fully Whole30.
15. Mini Spinach And Sun-Dried Tomato Frittatas
Another go-to meal option? Frittatas! Love and Lemons makes miniature versions of this egg dish, perfect for feeding a group of friends.
16. Creamy Avocado "Pasta" With Chicken And Asparagus
Zucchini noodles are the base of this comforting meal by The Healthy Foodie. A combination of coconut milk and avocado results in the creamiest dairy-free sauce.
Images: Bare Root (3); A Beautiful Mess (2); The Kitchn (2); Against All Grain (2); My Darling Lemon Thyme (2); Love and Lemons (2); The Healthy Foodie (2); Making Thyme For Health