11 Things I Learned From My First Threesome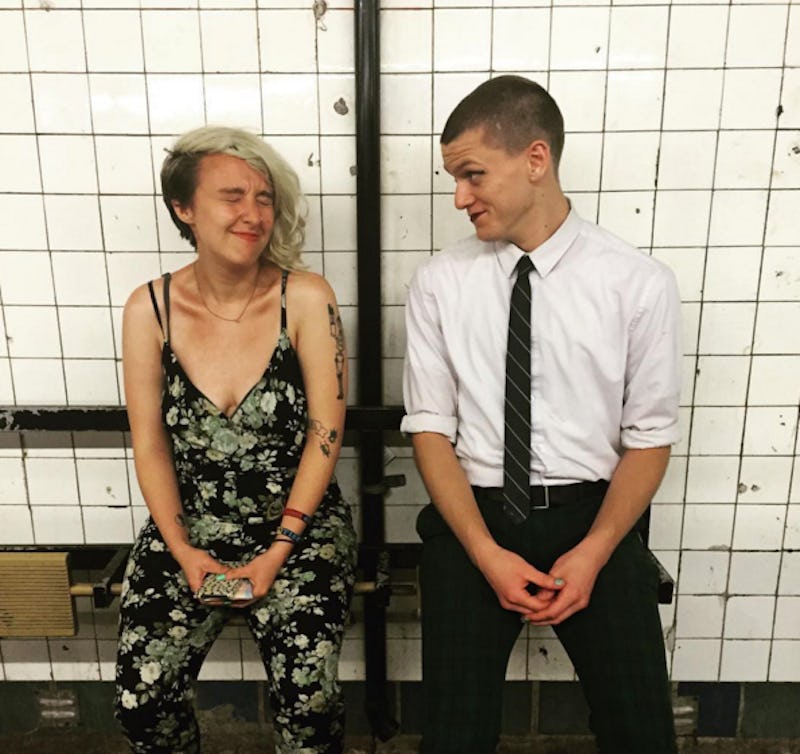 About a month ago, my partner and I had a discussion about the possibility of opening our relationship. Since the thought of sleeping with other people separately didn't seem all that appealing to either of us, we decided to begin pursuing someone to have a threesome with. My partner Skylar and I had always joked about how our sex was so good and we were such a cute couple that it would be selfish, really, if we didn't share it with others. We said this in jest, of course, not realizing that we would actually be sharing our sex life with another person in the near future.
Skylar and I decided to experiment with non-monogamy for the pure fun of it. We love each other deeply, but admitted that we were definitely curious about other people — sexually, at least. We're both super adventurous people in the bedroom, so the thought of adding group sex to our repertoire excited us to no end. However, we also had many doubts and concerns. What is sex with three people like? Would this experience be as daunting as when we were dating people separately? Was group sex for us?
Undeterred by our anxieties, we set out to have a threesome, and ended up having a pretty fun time. Here are some things we learned from our experience.
1. You should know what you're looking for.
Before beginning our search, we determined what kind of person we would be looking for: someone who was kinky, queer, had a vagina, and prioritized consent over everything else. Luckily, my partner and I both have the same taste in people, so agreeing on this wasn't difficult. But if your preferences differ from your lover's, it's important to make sure you're both on the same page and choose people unanimously, rather than trying to pressure your partner to hook up with someone they're not so into.
And once we applied filters to our OKCupid account accordingly, we got connected with a ton of cuties right up our alley. Going through people on the app and deciding whether or not to "like" them not only made us realize how incredibly similar our types are, but also helped us further in figuring out what exactly that type even is. After having been off the dating market for over a year, we were both a bit rusty. So relearning these things about ourselves together was super fun.
2. Setting and enforcing boundaries is crucial.
On our profile and in the messages we sent, Skylar and I made sure to be crystal clear about our intentions, needs, and limitations. We were a couple looking for a casual playmate to have kinky and consensual sex with, sans penetration (due to my vaginismus). Once we found a third who fit the description we laid out, we had a very long and detailed conversation with her about what we like and don't like in the bedroom. There was also a lot of small talk as we got to know one another, which we think is pretty essential. Once all three of us felt comfortable, we set a date to meet up for dinner and have sex afterwards, if things went well. Things did go pretty well, but before we started having sex, we took time to establish safe words and continued to check in and ask for consent throughout the entire time we were having sex (all things that should be a given).
One boundary we set was that our third would not sleep over, and if they did, they'd have to leave pretty early in the morning for courtesy reasons. However, Skylar and I were each too shy to assert ourselves on this when the time came, leading our third to stick around for much longer than was comfy for each of us. We now know for next time that vocalizing our needs and enforcing the boundaries we set previously is super important. And even if it feels awkward to speak up, we have each other there for support.
3. Group dynamics can be tricky.
My partner and I imagined the room being dominated by our own dynamic during our threesome, with our third alternating between being the extra wheel and the person we are both pleasuring simultaneously. However, things went much differently when the woman, who had never had sex with an AFAB (assigned female at birth) person like myself, gravitated much more toward my penis-having partner. This was my first time having sex with a woman in addition to being my first threesome, so I was disappointed about having less of an opportunity to participate in and learn from this experience. Of course, it's perfectly natural for people to have favorites — though we did both think she could've tried to make her feelings just a little less obvious.
4. Jealousy happens.
Our threesome inspired a bit of jealousy in me afterwards, which I felt a bit ashamed about and was nervous to admit to my partner. The morning after, I awakened to the woman spooning a sleeping Skylar while gently kissing their neck and shoulder. This annoyed me, and made Skylar feel uncomfortable as well once they woke up.
After she insisted on us getting breakfast together, she held Skylar's hand on the street as we walked. Neither of us were comfortable addressing this behavior until we finally parted ways with her. I expressed to Skylar my worry that they were into her inappropriate behavior. However, they assured me that they were just as weirded out. With all new experiences, especially those sexual in nature, personal insecurities are bound to be brought to the forefront. Not enough to deter us from future shenanigans, though.
5. Sex with three people can be awesome, but challenging.
Having hands all over you doing multiple jobs at once is pretty exciting and indulgent. But coordinating three bodies instead of two when deciding the next position can be awkward. The longer you move around and talk it out, the easier it gets. Just remember to laugh on the way. It was our third's first threesome too, so we all laughed a lot.
6. Seeing your partner with someone else can be hot.
Despite any jealousy or awkwardness that may have ensued, we both happily realized that watching the other have sex with someone else is extremely gratifying. Watching Skylar have sex with our third was just as exciting to me as participating. Since we were both afraid our jealous tendencies might ruin that for us, we were both super pleased with this.
7. Getting to know new bodies is exciting.
Since we are so used to having sex with each other, and have done so exclusively for over a year, it was pretty weird to get to know someone else's body and remembering that everyone likes different things. This was especially the case for Skylar, who had never had casual sex before. Since they are used to my vagina, it was a learning curve to understand the different needs, textures, and tastes of another person with a vagina. Of course, "everybody is different" is a given. But coming from people who have only had sex with one person for awhile, it's easy to forget that momentarily.
As this was my first time having sex with a woman, getting to know her body helped me get to know myself better. Basically, I learned that vaginas are amazing, and as genitalia goes, I much prefer them to penises. I've always been more attracted to feminine bodies, so this development didn't surprise me much. But it was cool to have this preference affirmed, since I had never acted much on my attraction to girls before that night.
8. Constant communication should be encouraged.
Our third was pretty terrible at communicating during sex, which made it difficult at times for Skylar and I to relax and enjoy ourselves when we weren't entirely sure if she was enjoying herself. We asked a ton of questions and always asked for consent, but she mostly just laid there silently with her eyes closed for much of the time. Since we're so used to communicating and being vocal with each other, silence was not something we were used to. In fact, silence for us usually indicates one of us being triggered, as sometimes I disassociate during sex due to post-traumatic stress. And when that happens, we stop. Our third tried calming our worries a couple times, but it just didn't feel right to us.
Also, remembering to check in with your partner and yourself during and after, even if it's through a quick text, proved to be quite essential. Making sure the other is comfortable in the situation was top priority, especially if either of you have a history of assault or abuse.
9. Dating is less intimidating when doing it with your partner.
My partner and I had our reservations about the threesome, but we went into it way more confident than we normally would on a first date solo. We had planned to meet up with our third at a Mexican restaurant nearby for dinner and icebreakers before going back to a hotel room we rented for the night. We were each terribly nervous as we walked to the restaurant together, but were happy to discover that this sort of date didn't feel quite as daunting as some of our previous experiences. Having your partner to lean on through the awkwardness of sex with a new person is incredibly comforting, and way less scary than going it alone.
10. Having preferences is OK.
Although Skylar and I are huge supporters of body positivity and sex positivity, we realized that it's OK to have our preferences. By having sex with our third, I learned that I prefer smaller breasts and a hairier groin. Skylar would prefer less deep-throating while they're receiving oral sex and more eye contact while they're giving oral. And we both prefer someone who is more vocal, since moaning gets us both off. Lastly, we prefer someone who can climax (which our third could not do), since we both find the experience of giving an orgasm so gratifying.
11. It's a fun bonding experience, but it's OK if you don't want to jump right back on that horse.
Skylar and I both had an amazing time, and we agreed that our third was wonderful at giving oral and super respectful of consent stuff. We not only felt great afterwards, but were able to learn more about each other through this shared experience. I loved seeing Skylar in a "first date" sort of situation, and they loved watching me eagerly have sex with a girl for the first time.
Though we had a rockin' time, we both agreed that we need a bit of a break from the hunt (mostly because our clingy third made us both so uncomfortable). For now, we're not absolutely sure when we're going to coordinate another threesome again. But we are certainly happy to have tried it together, constantly keep what we liked and didn't like in conversation, and look forward to future experiences together.
Images: Meg Zulch