12 Clever Ways To Ask Someone To Prom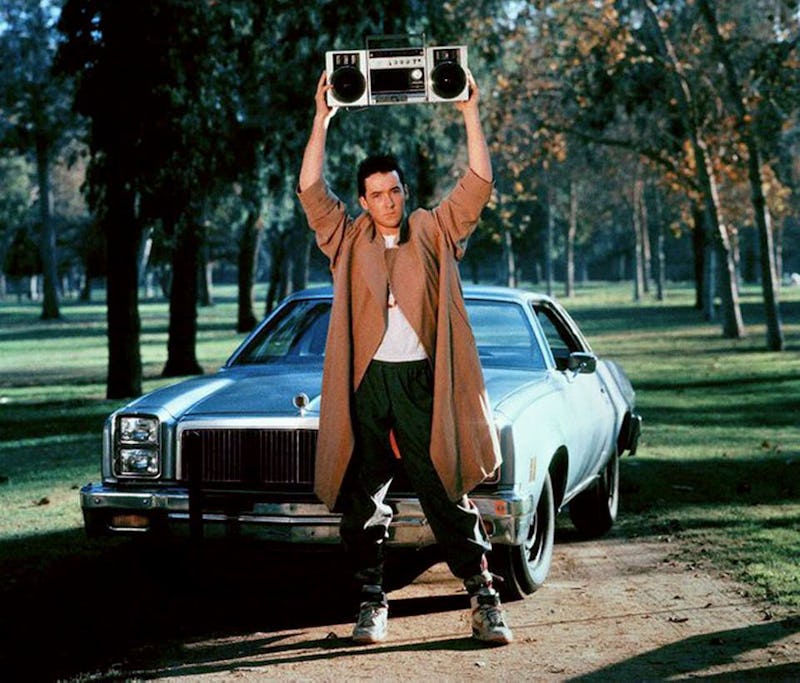 20th Century Fox
For teenagers across the States, prom season is here, and if you're a member of that demographic, it's time to lock down your date for the big night. High schoolers have really upped the ante with "promposals" (as they're now fittingly called) since the more simple days of yesteryear, when prom asking ideas weren't as hyped up and I super casually used AIM to ask my crush to junior prom. (I admit even he was a little disappointed with the unceremonious execution.)
Today, teenagers are going all out to secure their prom dates, sometimes even involving animals and policemen (please don't do this) to pop the question. While there's definitely a line between making an effort and taking things too far, it's possible to have a stress-free plan that makes some great memories while not making you a viral sensation for all the wrong reasons. Have some fun with your promposal by turning an enjoyable activity into a clever way to ask your prospective date to the dance. There's certainly no pressure to lose sleep (or your savings) over crafting the perfect promposal, but if you're in need of a little inspiration, here are some fun ways to ask that will guarantee you a "yes."
1. With a Frisbee
A long long time ago, I was the recipient of a Frisbee promposal and was thoroughly impressed. It was simple, charming, and clever, all without being over-the-top. My high school boyfriend and I were on the ultimate Frisbee team (A-team and B-team respectively), and he took me out to a park after school to practice. We passed the disc back and forth and (to my elation but his frustration) I kept catching it. Eventually he wildly tossed the Frisbee and it landed far off, face up. I ran over to retrieve it to find "PROM?" written on the bottom.
What You'll Need:
Frisbee
Permanent marker
Sloppy forehand
2. In a photo booth
This promposal doesn't take a huge amount of effort on your part, but is romantically old school and instantly captures the moment forever. Just "happen upon" a photobooth on your next date and have a sign tucked away but ready to go. On photo number two, pop the question with the sign, and your prom date's candid reaction will be captured right there on the spot.
What You'll Need:
3. On their phone screen
For a subtle ask that's super clever, stealthily rework the home screen on their phone with carefully chosen apps that spell out the big question. If you can't get enough private time with their phone to execute the makeover, do it on your own phone, then come up with a great excuse why they need to borrow it.
What You'll Need:
A good excuse to "borrow" their phone
4. With a message in a bottle
Get super romantic with a stroll on the beach and a strategically planted bottle that appears to be washed ashore. When you come across the bottle, have your prospective prom date open it to discover a handwritten note that's perfectly age-worn (by way of a lighter), poetically asking the big question.
What You'll Need
5. At a rock climbing gym
Combine popping the question with a fun activity. Take your prospective prom date out to an indoor climbing gym. Have them meet you there and get to the location a little early, sharing your plan with the staff and having them help you plant a sign at the very top of one of the routes you plan on doing. Then, cheer on your future prom date while you belay them to the top where they'll find your perfectly placed question awaiting them.
What You'll Need:
Day passes to a climbing gym
Paper
Marker
6. With personalized M&Ms
Treat your prospective prom date to a jar full of sweetness that asks the question for you. Just order a batch of personalized M&Ms in their favorite color combo and adorned with "PROM?" and plenty of hearts.
What You'll Need:
Order personalized M&Ms from My M&Ms
7. On a movie marquee
Ask the question in a big way, with jumbo letters on your local movie theater's marquee. Take your sweetheart on a date to see an evening showing but keep the movie a mystery. When you arrive at the theater they'll look up to the marquee to see your promposal lit up for everyone to see.
What You'll Need
A big favor from a local movie theater
8. In a customized book
Give your future prom date something they can hold onto forever, with a little customized book that captures all your memories together. For just eight dollars you can have your best Instagram photos printed in a beautiful book, and sneak the question into one of the last pages.
What You'll Need:
9. With a board game
Pop the question while playing one of your favorite board games. Hide the promposal somewhere within the game, creating your own Chance or Community Chest card if you're playing Monopoly or rigging the game to make sure you get P, R, O, and M tiles if you're playing Scrabble.
What You'll Need:
Your favorite board game
Some creativity
10. Inside a fortune cookie
Bring good luck to your prom experience with a cleverly customized fortune cookie. Your future prom date will crack open the crisp cookie to find a special message inviting them to prom. You can even order a personalized silver-plated fortune cookie that comes in its own Chinese takeout box they can forever save as a keepsake.
What You'll Need:
11. With a custom puzzle
Make your prospective prom date work for it with a customized puzzle that spells out the question when pieced together. Make your own in your school's wood shop, or order one using a photo service.
What You'll Need:
If you don't have a lot of time or energy to put something together but have a Ouija board handy, you can try this stress-free maneuver. Have your prospective prom date over and light some candles to set the mood (simultaneously romantic and eerie), then take out the Ouija board for some otherworldly fun. After a few innocuous questions, ask, "What is the number one question on my mind?" Do a little of your own shifting of the planchette and guarantee the answer is P-R-O-M?
What You'll Need:
Ouija board
Candles (for added effect)
Images: 20th Century Fox; Hannah Peters/Getty Images, Dean Mouhtaropoulos/Getty Images, Spencer Platt/Getty Images, Gareth Cattermole/Getty Images; Http.promposals, Promposalsinspiration, The.promposals, Chatbooks, Promposal_ (2)/Instagram; Fox_Theater/Twitter