Hair Color Trends To Try Before 2016 Is Over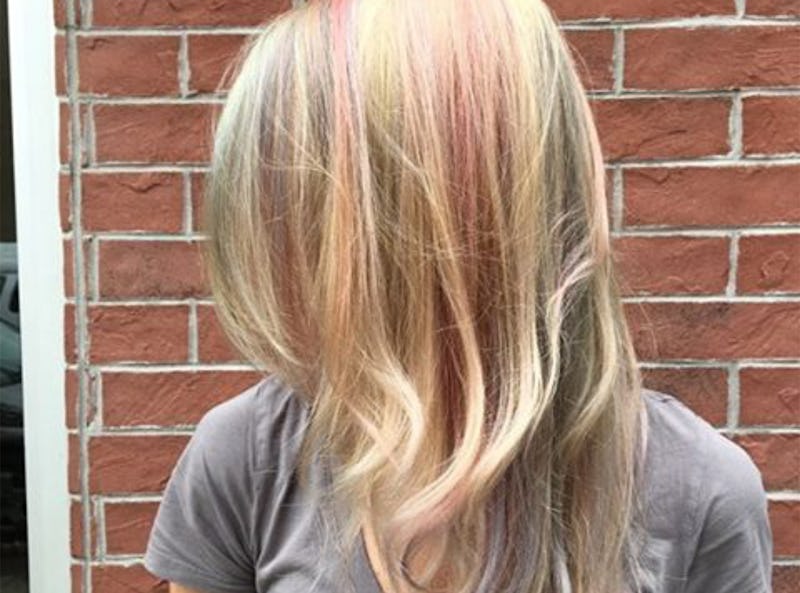 Last year's biggest hair color trends were all about bright and bold tones, which popped up on runways and social media posts everywhere. But as 2016 color trends continue to permeate into the second half of the year, know that some color styles of 2015 will hang around, but will receive a much-needed update in the process.
"Last year's color trends were more about rose gold hair, rich ashy brunettes, and golden blondes," Anastasia Georgas, expert colorist at Butterfly Studio Salon, explains to me via email. "2016 color trends are leaning more towards coppery reds, rich warm brunettes and white ashy blondes."
In addition to richer color, experimental looks are also going more offbeat for the rest of 2016. Georgas cites that color rules are becoming less subdued, making room for edgier to take center stage. She notes that bolder shades such as grays, purples, and denim are having a major moment right now, making them in high demand at major salons.
"We're seeing a growing demand for more unique looks," says Georgas. "These colors include all over gray, (following the granny hair trend) in addition to requests for blue, denim and lavender colors."
Curious to know what's staying for the rest of the year? For the full color low down, experts break down seven new trends and techniques to totally get excited about.
1. Heavy Metals
Offering a striking alternative to conventional hair color shades, expect metallic tones of bronze, gold, silver, and rose gold to take over. These kind of colors offer a playful yet wearable vibe that can flatter a variety of skin tones. However, heavy metal hair color isn't just limited to pastels and grays, as copper and bronze shades are equally gaining popularity as well.
"2016 is the year of the metals; bronze, gold, silver, and rose gold," explains Stylist Roxy Brennan at The Rittenhouse Spa & Club — Hair by Paul Labrecque via email. "This year, clients are asking for iridescent colors, and aren't afraid to push the natural limits with warm golds and stunning silvers."
2. Color Melting
Even coloring techniques are getting a big revamp, as the popular color melting method is projected to get a big twist this year. Color melting allows colorists to blend multiple tones into the hair, creating an ultra natural effect, according to Matrix SoColor Stylist, George Papanikolas.
But while this technique isn't exactly new, colorist Anastasia Georgas says that color melting methods of 2016 require more lift, which looks totally gives hair more of a dramatic feel.
"The difference today is that trends are packing more of a punch so the preference is to do it more to the extreme — especially coming out of the popularity that contrast-y ombre has amassed," says Georgas. "Instead of creating the look with balayage for the more subtle, natural melted results, it's about being creative with foils as 'foilayage' to give the hair a melty feel with maximum lift."
3. Subtle Ombre
You may remember those ombre and sombre trends vividly, but this year's ombre is going back to the basics. Expert colorist George Papanikolas notes that the 2016 ombre look is all about emphasizing a softer and more balanced approach.
"The look is making a comeback with a softer more balanced approach," says Papanikolas through email. "The look frames the face, and keeps the highlights seamless."
In addition, bayalage highlights are also also creating a new spin on the usual ombre look, giving it a sharper yet elegant finish.
"Ombre in 2016 uses balayage highlights to create a more diffused version," explains Lorean Cairns, Co-Founder and Creative Director of Fox & Jane Salon via email. "The look leaves some pieces uncolored, keeping it more broken up."
4. Sun-Kissed Effects
Last year's baby lights trend is also hanging around, as 2016 continues to ditch the solid dark brown colors, and focuses on natural and light sun kissed finishes.
"Bronde with a base of brunette, and hair painted a soft sandy blonde gives off a natural and gorgeous effect," says Emilie Luciano, creative color designer at Depasquale The Spa and Hair Salon via email.
To get the look, Miguel Angarita, Senior Colorist at mizu new york salon, recommends going with either with foils or face painting, as techniques like these can give your hair that gorgeous natural finish.
"To get that sun-kissed look, you can get a few foils or choose hair painting they both look fantastic," he explains through email.
5. The Oil Slick
Rainbow hair color was definitely a huge trend at the start of this year. However, color experts like Richard Collins find that colorful rainbow shades are taking a break for the second half of 2016, as creative new looks are starting to emerge.
"The rainbow color is fading out for 2016," explains Richard Collins, Schwarzkopf ULTIME celebrity hairstylist through email. "It was overdone last year, as we saw lots of purple, pink, and green tones."
Replacing the vivid or pastel rainbow trend is the oil slick, a coloring technique that intentionally blends dark blue, green, and purples shades together. It mimics exactly what you'd think: the oil slick you might see on pavement.
"Oil slick hair color is replacing the rainbow hair color trend with a deeper, richer, and edgier vibe," explains Salon SCK stylist Devin Toth through email. "Plus, oil slick hair is a lot shinier than rainbow hair; it's as if your colorist gently poured streaks of shiny jewel toned oil down some of your layers."
6. Smoky Finishes
In 2015, unicorn and mermaid hair color were all the rage, but come 2016, the Pantone colors (rose quartz and serenity) and opals are making headlines.
"Bold colors are still a popular trend in 2016, but with an overall slight change," says Rossa Jurenas, Schwarzkopf Professional's North American Color Director, via email. "One way we will see bold and pearlescent tones is through an opal look."
Similar to those oil slicks, offbeat colors like unnatural pastels and smokes are also getting some attention this year, and senior colorist expert AJ Lordet at Pierre Michel Salon says that the most popular unnatural colors are pale pink and lavender. Smokes on the other hand, are going cooler and dustier in tone, according to Johnny Lavoy, PRO Beauty Tools Celebrity Hairstylist. These tones are usually great for brunettes who don't want to pre-lighten their hair.
7. Ronze
Probably the most interesting trend of 2016 comes a redhead revival, as different tones of red are taking the internet by storm. Shades of ronze (that's red plus bronze) and eggplant are gaining popularity, as their multidimensional and earthy qualities give tresses that fashion-forward look.
"Ronze tones are red and bronze mixed together to create of soft amber look or even the beautiful tones of eggplant," explains colorist Rossa Jurenas. "These tones will create texture in the hair; especially with covering up last year's colors, there will be many levels of texture with these rich and powerful tones."
But Fox and Jane Salon's Creative Director, Lorean Cairns, cautions to wait till the fall season to try out these rich tones, as summertime elements can often dull reds pretty fast.
"Wait until September to ensure the value of your time and investment," says Cairns. "For the right skin tone, red can be a great idea, and I think in Fall 2016 we will see this hitting the streets and fashion magazines."
Are you ready to hit the colorist chair yet?
Image: @mikkihommel/Instagram