'Unbreakable Kimmy Schmidt' Is Back In New Photos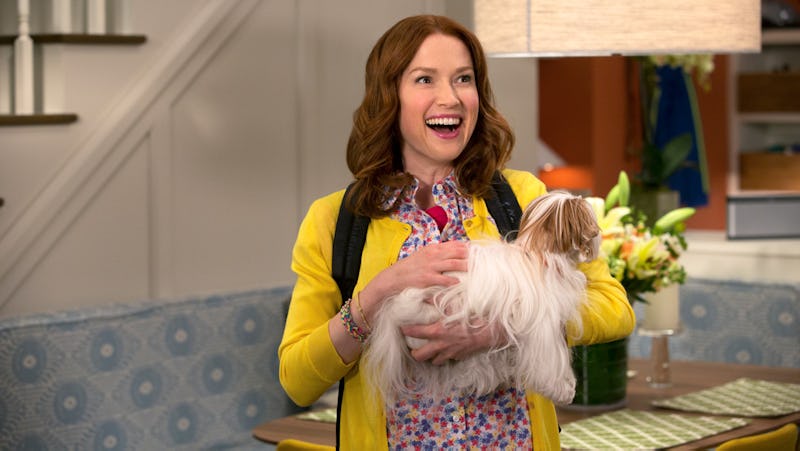 This is definitely a hash brown, no filter kind of moment: Netflix has released some amazing new Unbreakable Kimmy Schmidt Season 2 photos just two weeks before the April 15 premiere. Spoiler-phobes beware, while the photos don't give away any huge plot points they do reveal new guest stars, returning characters, and a wheelbarrow full of puppies — so if you want to go into Season 2 knowing absolutely nothing about what is ahead turn back now. Spoiler-phobes gone? Good, let's get to the good stuff.
The long wait for more Kimmy is totally going to be worth it if the new photos are any indication. Kimmy has a job in a Christmas shop, Tina Fey is back, and Lillian is getting cozy with Fred Armisen. It's all happening, guys! Add in the return of a certain robotic favorite, and news that Titus will be dating this season, and my excitement level is so far off the charts, I don't know why I bothered trying to graph it.
Each new photo is full of clues about what is ahead in Season 2, so it is time to make like a Babysitter's Club Mystery and brush off my amateur detective skills. Check out all of the new photos below and prepare to be in awe of the sheer amount of guest stars heading Kimmy's way.
1. Lillian Says Hello To Fred Armisen
Armisen is taking a break from his Portland antics to visit New York City and Lillian. It looks like Lillian is greeting Armisen's character (that definitely looks like the handle of a suitcase in his hand), so the pair must have some sort of history. If his character dated Lillian, you know he has to be just as eccentric as she is.
2. The Trio Looks Shocked
Kimmy and Titus appear to have a visitor, and they don't look too excited about it. Even Jacqueline looks intrigued, so whatever is going on it has to be good — Jacqueline doesn't tend to be interested in things not involving her. Could it be Titus' ex-wife? One thing this picture definitely reveals is Kimmy is going to make an awesome elf.
3. Anna Camp Hangs With Jacqueline
There is a Barden Bella in the house! According to ScreenCrush, Camp is dropping by to play a high society rival of Jacqueline's. Watching these two hilarious women exchange barbs is going to be delicious.
4. Is Kimmy Investigating?
Kimmy still hasn't discovered the wonders of post-90s technology, but that doesn't mean she isn't exploring the Internet. Either Kimmy is investigating something (or someone?) on this old school computer or she is in the midst of a serious cram session.
5. Jacqueline Enjoys Her Freedom
That is definitely Jacqueline's fabulous apartment from Season 1 — does that mean she got tired of her life in South Dakota again? Once you have a cooler for specialty bottled water it is hard to go back to normal life.
6. Puppies In School
Either those puppies are helping Kimmy solve a math problem or someone is trying to distract her from her work. How can anyone be expected to focus when there is a wheelbarrow full of puppies right in front of them?
7. Hipsters Invade The Neighborhood
Yes, that is Girls' Zosia Mamet guest starring as a hipster. You can bet Lillian is not going to be a fan of this couple who represent everything she wants to protect her slightly dangerous, but homey neighborhood from becoming.
8. Kimmy In Christmas Wonderland
Kimmy's new job working in a Christmas store seems like a perfect fit for her optimistic spirit, but nothing is ever easy for Kimmy. Either her boss is reprimanding her or Kimmy is getting super serious about her role as an elf in this photo.
9. Kimmy Makes A New Friend
Netflix's official press release reveals Kimmy will bond with a man with a military background. Could this be the guy? The two are looking super comfortable together — notice they are even eating out of the same plate.
10. Yuko Returns
Yuko is back! Did Jacqueline make peace with her ex's robot or has it looked for employment elsewhere and decided to become a dog walker? The world needs to know.
11. Jacqueline Channels Michael Jackson
Honestly, I have no idea what is going on here. Jacqueline is wearing what looks like a chain mail glove while looking very angry with David Cross. Cross is set to play an attorney, so it is possible Jacqueline is in a bit of legal trouble.
12. Tina Fey Returns, But Not As Who You Think
Last season, Fey guest-starred as the Mole Women's layer, but this season she is taking on the role of a psychiatrist with interesting methods by the looks of things. Not many therapists would meet their clients for lunch, especially not at a potentially German themed bar for some Oktoberfest themed drinks and eats.
The wait for Kimmy's return is almost over, but until the Season 2 premiere, feel free to speculate about what is up with all those puppies.
Images: Netflix (13)