This 'Arrow' Death Could Change Everything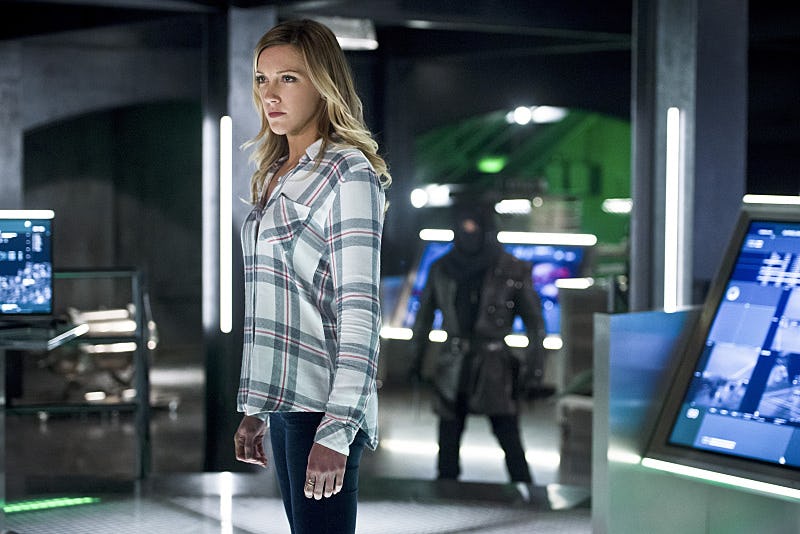 Even when you know a TV death is coming, that doesn't make the loss any less difficult to endure. Viewers may not have known that Laurel would end up in the Arrow grave during those ominous flash forwards, but there was never any doubt in anyone's mind that the revelation would be devastating, and so it was. Laurel Lance is dead on Arrow and it seems as though no Lazarus Pit or any other mystical element will be able to change that. This death is for keeps. So aside from any flashback cameos that Katie Cassidy is able to be in, I'm afraid it's likely that this is the last we'll see her, in any normal capacity, on the show. However, the impact of Laurel's Arrow departure will be very prominent and ripple down to even the spin-offs, such as The Flash and Legends of Tomorrow.
There's no denying that Laurel aka The Black Canary served as a vital part of the Arrow team, so it makes sense that her demise will affect every character in some form or another, whether it be through guilt, anger, revenge, or all of the above. But just in case you're looking for a more specific take on what this loss will mean for Arrow & Co., here are some the biggest changes and challenges everyone in this post-Laurel world will face...
Diggle Will Be Racked With Guilt
While it's true that every member of Team Arrow will be waist-deep in grief when the show returns, Diggle is going to feel the most responsible for Laurel's death and "will never forgive himself," showrunner Marc Guggenheim recently shared with TVLine. After all, it was his blind faith in this brother Andy that led to Laurel's encounter with Damien Darhk. "You can draw a straight-ish line from his decisions to Laurel's death, and that fact is certainly not lost on him," Guggenheim continued. So get ready to see a really down and out Diggle for the foreseeable future.
Captain Lance Will Be In Denial
According to the description for next Wednesday's episode "Canary Cry," Captain Lance "refuses to believe his daughter is really gone and asks Nyssa to help bring her back." So just in case you weren't already emotionally wrecked from that hospital scene, the Lance family patriarch's road to acceptance is definitely going to be of the gut-wrenching variety. Bring tissues.
Sara Will Find Out What Happened Sooner Rather Than Later
The White Canary may be in the midst of a time-traveling mission to stop Vandal Savage, but that doesn't mean she won't find out what's going on back at home during the present day. Guggenheim revealed in the same TVLine interview that Paul Blackthorne (who plays Capt. Lance) will guest star in an upcoming episode of Legends of Tomorrow in order to inform Sara of her sister's death. "Sara will find out what happened with Laurel," Guggenheim promised. "Paul was very gracious to lend his time to Legends to really allow us to explore that. I feel like we give it its due."
Her Appearance On The Flash Will Be Bittersweet
Prior to Laurel's death, it was announced the Cassidy would be making a special cameo appearance on the spin-off series by playing Laurel's Earth-2 counterpart, Black Siren. And as much as it will be nice to see her back in vigilante action, I'm sure it'll prove to be a bittersweet experience for both Team Flash and viewers.
Someone Else May Don The Black Canary Attire
"We'll play with that notion in Episode 19," Guggenheim revealed to TVLine about the upcoming episode "Canary Cry," which involves a mysterious Black Canary sighting, according to the episode description. However, don't expect for this impersonator to stick around for very long. "I don't know if I'd say [the Canary mantle] is up for grabs," Guggenheim added. After all, those would be some very big vocal chords to fill.
Suffice to say, Laurel's departure signifies a major change throughout The CW landscape, proving that while The Black Canary may be gone, she won't soon be forgotten.
Images: Diyah Pera/The CW (2); Dean Buscher/The CW (3); Katie Yu/ The CW