8 Indulgent Hacks To Upgrade Your Shower Time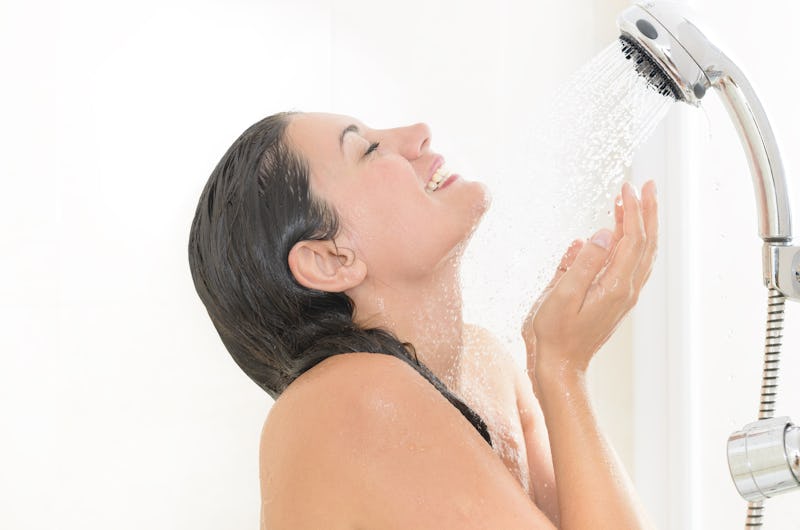 I don't know about you, but my evening shower is the most indulgent 20-to-45 minutes of my day. (Apologies to my roommate for the water bill.) In those moments when steam fills my bathroom with glorious abandon, the one thing I think would make my shower more relaxing and refreshing is an upgrade in shower supplies. But it's always a thought that escapes me the second I step onto that cold tile floor — only to haunt me, 24 hours later, when I'm lathering up that same-old, same-old soap and shampoo.
No seriously, I've been using ho-hum drugstore aisle body washes, shampoos, and conditioners since forever. There's nothing wrong with that, but the thought of a total shower upgrade had taken over me. After all, if I only have this one chunk of time in my day for complete and utter relaxation, isn't it worth it to maximize it? Not only that, but my usual beauty products, though fragrant in the bottle, seemed to fade as soon as I toweled off. I did a little site surfing for products that could completely reinvigorate my in-shower beauty routine for that lasting clean feeling. If you're a shower lover, too, hold on to your shower cap. Ahead — some of the best indulgent shower upgrades for lasting freshness.
For Daily Shampooers, Treat Yourself To Lusher Hair With Argan Oil
Pura D'Or Argan Oil Shampoo, $20, Amazon
This best-selling daily shampoo encourages thick, lush volume with a healthy blend of nourishing argan oil, biotin, and niacin (also known as vitamin B3, which helps improve circulation for better growth). The powerful mix of pumpkin seed and rosemary protects your hair from environmental stressors, in addition to depositing luminous shine, while the biotin improves your hair's elasticity to prevent more breakage. The formula's 12 DHT blockers (like nettle and scalp-stimulating tea tree) work against hormones that constrict fair follicles (causing hair loss), and users say they've noticed dramatic differences in fullness. One reviewer said, "My hair has stopped shredding, and I can see more hair. I am honestly going to use this product for the rest of my life."
Invigorate Your Senses With Antioxidant Coffee Scrub
Natural Arabica Coffee Scrub, $15, Amazon
The first step to an indulgent shower with lasting results is this No. 1, best-selling body scrub. Besides having caffeine that stimulates blood flow and circulation for a healthy flush, its Dead Sea salt safely exfoliates — sloughing off dead skin cells that can look dull or rough when unchecked. Coconut oil adds a little moisture, while shea and cocoa butter replenish cells — helping your skin to look and feel rejuvenated, long after the shower is over.
...And Ensure You're Scrubbing Safely With The Right Tool
Dermasuri Deep Exfoliating Mitt Body Scrub, $20, Amazon
Make sure you make the most out of your exfoliation! Don't waste your scrub by getting it stuck underneath your nail beds during harsh lathering sessions — use this exfoliating mitt to stimulate circulation, even skin tone, and cut down on pore clogging. Your skin will look better for it, and you won't be wasting your favorite new scrub by letting it slip past your fingers.
Soften Skin With Calming Rosewater & Avocado Oil
Jason Body Care Invigorating Rosewater Body Wash, $13, Amazon
You might not be able to take a bath in rose petals, but this rosewater and calendula extract wash could just be the next-best thing. Not only does the creamy formula blend nourishing vitamin E and provitamin B5 together for cell rejuvenation (meaning smoother, fresher skin), but its calming aloe leaf extract restores suppleness. Even more hydration comes from sunflower seed and avocado oils, and users say the wash is light and smells amazing. One reviewer said, "Makes my bath or shower nurturing and relaxing from the aroma therapy."
Never Tried Serums? This Silk-Infused Formula Smoothes Away Frizz
BioSilk Silk Therapy Original Serum, $15, Amazon
If you're a one-and-done type of showerer, you're only cheating yourself, especially if you've noticed dried-out, frizzy strands as a result. Serums are an essential part of haircare (and treating yourself), as they offer extra protection against the sun and other environmental stressors. This particular serum is an awesome option for first-time serum users because its infused with actual silk, which uses 17 of hair's 19 amino acids to strengthen and smooth texture for easy manageability.
If Coffee's Too Strong, Refresh Senses With Orange Spice Sugar Scrub
Bath & Body Works Aromatherapy Sugar Scrub, $14, Amazon
If you're into the idea of kicking dead cell buildup to the curb, but coffee's a little too strong, you can still benefit from exfoliation. This sugar scrub uses orange ginger to stimulate your senses (a good start to your day if you're a morning showerer), and users say it gives an invigorating boost to your morning. One reviewer said, "This scrub gives me a refreshed wonderful feel following a bath or shower unlike any others I've found!"
For Color Treated Hair, Indulge In Replenishing Rose Extract & Green Tea
Pureology Hydrate Shampoo + Conditioner, $42, Amazon
If you have any kind of color treatment happening right now, protect your temperamental color with the best-selling shampoo and conditioner set. Your steamy shower will be filled with an aromatherapeutic blend of ylang ylang, bergamot, and patchouli, while rose extract and green tea get to work silkening your hair texture and restoring moisture lost throughout all those styling sessions. Jojoba and shea butter help your hair stay shiny and static-free, while peppermint, sage, and rosemary help you relax and unwind. One user said the set lets her go longer between salon visits, and she said, "this combo really does work to leave your hair silky soft and to keep the color vivid and vibrant."
Book A Mini Aromatherapy Sesh With Essential Oil Shower Head
SharkSpa Aromatherapeutic Shower Head, $20, Amazon
This game-changing shower head has a removable compartment, where you can store your favorite essential oil blend for the ultimate in relaxation. A fog effect diffuser and rain shower options let you wash how you please every night, while a leak-proof silicone ring ensures none of the essential oils drip out. One user said she fills the shower head with soap, so she can clean and rinse simultaneously — which is good news for efficient bathers still interested in making the most out of shower time.
Bustle may receive a portion of sales from products purchased from this article, which was created independently from Bustle's editorial and sales departments.
Images: Fotolia (1); Amazon (8)