12 Beautiful DIY Mother's Day Cards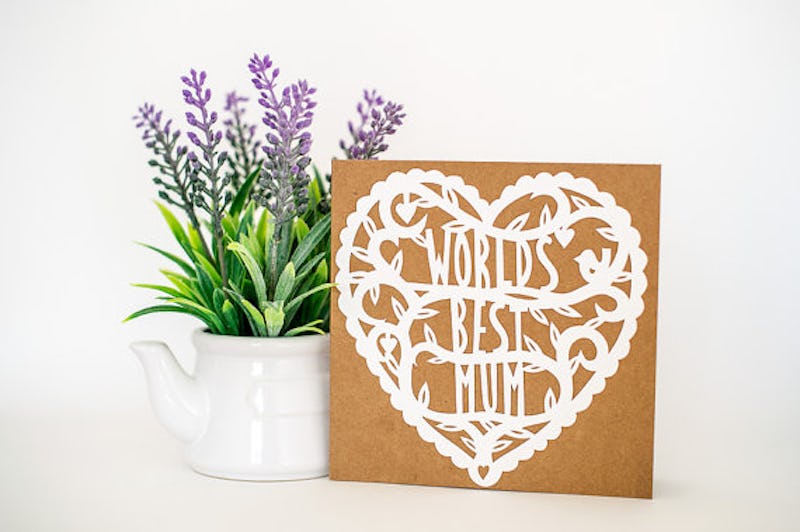 Just because you're not in grade school anymore doesn't mean you can't make your mom a gift for her special day. Since she'll never actually wear a macaroni necklace, try making her one of these beautiful DIY Mother's Day cards instead. It will be something she'll actually like showing off.
Mother's Day is the one time of year where moms can take the day off, relax, and be the center of attention. To create the perfect Mother's Day for your mom, you're going to want to cook up the perfect breakfast in bed (and not let her do the dishes), plan a fun adult activity to do together, pick out a thoughtful gift, and most importantly, let her know how much you love and appreciate her. That's where your DIY card comes in.
Sure, you can find a store-bought card that expresses your feelings towards your mother, but what is more personal than a homemade card made especially for your mom? Get your glitter and glue ready, because your mom deserves something more personal than something you'd find at the store, but something better looking than her old macaroni jewelry collection. Here are 12 easy yet beautiful DIY Mother's Day cards your mom will gush over.
1. Giant Mother's Day Card
Go big or go home with this huge DIY Mother's Day card from The Merry Thought. Simple to make, it's the perfect holder for a new picture for mom, because you know she'll always want more pictures.
2. Modern Mother's Day Printables
DIY doesn't get much easier than printing and cutting, which is all you have to do with these free cards from Delia Creates. These beautiful modern designs are the perfect addition to the bouquet of flowers or potted plant you're giving your mom.
3. Embroidered Card
Everything is better with embroidery, including these homemade cards from Studio DIY. Embroider a sweet phrase or a simple graphic, and don't be surprised if your mom ends up displaying it proudly on her fridge.
4. Watercolor Cards
Perfect for every occasion, especially Mother's Day, you can never go wrong with a bright and unique homemade watercolor card. Wandeleur has all the instructions you need.
5. Papercut Card
To create this delicate design on your Mother's Day card, all you have to do is download this template from Etsy and get to cutting.
6. Fruitful Mother's Day Card
Complete with miniature fruits, this free printable card from DIY Studio is cute and punny. Pair it with some fruit-flavored candy, and you have an adorable, perfectly themed gift for your mother.
7. Marbleized Paper
If you're not sure what you want your card to say but you know you want it to be homemade, try A Beautiful Mess' marbleized paper technique. You can create a gorgeous design now, and figure out the sentimental note for the inside later.
8. Treat Yourself Card
Cards can be gifts, too, especially when they look like these DIY printable cards from Studio DIY. With several design ideas to choose from, your card can give your mom a day of relaxation and peace.
9. Quilted Card
This pretty handmade card from A Beautiful Mess is easier to make than it looks. Find bright, bold fabrics that your mother would like, and create a card especially for her.
10. DIY Coloring Card
Even if you aren't the most artistic child in the world, this DIY Mother's Day card from Etsy is within your wheelhouse. Simply print it out and color it with your mom's favorite colors, and voila, you have a beautiful card with a personal touch.
11. Calligraphy Quote Card
For a sweet and sentimental card, find a heartfelt quote from your mom's favorite book or movie, or make up a sentimental saying of your own. Use Julie Blanner's DIY calligraphy lessons to inscribe it on a blank card to create a polished yet homemade look to mom's personalized card.
12. Flower Envelope
Maybe you already have a great store-bought card, but you're looking for the perfect packaging for it. Ideal for gift cards too, you can try and make your mom this flower envelope from Studio DIY. It's cute, simple to make, and adds just the right amount of personal touch to your gift.
For more ideas, check out Bustle on YouTube.
Images: The Merry Thought; Delia Creates; Studio DIY (4); Wandeleur; Etsy (2); A Beautiful Mess (2); Julie Blanner