You Might Not See Caila On 'The Bachelorette'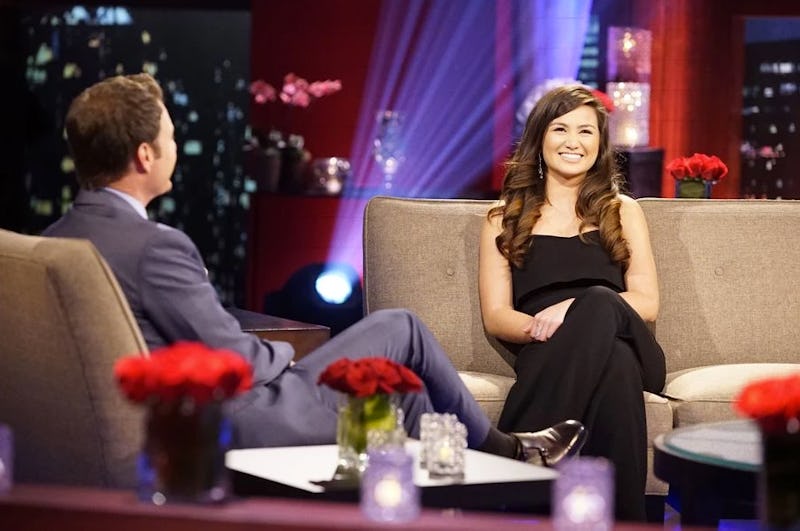 When it came to Ben Higgins' final three women on the Season 20 finale of The Bachelor, it's hard to say who the real winner actually is. Of course, Lauren Bushnell won the competition, and runner-up Joelle "JoJo" Fletcher won her own reality show as the next Bachelorette. But could Caila Quinn be the real winner here? She got the reality fame without the pressure of stardom, and the ball is in her court when it comes to participating in the Bachelor franchise in the future. But, based on recent interviews and social media posts, it seems like Caila Quinn is probably done with the Bachelor universe and pursuing her goals off screen. So, will Caila appear on JoJo's season of The Bachelorette ? Will she return to the Bachelor-verse on Bachelor In Paradise?
Based on what she has been up to post-Bachelor, I would guess she probably won't be appearing on any more incarnations of the Bachelor franchise any time soon. Caila has been super busy after exiting the reality series and has had successes in her life post-reality TV notoriety. She went on the show for love, and, when that didn't pan out, she didn't chase reality TV glory or fame. Here are all of the reasons why Caila Quinn is probably done with the Bachelor franchise.
1. She Wished JoJo Well On Social Media
When it was announced that JoJo would be the next Bachelorette, after it was rumored that Caila would get the coveted spot, Caila took to social media to wish her friend and former fellow contestant well.
2. She Just Moved To New York For A Job
I doubt that Caila has any future Bachelor plans considering that she just moved to New York for a job as a Marketing Manager at BollyX, according to LinkedIn.
3. And She Has Already Started Working Again
Based on her Instagram posts, we know Caila is already back at work — making immediate plans to return to a Bachelor show improbable.
4. There Was A Reason For The Cameras
A lot of people were speculating about why Caila was being followed around her hometown of Hudson, Ohio with cameras a couple of months ago. Was she going to be the next Bachelorette? Was it for another reality show? It turns out that the cameras were filming a Bachelorette intro, back when ABC was deciding who would win the title. Ultimately, the job went to JoJo.
5. She's Not Part Of The 'BIP' Dream Team
When Chris Harrison was asked about which women from season 20 would be on his BIP dream team, Caila was absent from the list. And while her former cast mates are rumored to be joining the upcoming season, Caila has been absent from the speculation.
6. She Is Dating Again
According to an interview with People magazine where Caila gushed about her new job and recent move from Boston to New York, she also divulged that she has started dating again. Ben who?
A new job, a new city, and a fun single life? It sounds like Caila may be the Season 20 winner after all, and she doesn't need to come back to Bachelor Nation for that. No matter how great it would be to see her on JoJo's season.
Image: Kelsey McNeal/ABC