Schwartz & Jax Of 'Pump Rules' Were On A Game Show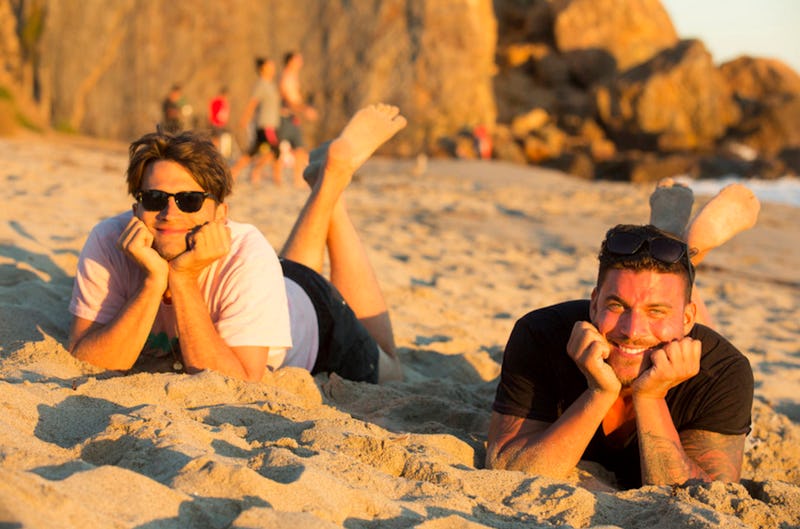 Every now and again, my commitment to consuming any and all Vanderpump Rules content pays off in a big way. Thursday was one of those days. For on Thursday, I learned something incredibly important while listening to Stassi Schroeder's podcast. On the latest episode of Straight Up With Stassi, Schroeder welcomed Pump Rules costar Tom Schwartz to the proverbial studio, and the pair chatted about aliens, beer, and what they were like in high school. But things turn for the life-changing when the ex-SURver and ex-Pump bartender (ex-Pumptender?) waxed nostalgic about the time Schwartz and Jax Taylor were contestants on Baggage.
Yes, two Vanderdudes were on the Jerry Springer-hosted Game Show Network program where people share "baggage" with prospective dates. Yes, some years before Pump Rules was a thing, two of my Pump angels were on Shoshanna Shapiro's preferred suitcase competition series. And yes, my head has spun itself right into the Pacific Ocean.
What I am about to admit brings me great shame (dare I say, it's my own baggage), but here I go: I, Pump Rules super fan, did not know about Vander-Baggage Rules. Before I fired up Thursday's episode of Straight Up With Stassi, I did not know this happened:
Or this:
Or this:
Or this:
Or this:
Or this:
Or this:
Or this:
But thanks to Schroeder's podcast, I now know all about Jax's baggage ("I live in my friend's dining room," "I lost my virginity to a friend's mom," and "I've slept with 312 women") and Schwartz's baggage ("I love smelling my earwax," "I polish my toenails and fingernails," "I gambled away my college tuition playing online poker"). Sure, it took me a few years to get there, but you know what? Better late than never!
You can watch the Jax episode here. And as for the Tom Schwartz ep? Have at it:
Ready for a SURprise? Schwartz told Schroeder that neither the baggage items nor the job title were true. So no, he was not a biological specimen collector in a past life. Ah, well. I guess we can't win 'em all.
Images: Isabella Vosmikova/Bravo; GSN (8)