7 Books For 'Friday Night Lights' Fans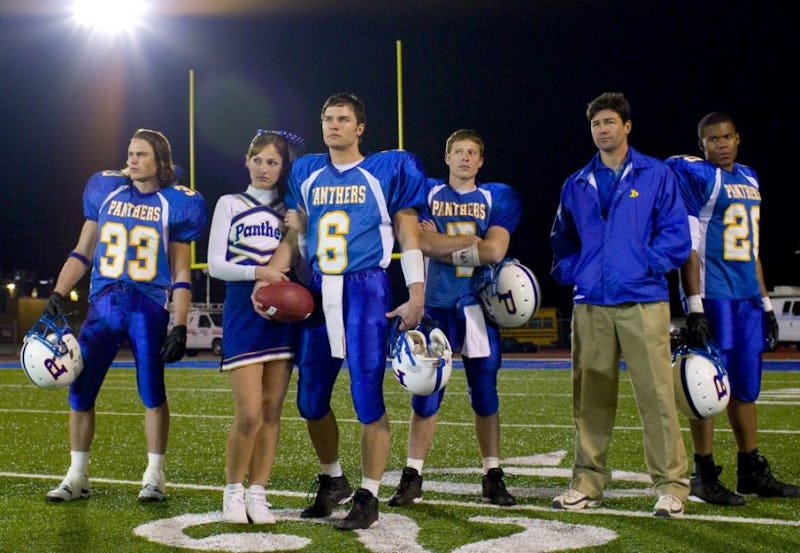 Clear eyes, full hearts, can't freakin' wait. The cast of Friday Night Lights is reuniting this summer at the 2016 ATX Television Festival, and we are unbelievably excited to see the Panthers, the Lions and all the Dillon townies return to the place where it all started: Texas. (Disclaimer: I'm a native Texan, so excuse my over-the-top pride and excitement.)
If you're anything like me, you've binge-watched this baby on more than one occasion (thank you, Netflix), and you know that Friday Night Lights is much, much more than a show about football. This is a show about friendship. This is a show about small-town politics. This is a show about falling in love with all the wrong people and falling in love with all the right people and not knowing what to do about it either way. It's a show about finding your place in the world. Hell, this is a show that tackled abortion stigma with unflinching honesty. Friday Night Lights was never afraid to push boundaries and discuss difficult topics, and in the years since the show ended, I've turned to the show countless times when I needed a pick-me-up.
Instead of binge-watching the series for the third (or fourth... or fifth) time, satiate your cravings for Tim Riggins, Jason Street, Matt Saracen and the Dillon crew with these seven books about first love, small towns and Friday night football:
#1: Until Friday Night by Abbi Glines
If you're itching for a book that combines the unadulterated magic of first love with the electrifying thrill of Southern football, look no further than Abbi Glines' Until Friday Night. After Maggie's father murders her mother, she stops talking to cope with the tragedy. But when she moves to Lawton, Alabama, and meets a too-cocky, too-handsome-for-his-own-good football player named West — a boy struggling through his own private pain — she learns that she might be able to overcome her past after all. Trust me, this book will give you major feels. Even better, it's the first in a series about high school football, so there's plenty more to come.
#2: First & Then by Emma Mills
Emma Mills' debut novel has been brilliantly described as Pride and Prejudice meets Friday Night Lights — need we say more? Devon is a loner who's happy to observe life from the bleachers. She's also perfectly content thinking that the football team's star player, Ezra, is an arrogant, condescending jerk who's not worth her time or attention. But, what happens when he proves to be exactly the opposite? Devon's forced to decide what kind of person she is — and what kind of person she wants to be. She's the classic Lizzie Bennett, and Ezra is a tantalizing hybrid of Tim Riggins and Matt Saracen: strong, silent, and hot-as-hell but also sweet, endearing, and total boyfriend material.
#3: I'll Meet You There by Heather Demetrios
Okay, disclaimer: this novel doesn't involve football at all, but it does take place in a small town that gives me serious Dillon vibes. Skylar Evans has a scholarship and a one-way ticket out of the impoverished California town where she's spent her entire life. But when her plans come tumbling down, she turns to an unlikely friend: Josh Mitchell, a young Marine who's back in town after losing his leg in Afghanistan. Together, they attempt to build a future far away from the town they both hate — but they soon learn you can never forget the place you call home. Josh — like Jason Street — suffers through some heartbreaking moments, but reading about his journey is well-worth the tears.
#4: Heaven, Texas by Susan Elizabeth Phillips
If you've ever searched the Internet for steamy Tim Riggins fanfiction, do yourself a favor and pick up Heaven, Texas. The story — the second in a series about the fictional Chicago Stars pro-football team — takes place in Texas, baby, and follows the exploits of the impossibly charming cowboy-turned-football-pro Bobby Tom. What happens when this rogue falls in love with his polar opposite? We won't spoil it for you, but it's pretty damn sexy.
#5: Friday Night Lights by H.G. (Buzz) Bissinger
If you haven't read the book that started it all, do it now. Buzz Bissinger's nonfiction account of Odessa's Permian Panthers is a heartbreaking look at a down-and-out town and their one source of hope: the Friday night football game. Like the show, Friday Night Lights uses football as a means to brilliantly explore the social, economic and racial tensions of small town America.
#6: Lonesome Dove by Larry McMurtry
Friday Night Lights is the ultimate love letter to Texas. In celebration of the state that Tim Riggins loves so dearly, we suggest you read the Pulitzer Prize-winning novel Lonesome Dove, a story about a group of Texas Rangers on their travels from the Lone Star State to Montana. If Tim Riggins had been born a century and a half earlier, he definitely would've joined up with these gentlemen for a raucous Western adventure.
#7: All American Boys by Jason Reynolds & Brendan Kiely
In seasons four and five of Friday Night Lights, Coach Taylor and Tami Taylor confront the town's deep racial and social divides. All American Boys is a must-read for fans of these powerful final seasons. The novel alternates between two perspectives: Rashad, a black victim of police brutality, and Quinn, a white witness to the assault. It's an important and powerful read and proof that books can change minds and hearts.
Images: NBC Universal