The Kylie Cosmetics Metal Mattes May Be Gone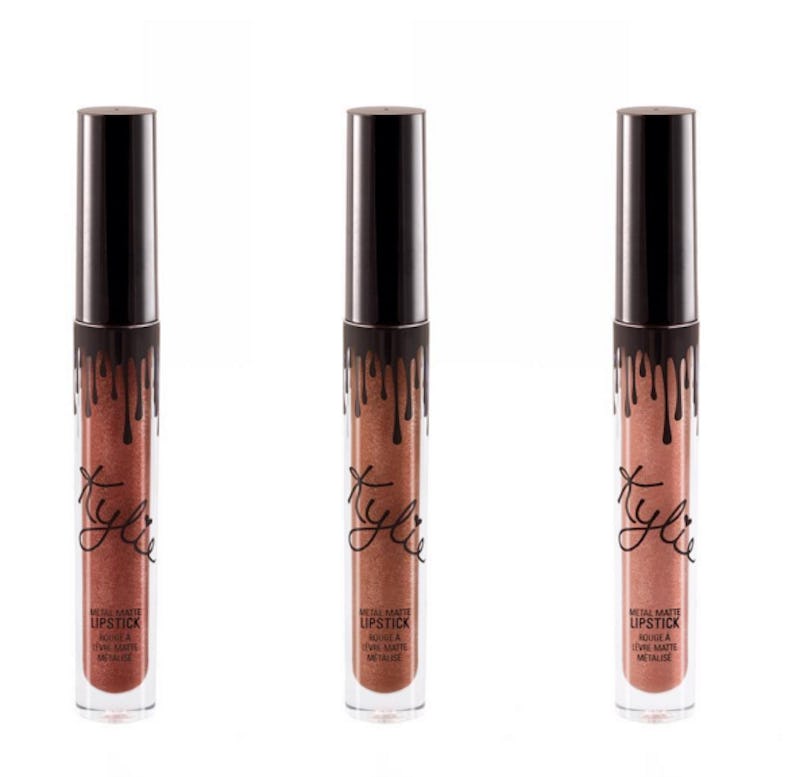 Well, folks, yet another Kylie Cosmetics restock has come and gone. This time, it was her Coachella-inspired metal mattes that came on sale, and of course, they weren't around long. Just like always. But, are Kylie Jenner's Coachella metal matte lipsticks limited edition? There's a chance you won't be able to own these lippies if you didn't order them already.
Jenner's usually pretty quick to release restock information. After the metals sold out, the Kylie Cosmetics Instagram account posted to thank everyone for purchasing, but there was no mention of a restock. These shimmering shades were a part of what Jenner referred to as her "Coachella colors," and they launched on the same day as the music festival began. But, considering that Coachella only comes around once a year — there's a chance that these metallic shades won't be available as frequently as her other lip products are.
There is an entire tab dedicated to the metals on kyliecosmetics.com, so there's still hope that these lippies will be available longer than Coachella lasts, but much like this highly popular festival, these colors could be a very short-lived, once-a-year kind of thing. Stay tuned for more information because Jenner likely won't keep you waiting long before announcing what's next for her beauty brand.
Maybe I'm reading too much into this, but this doesn't exactly have me feeling hopeful that we'll see these metal again anytime soon.
They sure were nice while they lasted, though, weren't they?
Now I'll just have to live vicariously through the people who did buy them. The Internet is sure to be flooded with their photos, after all.
I can't blame them for posing in these shiny shades, though.
Coachella season's an incredible time of the year, from what I've seen online. Just know that if I don't get more metallic mattes until next year — I'll be watching and waiting, Jenner. So please, don't forget about me. If I can't go to Coachella, I'd at least like to have a metallic color swept across my pout, and I don't think that's asking for too much.
Want more fashion and beauty tips? Check out the video below and subscribe to Bustle on YouTube!
Image: Kylie Cosmetics/Instagram