Craig Isn't Using His 'Southern Charm' Law Degree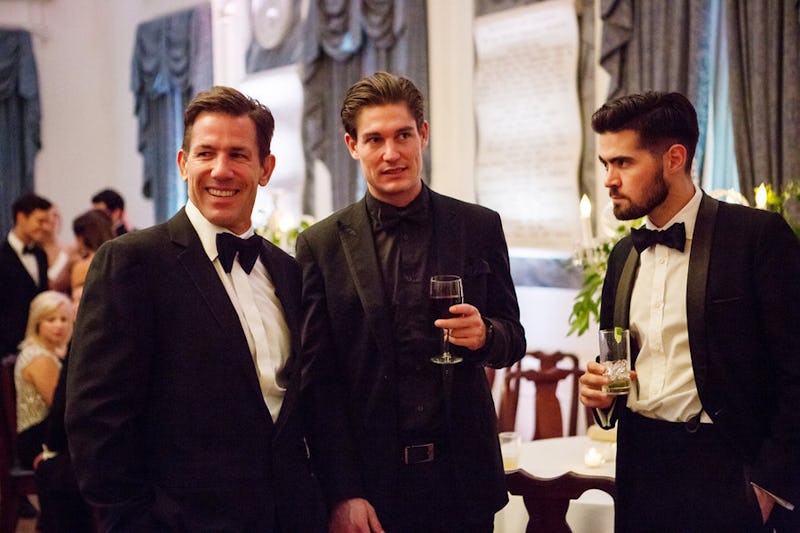 Southern Charm never fails to please me — it makes me remember that even wealthy, somewhat famous millennials also dislike their jobs, are unsure about their futures, and are hesitant to settle down. Stars — they're just like us. In all fairness, though, Southern Charm star Craig Conover seems to be getting his act together. During the first two seasons of Southern Charm, Craig was farting around, taking law classes, and pretending like he was actually going to take the bar exam (spoiler alert — he did not). After Season 2, Craig left Charleston for his hometown in Delaware. According to him, it was in Delaware that he did some soul-searching, and now he's ready for real life. So, after all that, is Craig Conover finally a lawyer on Southern Charm ?
Well… it doesn't really sound like it. According to his Bravo profile, Craig is "now dedicating the time necessary in order to be allowed to take the bar exam in the next couple of months." While that could sound promising, the bio also says that Craig "recently began investing and developing business plans with JD Madison," who viewers will remember as one of the faithful "friends of the cast." JD owns a bunch of restaurants downtown, so there's plenty of opportunity there for Craig. Craig's LinkedIn profile still lists him as a "litigation assistant" at Anastopoulo Law Firm since 2013, but I'm fairly certain that this is out of date and that Craig will find himself closer and closer to the restaurant development business and further away from a law degree.
But, in case it doesn't work out with JD, I have a few other paths for Craig.
Tie Designer
Craig has the most flamboyant style out of all of the guys on Southern Charm, and he should parlay that fashion show cred he has into creating a line of his own. He's a fan of a patterned French cuff or underside of a collar (is there a name for that? I don't do men's fashion…), so why not start his own collection of fun menswear accessories? Craig would certainly know his way around a tie, and he has a whole host of attractive male friends that can model them around Charleston. It's a win-win.
Ambassador To The South
Know what's funny about Craig? He's actually not from the South at all. He's from Delaware. How does a Yank invade the South so flawlessly and easily? I mean, did you know he wasn't raised in the land of sweet tea and mint juleps? Because I didn't. Craig could start his own Learning Annex classes about how to infiltrate into upper crust Southern society. I mean, he rubs elbows with Thomas Ravenel and Kathryn Dennis and he's invited (according to the show) to every fancy party in Charleston. I think Craig could teach us all a thing or two about fitting in no matter your circumstance.
Stay-At-Home Dad
On the first two seasons of Southern Charm, Craig didn't seem all that keen on heading into an office every day. That's fine — many people don't have that chip in them that makes them want to sit in a cube for 40 hours a week. In Season 3, Craig has found a long-term love, and he's in this relationship to win it. Combining these two ideas, why doesn't Craig stay home with his and Naomie's potential future kids? Craig's grown up enough that I think he would be a great nurturer, and he'd totally be the most fun dad on the block. That backyard that he has now? Perfect for whiffle ball and soccer games.
So, you guys, don't worry about Craig and his old lawyer dreams — he has plenty of potential.
Images: Paul Cheney/Bravo; Giphy (3)