Rowling Confirms Two Characters In 'Cursed Child'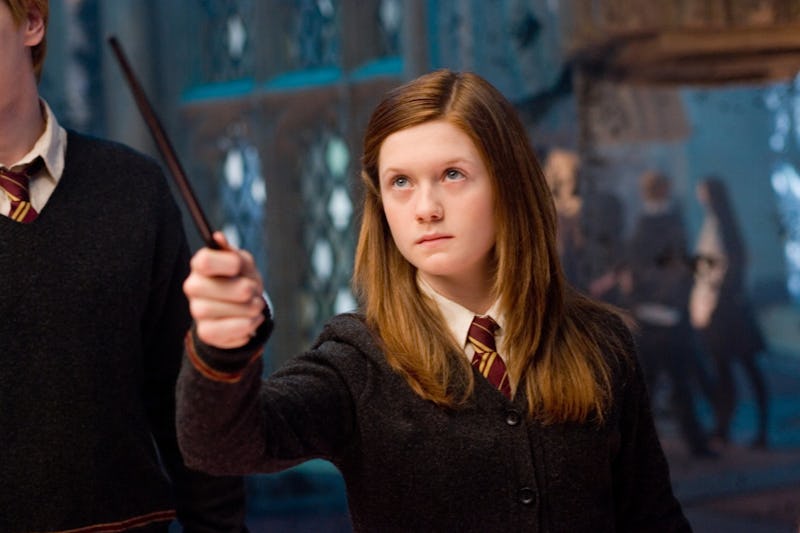 Exciting news, fellow Potterheads — in a tweet this morning, J.K. Rowling confirmed that Draco Malfoy and Ginny Weasley will star in Harry Potter and the Cursed Child , the Harry Potter play opening on the West End this summer. Rowling tweeted an image of the wand designs for Hermione, Ron, Harry, Draco, and Ginny, captioning it "Exciting morning at rehearsals for #CursedChild. What do you think of our wand designs? #HarryPotterPlay." (For the record, Hermione's is SICK and I need one immediately.) While the fact that they're in rehearsals for this play at all is more than enough reason to freak out, fans are jumping on this tweet for something else entirely — this is the first official confirmation that Rowling had given for Draco and Ginny's inclusion in the play.
It's kind of shocking that we didn't get confirmation before now, considering everything we know. Harry Potter and the Cursed Child will be set 19 years after the events of the last Harry Potter book, and will actually be split into two different parts. Rowling describes the plot:
It was always difficult being Harry Potter and it isn't much easier now that he is an overworked employee of the Ministry of Magic, a husband and father of three school-age children.
While Harry grapples with a past that refuses to stay where it belongs, his youngest son Albus must struggle with the weight of a family legacy he never wanted. As past and present fuse ominously, both father and son learn the uncomfortable truth: sometimes, darkness comes from unexpected places.
Of course, it's no big shocker, really, that Ginny will be included in the play — it would have been straight up bizarre not to include her character in a play centric to her son's life, especially when we already know based on a tweeted image of the Cursed Child cast that there are dozens of people in this epic. Draco, however, throws a little bit of a curveball into the equation. What can we expect now that we know these characters have been cast? I have a few theories:
Draco Will Confront The Demons Of His Past, Too
It is canon that Malfoy married Astoria Greengrass, a fellow Slytherin who was also influenced by her parents to believe that purebloods were the master race and that she should look down on others. Together they raised Scorpius to become more tolerant and accepting, rejecting the teachings of their childhoods. We see at King's Cross station that Malfoy and Harry are by no means friends, but still have a much better relationship than they did in school.
This gives the play an opportunity to explore something the epilogue did not — genuine redemption for Malfoy for the evil he did at Hogwarts. Right now he is probably restless, rich enough that he doesn't have to work and spending his time, according to canon, maintaining (but not using) the Malfoy family's Dark artifacts and studying alchemical manuscripts. Will these tie into the "past that refuses to stay where it belongs" that Rowling told us about? He's a Slytherin, and he's too ambitious to stay content living like that for long. Whatever the conflict in this play is, there's no doubt in my mind now that he's going to get dragged into it. Now the real question is which side he decides to fight for this time around.
We're Going To See A Lot More Of Young Scorpius
I'm so aggressively on board with Albus Severus Potter and Scorpius Malfoy being best buddies and bringing the whole Malfoy versus Potter debacle full circle. We've had decades of "good versus evil" pitting Gryffindors against Slytherins — notoriously the Marauders against Snape, and Harry and his crew against Malfoy's — but that plot has been way overplayed by now. I honestly think the real conflict would be the two of them trying to navigate a friendship rooted in a history that is well beyond their understanding. This might be exactly what Rowling hints at when she says that "past and present fuse ominously" in the play.
Ginny Is (Duh) Going To Kick Some Ass
If there isn't some Ginny ass-kickery to make up for the lack of it in the movies, I want my (figurative) money back! Honestly, though, I think this will be an awesome chance to let this character shine. Ginny will slay at parenthood the same way she slays at everything else. Besides, someone's got to pick up the pieces of this MESS that J.K. Rowling alludes to — and if anyone can, it's Ginny Weasley.
The play will officially open on July 30, but fear not, non-Londoners. For those of us who won't be able to see it across the pond, Rowling is releasing a Harry Potter and the Cursed Child book version of the play script, which is available for preorder and will ship on July 31, 2016.
Images: Warner Bros; Giphy